Those of you who have been following this site for awhile know of my affinity for trying to present the entire story, not just bits and pieces, or just selected parts.  Well, that's why this piece is of particular interest to me.  I've been following Ronnie James Dio's career for a long time.  First hopped on board in 1981, and followed his work until he died in 2010.  Pretty much everyone knows about his Rainbow & Black Sabbath careers.  Some know about his Elf material before Rainbow, but I'd say it's a safe bet that the majority of fans don't know about his pre-Elf material.  There was a decent amount of it.  Ronnie's first recorded anything came out in 1957.   Which means his recording career ran 52 years from the Vegas Kings/Ronnie & The Rumblers in 1957 to his final new studio work while alive, 2009's "The Devil You Know".   The pre Elf material though is mostly a mystery to people.  That's why this release is of interest to me.  It's a "Greatest Hits" of sorts from his pre-Elf era.  It's a mix of studio and live recordings, which have previously been unreleased in the modern era on CD/digital format.
The history of that era is kind of interesting.  The initial band was the Vegas Kings in 1957.  They changed their name to Ronnie & The Rumblers in 1958, and released several singles.  They again changed their name to "Ronnie Dio & The Prophets" in 1961 and produced more singles and an actual album of material.   This band finally disbanded in 1967, when Ronnie & member Nick Pantas started a new band called the "Electric Elves", and played until putting out a couple of albums under the name Elf in 1972, 1974, & 1975.  There were some bootlegs in 1971 & 72 under the name "The Elves", and that second one (known as Live at the Bank) forms pretty much this new release, which is I believe the first "legal" release of said material.
The end of Elf is pretty much known -as the band (minus guitarist Steve Edwards) formed the original incarnation of Ritchie Blackmore's Rainbow.  The best source for this early era of Ronnie's career remains padavona.com – a fan site dedicated to just that early era.  This guy has been the best source for ages, and remains so today.  If you've never checked it out, you really should.
Anyway, back to the present.  This release came out this past fall, and while I'm a bit slow in covering it, that doesn't make it any less worthy of attention.   The cover art is pretty cool – it's not a standard single picture, it's a lenticular cover, which changes depending on the angle you're looking at it.  The two images that comprise the cover are as shown here.  The first one appears to be the cover art of the first Elf album, just with some reworked lettering.  The other is a photo of the band.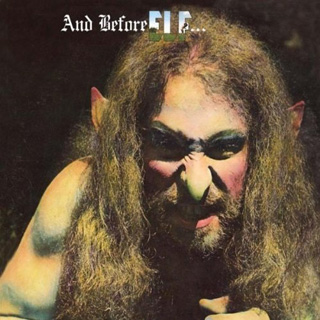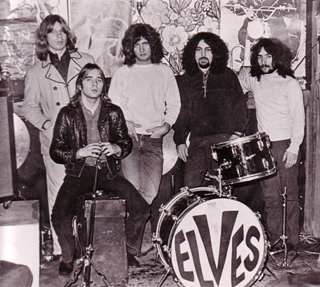 When looked at in the right way, they form a 3D/moving image that sort of looks like this picture.  It's pretty hard to show you this on a website, but this image I found (over at therods.com) does the best job I've seen of replicating the front cover in a still image.   This picture actually shows you the entire package, so it's worth checking out for that reason, too.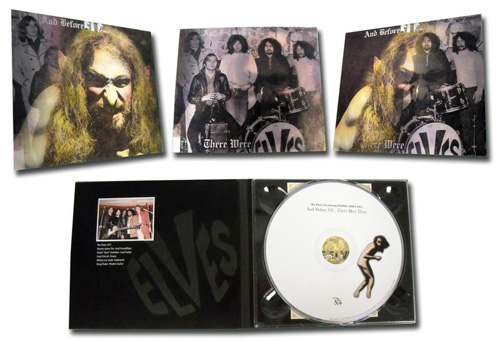 The track listing is this:
You Shook Me
Stay With Me
Four Day Creep
Buckingham Blues
Wakeup Sunshine
Driftin'
Smile For Me Lady
You Felt the Same Way
Simple Man
Drown Me In the River
Cold Ramona
Little Queenie
If you've heard Elf material before (or even the first Rainbow album in places), then you probably have a decent idea of what this sounds like.  If you're going into this expecting to find some proto Black Sabbath or Dio material, you'll be disappointed.  While some of the seeds of Ronnie's later musical styles can be found in his vocals, the music here is nothing like that.   Given this was released in 2011, we're in the age of digital, and there's music samples.  Check the order links below to check 'em out (iTunes has the longest at 1:30).
The "hardest" song might be Buckingham Blues – has a nice guitar riff, which from it's time sounds like something that perhaps Steppenwolf would have done.  Another contender for that title is "Drown Me in the River".  The track "Wake Up Sunshine" reminds me a bit of the Rainbow track "If You Don't Like Rock & Roll" (only slower).  There's slow keyboard blues here.  It's definitely different, if all you're used to is stuff like "Neon Knights" & "Rainbow in the Dark", or "Bible Black".  But if you never dabbled in this early Ronnie material, I think you should check it out.  Definitely some good stuff here.  Again, for more on Ronnie's earlier career, check out Padavona.com.
Here are some ordering links for the CD, as well as some digital download links.  This was self released by Niji (Ronnie & Wendy's company).   I've also read online that they plan on re-releasing the 80's "Hear N' Aid" benefit album, which will be cool.
Ordering Links
CD [ Amazon US | Amazon UK ]
MP3 [ Amazon US | Amazon UK ]
iTunes (US)
Official Press Release
FOR IMMEDIATE RELEASE:
HEAR RONNIE JAMES DIO'S ROCK ROOTS ON FORTHCOMING 'AND BEFORE ELF.THERE WERE ELVES' RELEASE
Over the years, legendary singer Ronnie James Dio fronted some of the most popular/enduring hard rock/heavy metal bands of all-time, including Rainbow, Black Sabbath/Heaven & Hell, and Dio.
But before all of these bands, there was Elf. Described as a "Rock/Honky Tonk/Blues band," a forthcoming release, 'And Before Elf.There Were Elves,' will prove that Ronnie could easily handle other rock-related styles.
Released on October 25th via the Niji Entertainment Group, 'And Before Elf' will feature twelve previously unreleased tracks (all from 1971), comprised of both live in the studio and live on stage tracks.
The album will feature a striking Lenticular/3D/Hologram cover, that when you turn it, you will see two alternating images – Ronnie from the first Elf LP, as well as a vintage group shot from 1971. And although these recordings are 40 years old, the sonic quality still passes the test, as longtime Dio engineer Wyn Davis remastered the original tapes.
Formed in 1967 in Cortland, New York, The Elves also featured other members that would carve a niche for themselves in the hard rock world!
Guitarist David "Rock" Feinstein (Dio's cousin) would go on to front the Rods. Elf would last for a trio of albums, before Ronnie exited the group in 1975, to co-form Rainbow with ex-Deep Purple guitarist Ritchie Blackmore.
Ronnie James Dio always had the golden touch as a masterful singer and frontman.
And upon hearing 'And Before Elf.There Were Elves,' you'll discover he possessed his one-of-a-kind voice from the very beginning of his career.
"And Before Elf.There Were Elves" Track Listing:
1. You Shook Me
2. Stay With Me
3. Four Day Creep
4. Buckingham Blues
5. Wakeup Sunshine
6. Driftin'
7. Smile For Me Lady
8. You Felt The Same Way
9. Simple Man
10. Drown Me In The River
11. Cold Ramona
12.. Little Queenie
For more information, visit:
http://www.ronniejamesdio.com
http://www.facebook.com/OfficialRonnieJamesDio
http://www.facebook.com/nijientertainmentgroup