When I started this new site format, one of the things I intended on doing was putting a few more personal kinds of posts on here.  Ones that have some sort of relevance to the site.  That's what this is.   A non Sabbath post that I thought would be of interest.
Anyway, tonight I was doing a bit of spring cleaning, and dug into a box I haven't messed with in years.  In it was an old cassette tape I made back in 1986.  I used to make yearly "Best of Metal" tapes for myself.  None of them survived, except this one from 1986.  Those of you who were around in 86, and listening to the (then) current metal at the time should recognize most of these.  
The cassette tape still worked – my truck has a cassette player in the factory equipment, but I never use it, I do all CD's and satellite radio.  Anyway, I drove around listening to some of this tonight, and I thought I'd pass it on for shits & giggles.   Here's a picture of the tape shell, and I'll detail the songs below.  One of them I couldn't remember myself (Dirty Secrets).  I had to look it up – it's by Giuffria.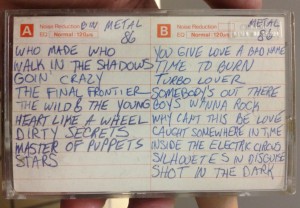 Side 1
Who Made Who – AC/DC
Walk in the Shadows – Queensryche
Goin' Crazy – David Lee Roth
The Final Frontier – Keel
The Wild & The Young – Quiet Riot
Heart Like a Wheel – Black Sabbath
Dirty Secrets – Giuffria
Master of Puppets – Metallica
Stars – Hear 'n Aid
Side 2
You Give Love A Bad Name – Bon Jovi
Time to Burn – Dio
Turbo Lover – Judas Priest
Somebody's Out There – Triumph
Boys Wanna Rock – The Vinnie Vincent Invasion
Why Can't This Be Love – Van Halen
Caught Somewhere in Time – Iron Maiden
Inside the Electric Circus – W.A.S.P.
Silhouettes in Disguise – Kansas
Shot in the Dark – Ozzy Osbourne
Most of this holds up well 26 years later.  A few haven't aged well.  Still, it's an interesting slice into what I was listening to at the time back in 1986 (when I was 21).   For anyone listening to metal back in 86, what would you have put on here?  Remember it has to be FROM 1986.   Leave a comment below with your thoughts.