UPDATE 5/22: The compilation is now available for pre-order.  See links below.
UPDATE 6/7: A TV commercial video is available.  It's embedded below.
The promotional run up to the Download festival gig has begun, despite the fact we still don't know who is drumming.  We have the May 19th warmup gig at the O2, and this morning we also get the word that Black Sabbath will release a new Greatest Hits compilation (in Europe only).  Well, it's sort of new.  If you remember, there was a Greatest Hits disc released in 2009, titled simply "Greatest Hits".  That's mostly what this "new" release is.  A reissue of that release under a new title with new artwork.   The new title is "Iron Man: The Best of Black Sabbath".
The track listing is:
Paranoid
Iron Man
Changes
Fairies Wear Boots
War Pigs
Never Say Die
Children of the Grave
The Wizard
Snowblind
Sweet Leaf
Evil Woman
Sabbath Bloody Sabbath
Black Sabbath
N.I.B.
This compilation is being released by Universal, which is why it will not be released domestically in the US/North America (remember, that territory is held by Warner Bros/Rhino, and they have their own single disc Greatest Hits album available).   The 2009 release is being withdrawn from distribution, to be replaced by this new disc.
The majority of Black Sabbath fans will already own these tunes, but if you do not, or are you are looking for a single disc Greatest Hits album to toss in the car to have available to play, then this is a good choice.  The Ozzy era is well represented with the traditional hits, as much as can be with the limitations of a single disc. This goes on sale June 4th.  As of today, it's not yet available for pre-order, when it is, I will revise this story with pre-order links.
Here is some artwork for the release, including the cover art.  Also included below is the official press release from Universal.
Order Links:
Amazon US CD (via Import)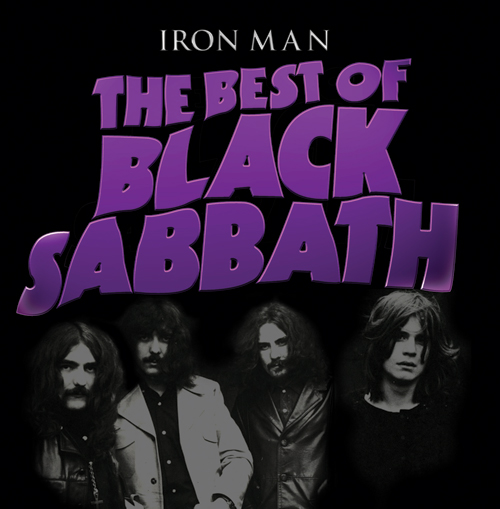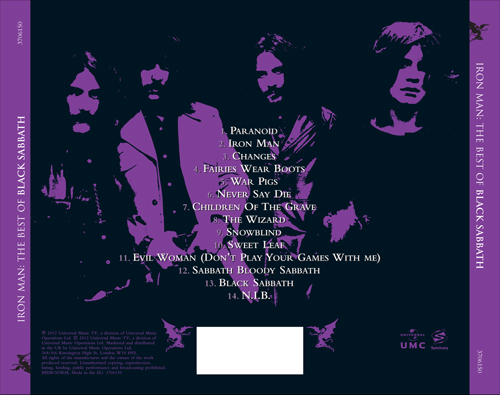 Album: "Iron Man: The Best of Black Sabbath"
Release Date: 4th June 2012
Download Festival Headline – 10th June 2012
Ozzy Osbourne, Tony Iommi, Geezer Butler, Bill Ward,– four names that resonate throughout Rock's recorded history as clear and sublime as the bell that tolls the opening to the bands eponymous debut album from 1970.
Collectively, they formed Black Sabbath and forged the most haunting and hypnotic rock sound of all time. From humble beginnings, the Birmingham quartet enslaved the minds and souls of millions of rock fans around the world and continue to do so into the new millennium. The musical genre they created inspired countless musicians and spawned countless bands. Such has been their influence; they have been inducted to the Rock and Roll Hall of Fame in 2006 and were included among Rolling Stone's list of the 100 Greatest Artists of All Time.
"Iron Man: The Best of Black Sabbath" is a 14 track collection of classic tracks from across the bands first eight albums – including tracks from 1970's debut "Black Sabbath" and follow up "Paranoid", 1971's "Master Of Reality", 1972's "Volume 4", 1973's "Sabbath Bloody Sabbath" and 1978's "Never Say Die". The album brings some of the best loved and most influential rock songs of all time together on one album – including such classics as "Paranoid", "Iron Man", "Black Sabbath", "Sabbath Bloody Sabbath", "War Pigs" and "Changes". The release is a must have for any self respecting music fan…
Full Tracklisting (including original albums):
1 – Paranoid (Paranoid)
2 – Iron Man (Paranoid)
3 – Changes (Volume 4)
4 – Fairies Wear Boots (Paranoid)
5 – War Pigs (Paranoid)
6 – Never Say Die (Never Say Die)
7 – Children Of the Grave (Master Of Reality)
8 – The Wizard (Black Sabbath)
9 – Snowblind (Volume 4)
10 – Sweet Leaf (Master Of Reality)
11 – Evil Woman (Don't Play Your Games) (Black Sabbath)
12 – Sabbath Bloody Sabbath (Sabbath Bloody Sabbath)
13 – Black Sabbath (Black Sabbath)
14 – N.I.B. (Black Sabbath)
Ozzy Osbourne, Tony Iommi and Geezer Butler recently announced they are reuniting as Black Sabbath and recording a new album. They are scheduled to perform a headlining slot at the Download Festival on Sunday 10th JuneFor more information and tickets please see www.downloadfestival.com.  The band are also playing a warm up show at the Birmingham 02 Academy on 19th May (Sold Out).
"Iron Man: The Best of Black Sabbath" is released through Sanctuary on the 4th June 2012