On December 12, 2012, Universal Records will release a rather interesting box set.  It's called "Black Sabbath: The Vinyl Collection 1970-1978".   It will contain the original 8 Ozzy era 1970's studio albums.   It also contains the Live at Last album (which actually came out in 1980), and a book with tour programs, a 7″ single (Evil Woman/Wicked World), and a voucher for a digital download.    If you are someone who is still into vinyl, and plays it regularly, you'll definitely want this.  I can also see a target for this being people who don't actively play vinyl, but want the vinyl for their collections.  All good.  I have the formal press release below, but I raised a few questions about all this to Universal, and I'll relay that information, as I'm sure some will be interested in it.
There are some good details added on after I originally posted this – see the Nov 28th update:

Point 1:  This is a vinyl box set, and the press release says it's been remastered.   I asked them if this is using the same remastering that was done in the 2008-2010 remaster release series by Universal.  I was told no, it was remastered again by Andy Pearce in 24bit for the 2012 vinyl project, so this is another new remastering to factor into the equation.
Point 2: There are no plans to release the 2012 Remastering on CD.  I was told this is for just the vinyl / digital project.  Which brings us to…
Point 3 UPDATED: Inside the box will be a voucher that will let you download the entire box set in a digital format.   I have inquired as to how this will practically be handled (iTunes UK, Amazon UK, or something else), but haven't yet got a response (mostly because I asked right before I posted this).  Given the sale of the box will be for everywhere else except USA/North America, I have to assume the voucher download won't work in the United States, either.   If I get some clarification on this point, I'll edit my post.  UPDATE: Still no word on where the voucher will let you get the files from, and in what format and bitrate.  I'll keep trying to find out.
Point 4: This is not being released in USA/North America because of an issue I've written about many times.  This material (along with all Black Sabbath material from 1970-1987) has a dual set of record deals.   The one in North America/US is Warner Bros/Rhino.  Everywhere is Vertigo/Universal.   One cannot sell it's product in the market of the other one.  Why Warner/Rhino hasn't jumped on this is beyond me, but before everyone goes off and blames the band for this, make sure you have this in the right focus.
Point 5 UPDATED:  I have inquired as to whether or not they plan to release the vinyl albums individually, but no response yet.  If I had to guess, I'd say no, but I have no hard facts on that issue.  They responded and said there are no plans at this time to release the vinyl albums individually.
UPDATED NOV 28: 
Point 6: Limited Edition? – Someone on twitter asked me if the box set was going to be a limited edition, or if it will be around for sale in a year or two (new).   I sent that guy's tweet to my contact at Universal records, and I was told this: "It's a limited edition, around 7-8 k I don't have the exact figures but once its gone its gone".   So, if you want this, it might NOT be the thing to procrastinate on.  Due to that, I'll be surprised if I can get a review copy – these kinds of things usually aren't available for review when in limited supply.
Point 7: Digital vs. Analog Recording: – I'd seem some noise online (no pun intended) from audiophiles who were wondering what the deal with the audio source for this was.  Those of you are into vinyl, or know someone who is still into vinyl in 2012 usually throw around the battle cry about vinyl being a better sound than digital/CD/mp3 – that it's more "warm" (or any other kind of word like that).   I received an email from site fan Ivan Nonov, who had written to Universal inquiring about the mastering process.  A fellow from there wrote him back with a lot of detail on that, so I'm presenting it here.   This is good information, it seems.
Hi Ivan,
Thanks for your email. 
Below is the response I got from the label. 
I hope it helps as its quite lengthy 
To start the process to create 'The Vinyl Collection 1970-1978' limited edition box set, the original master tapes were first retrieved from both Black Sabbath's own private archive and the Universal Music vaults. This meant that there were several different versions of each album to work with, which led to a greater opportunity to make these the definitive Black Sabbath masters, and of considerable interest to all Black Sabbath fans. 
Working at the renowned Wired Masters studio in London, veteran engineers Matt Wortham and Andy Pearce meticulously and painstakingly transferred, and then mastered the tapes at a resolution of 24-bit/96 kHz to ensure the best possible audio quality. Referencing previous versions from both vinyl and CD sources to ensure that the tapes were still in prime condition, the team ensured that these 2012 vinyl remasters were given the best possible starting platform. 
Following the careful use of equalization, subtle compression and limiting techniques in the mastering process to achieve a sonically balanced and natural-sounding result, the masters were then prepared on lacquers at Masterpiece Mastering by the highly-experienced engineer Greg Moore. Having already done checks between the direct metal master (DMM) and lacquers, the engineers strongly believed that the warmer tone achieved from lacquers was far better suited to the band's sound, and would be the perfect choice for 'The Vinyl Collection 1970-1978'. 
Cutting the master lacquers on a pristine VMS80 lathe, Greg then did a number of meticulous test cuts. This was a laborious and time-consuming process, but was done to ensure the maximum possible audio quality had been achieved for the vinyl disc master. Greg noted "It was crucial to ensure that digital masters had retained the original dynamics and hadn't been over-mastered to a point where they went off the scale. This happens all too often when classic bands and albums undergo the re-mastering process today, and as a consequence, instead of enhancing the listening pleasure, the opposite happens." By putting in this extra effort, the team knew they could guarantee optimum results. 
Throughout the remastering process, the aim was to keep the original recordings as intact as is possible while also taking them to a new level in sonic quality. The studio techniques employed were specifically intended to enhance the music when pressed onto vinyl, with the whole remastering process tailored to the vinyl format. And vinyl is definitely the format in which Sabbath work best, which will be absolutely clear for all hear when listening to the remastered records on the180-gram heavyweight vinyl pressings included in Black Sabbath's 'The Vinyl Collection 1970-1978'. 
When you listen to these iconic albums as they are presented here, you are truly getting the best representation of Black Sabbath's music that you'll ever have heard, without overriding the incredible musicianship and atmosphere of the originals. While the band's genius and inspiration will always come through in whatever format is used, the remastering team have fine-tuned and further enhanced the original masters to ensure the best possible results, and produce the definitive Black Sabbath vinyl masters. 
These brand new remastered versions ensure that 'The Vinyl Collection 1970-1978' set gets you closer than ever before to being in the studio when these classics were originally recorded, fully conveying the epic sound that the band wanted to capture in the first place. 'The Vinyl Collection 1970-1978' will allow you to hear Black Sabbath as you've never heard them before.
Universal Music Direct Support Team


All those points aside, it does look like a very nice box, whether you actively still play vinyl or not.   The issues I bring up are mostly minor administrative things, it should not be assumed I'm not in favor of the box, I am.   When I first posted this story, it was originally unavailable to pre-order at the "regular" sites I link to.  That has changed, and you can now officially pre-order it through Amazon's UK site.   You can order it from Amazon's US site, but REMEMBER, this is a product that is sold in the UK/Europe only.  Not in the US, so if you buy it from the Amazon US site, you're paying import prices.  You may find it cheaper to order it yourself from Amazon's UK site.  Keep that in mind when you order.
Below is the artwork for the box set, as well as the formal press release.   Looks like a good project to have on one's Christmas list.
There is also an official trailer video for the box out now.  It's shown here.  Looks like good stuff.  Especially if you still play vinyl.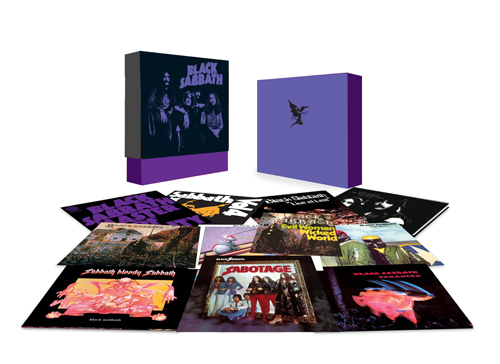 THE VINYL COLLECTION: 1970-1978
LIMITED EDITION BOX SET | RELEASE DATE: 12/12/12 
Following their hugely successful reunion shows this summer and the news that Ozzy Osbourne, Tony Iommi and Geezer Butler are currently recording a brand new album, Black Sabbath today announce the release of 'The Vinyl Collection: 1970-1978' – a limited edition box-set celebrating the iconic albums featuring the band's full original line-up.  
Tony Iommi, Geezer Butler, Bill Ward, Ozzy Osbourne – four names that resonate throughout rock's recorded history as clear and sublime as the bell that tolls the opening to the band's eponymous debut album from 1970. Collectively, they formed Black Sabbath and forged the most haunting and hypnotic rock sound of all time.
Now, one year on from the band's momentous 11.11.11 reunion announcement, 'The Vinyl Collection: 1970-1978' celebrates the might of the all-conquering original Black Sabbath line-up combining the complete Ozzy-era studio albums re-mastered from the band's personal archives, and encased in a mighty box set package. Beginning with the band's eponymous debut album, the set includes Paranoid, Master of Reality, Volume 4, Sabbath Bloody Sabbath, Sabotage, Technical Ecstasy and Never Say Die, before culminating in the only Black Sabbath live album to feature the legendary original line-up, Live At Last. The 9-LP set features complete reproductions of the original LP album releases including posters and inserts, a hard-backed book containing all of the bands '70's tour programmes, plus a 7" vinyl of debut single Evil Woman and non-album B-side Wicked World. The set is completed by a Back to Black download voucher allowing easy download of the complete box-set contents.
To ensure pristine audio quality for this very special limited edition set, the original master tapes were remastered at a 24-bit/96kHz resolution, giving a listening experience to rival being present at the original Black Sabbath recording sessions. Presented here on heavyweight 180-gram black vinyl, The Vinyl Collection: 1970-1978 is the pinnacle of sonic excellence, bringing the best-sounding Black Sabbath collection ever created without ever overriding the incredible musicianship and atmosphere of the original genre-defining recordings. 
From humble beginnings, the Birmingham quartet enslaved the minds and souls of millions of rock fans around the world continuing to this day, where the band's massive influence on modern music cannot be underestimated. Frequently cited as one of the greatest hard rock and metal bands of all time, the musical genre Black Sabbath created has inspired countless musicians and spawned countless bands, all of which have attempted to emulate the heavy metal originators, though few have ever come close to rival their uniquely powerful musical make-up.
With 70 million worldwide album sales under their belts plus a prime place in the Rock And Roll Hall Of Fame, Black Sabbath are now back in the studio, stronger than ever, as they prepare to unleash a brand-new rock behemoth, primed to set alight 2013.
To get ready for this epic aural onslaught, experience the songs that built the legend in the best-ever sounding format with the Black Sabbath Vinyl Collection: 1970-1978.
BLACK SABBATH THE VINYL COLLECTION: 1970-1978 
9 x 12" LP:

full reproductions of the original album releases, remastered from the band's personal archives on 180-gram heavyweight vinyl
1.      Black Sabbath
2.      Paranoid
3.      Master of Reality (with poster)
4.      Volume 4 (with photo insert book)
5.      Sabbath Bloody Sabbath
6.      Sabotage
7.      Technical Ecstasy
8.      Never Say Die
9.      Live At Last
7" Single

: featuring the band's debut single Evil Woman and non-album B-side Wicked World
12

" x 12

" Hard-backed Book

: containing original tour programmes from 1970, 1975, 1976 and 1978
"Back to Black Sabbath" download voucher

: for easy download of the full set