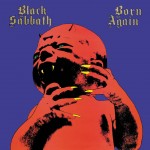 Today is August 7, 2013 (Well it was when I started writing this, it got too long, and it came out on August 8th).  Thirty years ago today was the original release of one of the more polarizing albums in the history of Black Sabbath, that being Born Again.   I was a recent Black Sabbath fan at that point.  My original "onramp" to Black Sabbath was the Mob Rules album.  Oh sure, there was Live Evil after that, but the first new, studio album by Black Sabbath was Born Again after I had become a fan.   This was 1983, so we had the era of MTV with actual music & news, plus your rags like Hit Parader, Cream, and of course, good ol' Kerrang.   This article will mostly be me talking about my memories of the Born Again album as well as some tidbits related to it.   I'm not regurgitating stories from other historical books, I wrote all this.  So here goes…

BACKGROUND
So where was Black Sabbath at this point?   They had come off the tour for Mob Rules, had recorded plenty of live material for what became the Live Evil album.  But as is well reported on, whether true or not, there were problems with the mix, and Black Sabbath as it was split apart.  Ronnie & Vinny went off to form "Dio", and Tony & Geezer were still there, along with Geoff Nicholls.   So they had to figure out whether they were going to try and reconstruct the band, or give it a rest.   Sabbath was managed by Don Arden at the time, and if I remember my history right, he had a split with his daughter Sharon who was off with Ozzy by this point.  Don wanted to make Sabbath the biggest thing, so I'm pretty sure he was behind a lot of the back door moves we aren't privy to.   Like getting Ian Gillan in the band.   I know there was a quote by Geezer around then saying "What the bloody hell is that going to sound like?"   So I'm sure the lads convinced Bill Ward to return to help solidify the feeling that it was mostly like the original.  3/4 of an original lineup is pretty good in any band, so there was the famous meeting in the pub between Tony, Geezer, & Ian, and the rest is history.
Given I was still in High School at the point this album was being worked on, I did the "fan thing", and followed them in various magazines, looked for any quote, any interview, any picture.  At this point in my life, I wasn't yet a big Deep Purple fan, so all the "Deep Sabbath" and "Black Purple" jokes were mostly lost on me.  I accepted this lineup for what it was – a talented singer fronting a band that I already liked, so I was excited about it.   Ian has said a few times that he felt he was the "worst singer that Black Sabbath has ever had".  I cannot agree with that at all.  As singers go, he's right near the top.  His style and personae perhaps was a bit of an off choice for Black Sabbath, but not his pipes.  Not at all.
So, OK, I'm waiting for the album to come out.   It had Tony Iommi.  Check.  It had Geezer Butler.  Check.  It had Bill Ward – check.   All good.  Just remained to hear what new riffs Tony would come up with, and how Ian's voice would blend with Iommi/Butler/Ward.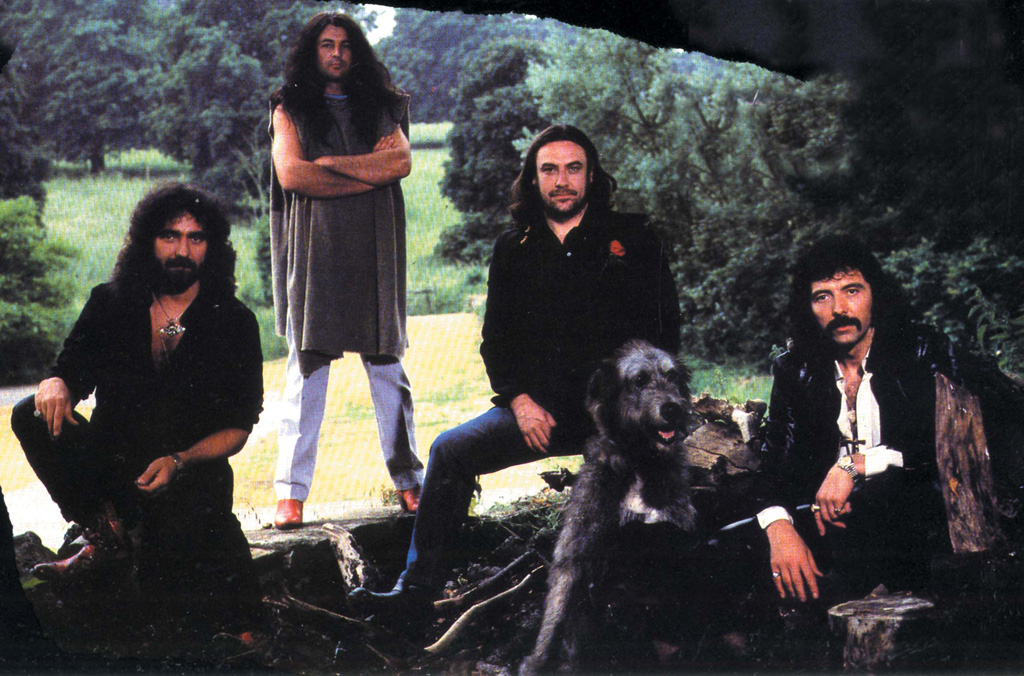 WAIT, NO SO FAST..
As with most everything involving the history of Black Sabbath, it's never as clean cut as one would hope.  After the album was completed, thoughts obviously turned to touring and live shows.   It was at this point that Bill Ward decided to leave again.   There have been several interviews he gave where he felt that having been sober during the recording of Born Again, that the stresses of touring would be a problem for his newfound sobriety, and decided to opt out.    OK, Bill's not there now.  They needed someone to play drums on the tour.   Enter former ELO drummer and fellow Brum, Bev Bevan.   Again at the time, I didn't know much ELO, so I figured "OK, odd band name to pick up a Sabbath member from, but no worse than Deep Purple".    I do recall thinking at the time that his chops were too light to play in Black Sabbath, again coming from what little I knew of ELO, but that turned out to be unfounded.  Bev was more than up to the task of playing in Black Sabbath.

THE ALBUM COMES OUT
My birthday is actually in August, so when this album came out, it was kind of like a couple of week early birthday present.   I remember going to the store to buy it on Day 1, and given this was 1983, I was into pre-recorded cassettes.  So that's what I bought.  I still have that physical tape 30 years later.   Here's a couple of pictures I took of that tape today in 2013.
Funny story about that old tape.  When it came out, I played the HECK out of it.  This was the era of the Walkman, so I would take the tape everywhere with me.  Also, as is the custom back in that day, tapes would jam.  It's physical media, not digital, so there was always the possibility of a jam, or a tear or something like that.   That's what happened to my tape.   The physical tape jammed up in one of my players.   Given I wasn't in the mood to buy another copy back then, I did some surgery on it.  The shell was cracked as well from being dropped, so I opened up the original tape shell from Born Again, and took the tape out of there, and transplanted it into another shell from a blank Maxell tape, and used that – hence the second picture.  So the exterior case is original, the physical tape is original, but the cassette shell is a replacement.   Funny thing is this EXACT scenario also happened to my copy of Mob Rules on cassette.  I also bought a vinyl copy of Born Again somewhere during this time, but I don't know what's happened to that over the years.  I know I still have it somewhere in some box.  Although it might have been lost to time.
Anyway, I was really enjoying the album.   Listened to it A LOT, as I had some odd jobs right out of high school, but before I started college in the fall.  Between Born Again, Ozzy's "Bark at the Moon", and Pink Floyd's "The Final Cut", I don't think I listened to a whole lot else in the summer and fall of 1983.    Was in very heavy rotation.
Black Sabbath made an appearance on a US TV show called "Rock Palace" around this time, and mimed their way through a few tracks from the Born Again album.  Those being "Digital Bitch" & "Zero the Hero".   You can check that out here:
THAT COVER ART
As much as Ian's presence seemed odd, one thing that is DEFINITELY polarizing is the cover art itself.  You either love it or you hate it.  There seems to be no middle ground when it comes to opinions on the cover art.   I definitely fall on the side of  "that's pretty bad".   A few years ago on this site, I published an article where I got a hold of Steve "Krusher" Joule after noticing what looked like the same "baby" on the cover of a Depeche Mode single.  Steve was the guy who did the Born again cover art (as well as some early Ozzy solo covers, too).    It was a well received article, and it was actually reproduced in the liner notes of the booklet for the Deluxe Edition of Born Again that was released in 2011.  I'm not going to alter that, it's a great article as is, but I will incorporate it here.  Check it out.   Thanks once again to Steve for answering my questions about it.
ORIGINAL COVER ART ARTICLE OF MINE FROM JUNE 2004:
This past week, I got an email asking me something I had never seen before. It was in relation to the Born Again cover art. They had asked me if I knew anything, because the cover art for Black Sabbath's Born Again and the Depeche mode single "New Life". Let's get right to the pictures – here they are side by side..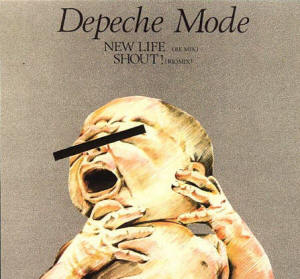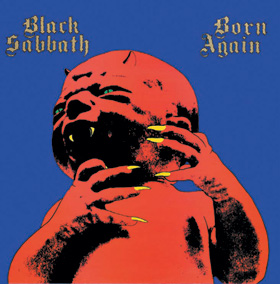 They look amazingly similar, don't they? Born Again was released in the summer of 1983. The New Life CD single by Depeche Mode was released at some point in 1981. I contacted the webmaster of what appeared to be a popular Depeche Mode site (here), and asked them. They hadn't seen the Black Sabbath cover art at all, so my email was a surprise to them. They posted about it on their forums, no one seems to really know there what the connection is. Here's what I know about the situation (as copied from my post in that forum).
At the time, Sabbath was managed by Don Arden (Sharon Osbourne's father). Don apparently wasn't terribly keen on Sabbath (as the rumours go), and just (again, as the rumours go) slapped together any piece of crap and sent it to Sabbath, figuring they wouldn't like it, and wouldn't use it. That is what ended up being used! Again, as rumours go, Tony Iommi liked it, and wanted to use it.  The album title "Born Again" is how Sabbath viewed themselves. At the time, it was Sabbath being "Born Again" as a band; a fresh start. Didn't last, but that's what they were saying in the interviews at the time. I really do not believe it has anything to do with Depeche Mode, at least in terms of lyrics, as was suggested above. 
Yes, the Sabbath cover art is credited to Steve Joule. Whether Steve was influenced by the DM cover, or where he blatantly stole from it, or whether it was a horrendously huge coincidence, or if there's another image that both folks used, I do not know.
That's about the extent of what I know of this cover image (except there's a good story in Garry Sharpe Young's Sabbath book on how Sabbath actually tried to have a live version of the baby cover art on stage – thankfully that idea went away quickly). I've placed a few inquiries about this, and received a resolution to this story.  I was contacted by Steve Joule, the guy who did the cover art for Born Again. His story (with some more pictures) about all this is below: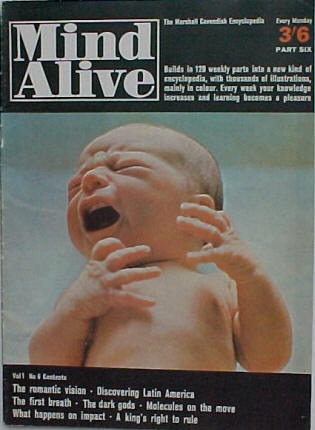 OK let's put this baby to rest once and for all. The Black Sabbath 'Born Again' album sleeve was designed under extraordinary circumstances; basically what had happened was that Sharon and Ozzy had split very acrimoniously from her fathers (Don Arden) management and record label. He subsequently decided that he would wreak his revenge by making Black Sabbath (whom he managed) the best heavy metal band in the world, which, of course they are but back then in the early '80's they weren't quite the International megastars that they had been in the '70's. His plans included recruiting Deep Purple vocalist Ian Gillan, getting Bill Ward back in on drums and stealing as many of Sharon and Ozzy's team as possible and as I was designing Ozzys sleeves at the time I of course got asked to submit some rough designs. As I didn't want to lose my gig with the Osbourne's I thought the best thing to do would be to put some ridiculous and obvious designs down on paper, submit them and then get the beers in with the rejection fee, but oh no, life ain't that easy. In all I think there were four rough ideas that were given to the management and band to peruse (unfortunately I no longer have the roughs as I would love to see just how bad the other three were as sadly my booze and drug addled brain no longer remembers that far back), anyway one of the ideas was of course the baby and the first image of a baby that I found was from the front cover of a 1968 magazine called 'Mind Alive' that my parents has bought me as a child in order to further my education, so in reality I say blame my parents for the whole sorry mess. I then took some black and white photocopies of the image (the picture is credited to 'Rizzoli Press') that I overexposed, stuck the horns, nails, fangs into the equation, used the most outrageous colour combination that acid could buy, bastardised a bit of the Olde English typeface and sat back, shook my head and chuckled. The story goes that at the meeting Tony Iommi and Geezer Butler were present but no Ian Gillan or Bill Ward. Tony loved it and Geezer, so I'm reliably informed, looked at it and in his best Brummie accent said, "It's shit. but it's fucking great!" Don not only loved it but had already decided that a Born Again baby costume was to be made for a suitable midget who was going to wear it and be part of the now infamous 'Born Again Tour'. So suddenly I find myself having to do the bloody thing. I was also offered a ridiculous amount of money (about twice as much as I was being paid for an Ozzy sleeve design) if I could deliver finished artwork for front, back and inner sleeve by a certain date. As the dreaded day drew nearer and nearer I kept putting off doing it again and again until finally the day before I sprang into action with the help of a neighbour, (Steve 'Fingers' Barrett) a bottle of Jack Daniels and the filthiest speed that money could buy on the streets of South East London and we bashed the whole thing out in a night, including hand lettering all the lyrics, delivered it the next day where upon I received my financial reward. But that wasn't the end of it oh no, when Gillan finally got to see a finished sleeve he hated it with a vengeance and hence the now famous quote "I looked at the cover and puked!" Not wanting to sound bitchy but over the years I've said the same thing about most of Gillan's album sleeves. He also allegedly threw a box of 25 copies of the album out of his window. Gillan might have hated it but Max Cavelera (Sepultura, Soulfly) and Glen Benton (Deicide) have both gone on record saying that it is their favourite album sleeve.
Another story that I've heard told about the sleeve, and this might just be evil, malicious gossip, but as soon as the first set of printers proofs were delivered to the Jet offices one was put on a bike and sent to Sharon to piss her off as she was in hospital having her and Ozzys first born Aimee and ever since the baby on the cover has been known as Aimee, fact or lie. you decide. And there you have it I can honestly put my hand on me old John Thomas and say that Depeche Mode played no part in it's creation, infact the first time that I saw the Depeche sleeve was when a friend of mine emailed the black-sabbath.com address to me and I took a look. And that my friend is the story of the Black Sabbath 'Born Again' sleeve as told by Steve 'Krusher' Joule. Thank you and good night!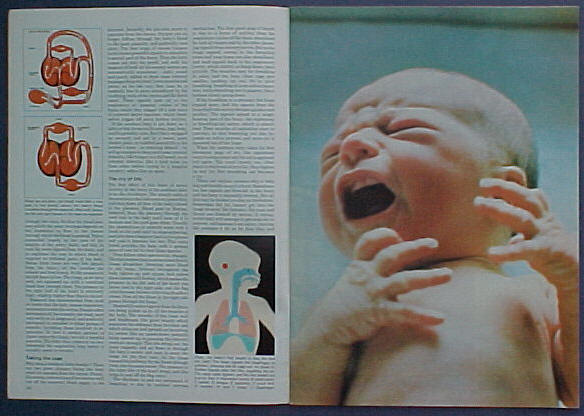 THE STUDIO ALBUM

So OK, what do I think of the individual tracks?    Let's have a quick look at them.   This isn't meant to be some massive deconstruction of each song, just a few random thoughts about each track from me.
TRASHED
This first song on a Sabbath album fills the format of the band for awhile.  If you go and look at the albums Black Sabbath released around this time in both directions, "Song 1" was some sort of fast track.   "Never Say Die!", "Neon Knights", "Turn Up the Night", "In For the Kill", "The Shining"..  Trashed fit that mold .  Fast song, which I'm predisposed to liking anyway.   This hooked me immediately.   To this day I'm still miffed they never played it live.  They played a decent percentage of this album live, but never this song.  Never really understood why.   It does have a music video that's half conceptual, half concert footage.   It was "sort of" part of a pair of videos, with the other one sharing some conceptual bits.   Oddly enough, the video has nothing to do with what the song was really about.  Which was Ian Gillan, booze, & Bill Ward's car.
Always loved this song.  If "Hot Line" didn't exist, then this might be my favorite song off the album.   Trashed got re-recorded many years later, but I'll get into that story later on.
STONEHENGE
An instrumental.  If I had to guess, I'd say Geoff Nicholls had a lot to do with this, as it has a big keyboard part to it.   It's a mood setter, the version that is on the regular album is kind of short, although there was an extended version of this that appeared originally as a B-Side to the single release of Trashed.  It was later released as an extra on the 2011 Deluxe Edition of the album.   It's not like I don't like the track, but I think I prefer it in its shorter form, where it feels more like an intro to the next song.  When it's extended out to five minutes, it doesn't work as well for me.
DISTURBING THE PRIEST
Now this is more like it.  Where Ian's trademark scream melds with that Black Sabbath doomy sound.  The shriek at the start of the song I think would have been better suited as Track 1 – kind of "announcing" what kind of album this is.   I love that sound, it defines the song to me.   Love the lyrics, and it's a got a nice driving beat, which I like better than the average "slower" Black Sabbath track.
THE DARK / ZERO THE HERO
The Dark is another instrumental, this one even more of an "intro" than Stonehenge was.  This reminds me of E5150, or "The Sphinx" from Seventh Star.  In fact, at this time in the band's history, they did several of these short instrumentals to "introduce" another song.   The Dark never really did anything to me, although if you just "start" Zero the Hero on its own, it sounds weird by itself.
Zero the Hero feels in some ways a lot like Disturbing the Priest in that it's a slower song, although not exceptionally slow, it's got a driving beat that permeates the entire song.    When the album was new, this was my favorite track.  Really liked Tony's solo in the middle of this track.
Over the years I've heard many times that this song was used as inspiration (Read: ripped off) for the Guns & Roses song "Paradise City".  I can't say I understand this one at all – I don't hear it.  I guess because I view Zero the Hero as a good song, and Paradise City as a repetitive piece of crap, I don't like that song at all.
ZTH song has a conceptual music video, but when you watch it, you go "DAFUQ DID I JUST WATCH?"   I've NEVER been able to figure out what the heck is going on in this video.  It's presented here, go scratch your head if you want to and watch it.  :)   The video actually has "The Dark" in it as well.
There's a "single" version of this song where Iommi's solo in the middle is shortened a lot.  I believe that's the version that's used in the music video.
DIGITAL BITCH
The song that so many people think is about Sharon Osbourne.  I've never subscribed to that theory, but can understand why people do.  This was 1983.   Sharon didn't have the reputation she has now back then.  Not yet, anyway.  As a piece of music, it's right up my alley, a faster song.  However, for some reason, this one never stuck with me.  I don't actively dislike it, but if I'm gonna listen to just one song from this album, it's not this one.    In writing this piece I just listened to this again, and I get the same feeling.  Fast song, which I usually like, but this doesn't grip me.
BORN AGAIN
Probably the weakest song on the album for me.   It's usually a skip when I'm playing the album.   To me, the most notable part of this is not any of the music, but the lyric "grey & plastic retards all floating in circles".  What the hell is that all about, Ian?   It does have a few good Ian shrieks in it, though.  Those always work.
This is the song where you get the answer to "Where the hell is there flute on this album?  Tony is credited as playing flute on this album" comes from.  Thing is, even knowing it's in this song, I still can't hear it!
HOT LINE
My favorite song on the album.   It's fast, it's got a great hooky riff, and it has a metric TON of Ian shrieking.   I cannot say how much I love this song.  Every part of it is something I like out of a Black Sabbath song.   To me it's so far ahead of anything else on the album, it's not funny.   In fact, in writing this article, I listened to it half a dozen times.  :)    I did like that they did it live on the tour.
Now I know that's not a popular opinion, most people don't like this song, but I don't know why.
KEEP IT WARM
Another one that I'm "meh" about.  If I remember right, this was something that Ian wrote bout his girlfriend/wife/forget now which.    The song isn't bad, but it doesn't do anything for me.   The guitar solo from it though sounds like something that was lifted from the Heaven & Hell album.  Not that it sounds like anything from that album directly, but the style has that "fluid" feel that is a bit unique to the H&H album.   I really like the solo from this song a lot, but the rest of the song doesn't do much for me.
THE FALLEN
The Fallen is an interesting track.  It was never released on any version of the album until the 2011 Deluxe Edition (more on that later).   Once I finally heard the song, I wondered why it was left off.   Granted, what we have is not a completed, properly finished and mastered song, so perhaps it would have been changed up a bit had it been properly completed.    But it has all my hallmarks.  Fast, cool riff, Ian shrieks.  So yeah, it's a lot like Trashed, Hot Line, & Digital Bitch.  Perhaps it was felt that there were too many of that kind of song on the album already, so they went with something else.    A few bits about this one, though.
Ian's vocals have a different "feel" to them – like he's singing in different key, plus it's multi track vocals, he's harmonizing with himself.
Tony's guitar solo sounds like it got used somewhere else, but I can't place where.  Anyone reading this know what I'm talking about?
Bill Ward has a great drum intro, and is one of his better peformances on the album, I think.  It isn't until recently that I realized how much Bill Ward's fills help the song Children of the Grave, that same kind of vibe is in play here, I think.   I'm not saying The Fallen is as good as Children of the Grave, but I like Bill's work here for sure.
That's the album!   The Deluxe version has some live tracks, and additional goodies, but I'll talk about that later.
MY FIRST BLACK SABBATH CONCERT
So the album is out, saw some promotional things – magazine articles, tv interviews, the works.  Thoughts then turned to live shows and concerts.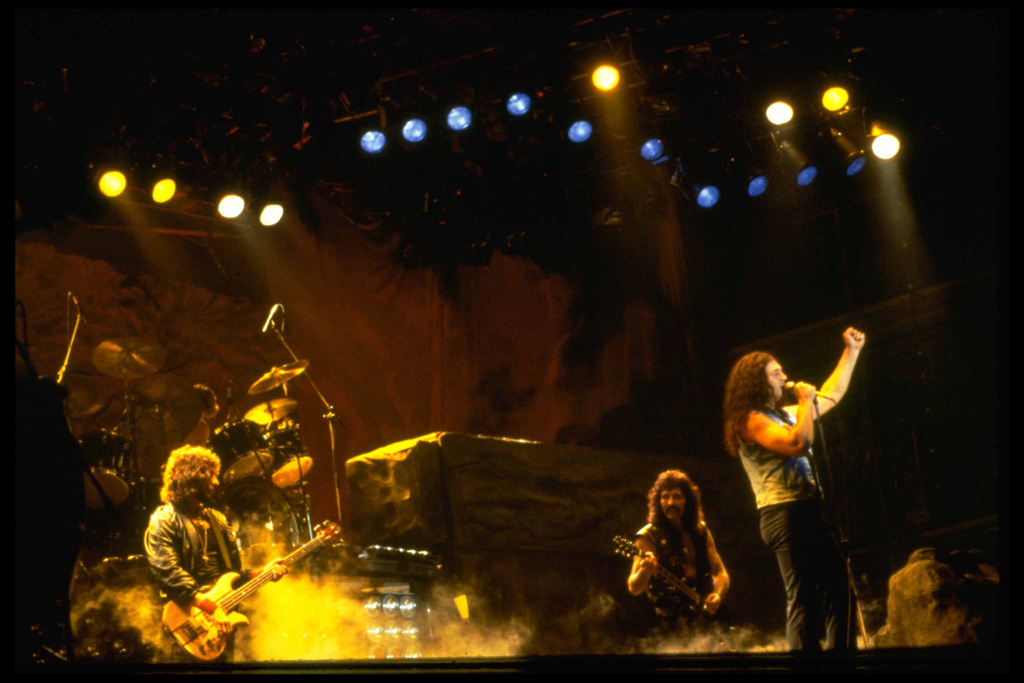 My birthday was two days after the first date on the Born Again tour, so I was most intersted in that.  Given it was 30 years ago, it's not like today where you can get on Youtube and see video from the show you were just at right after it was over.  You had to wait.   I cannot recall now if I heard any bootlegs before I saw them live.   Concerts in 1983 were a lot different beast than in 2013.
Found out they were coming to Philadelphia (where I was living then), and bought tickets with some friends of mine.  The concert was November 5th, 1983.   However, one story about the show that I needed to relay.    Does anyone remember the concert by The Who in 1979 in Cincinnati where several kids were trampled to death?  That was because that concert had "festival seating" (aka no seats on the floor).   The idea being that anyone could get close to the band if they wanted to push forward.   Well, in the fracas that was the Who concert, several kids got well, trampled to death in the crush to get down front.  In the aftermath of that incident, these kinds of concerts were banned everywhere in the United States (with good reason, IMO).  They stopped for quite a long time.  The next one held anywhere, was – you guessed it, on November 5, 1983 in Philly.   There was a lot made about this in the local press at the time, where they pleaded with people to be cool about it, and reminding them of the kids that got killed in Cincy a few years previous.   So I got down there early, and hung out outside the Spectrum (same place a couple of Dio videos were filmed too) waiting for the doors to open.  Just generally shooting the shit, talking to friends drinking beer, throwing frisbees, you get the idea.   After being there for many an hour, they opened the doors about 90 minutes or so before Quiet Riot was to take the stage as the opener.   Well, since I was there so early, I *DID* get all the way down to the front.   But after about 10-15 minutes down there, I couldn't take it anymore.  I could easily see how people got hurt or killed.  The crush of people pushing on you from behind was too much to take, so I bailed out of there.  30 years later, I can't recall if my friends came with me or not.  But I went and hung out by the sound board area, which was far more vacant.  And more comfortable.  After an enjoyable set by Quiet Riot (don't forget this was when their Metal Health album was just exploding, so they were BIG DEAL then), Sabbath came on.    I remember at the time wondering what they were going to play – again in this era of instant everything, it's easy to forget that concert set lists were a surprise, because there weren't instant and immediate reports on everything that got played.    We got the new tracks by Sabbath, we got the old classics (Iron Man, War Pigs, Paranoid), but a few surprises.  Supernaut was played, and "Rock & Roll Doctor" was played.  But I think the big surprise to everyone from that show was the playing of Smoke on the Water.   It was really quite weird seeing Tony Iommi do Ritchie Blackmore's opening notes for Smoke.
It has been 30 years since that concert, so I don't remember it a ton in detail, except a few bullet points:
Ian was definitely reading lyrics off the ground at some points.  It's obvious he didn't have that strong a command of some of the older Black Sabbath tracks.

I forget what song it was, but Ian's bongo set made it out on stage.  That looked REALLY weird.  UPDATE: I was sent a video of Ian playing the bongos.  You can view that here.
The big cross in the middle of stage was INCREDIBLY bright.  At some points you couldn't see anything else except the light coming from it.  I mean it was STUPIDLY bright.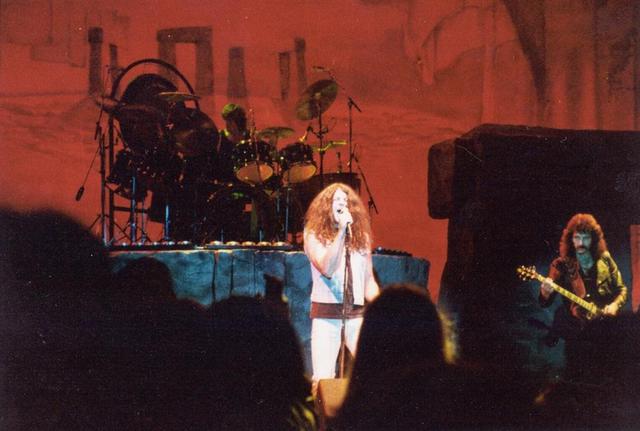 I had a lot of fun at the gig.   It was what you'd expect from Iommi & Butler.  Wall of sound.  Bev did a great job live from what I recall, and Ian did a great job.  In fact, I go out on a limb and say that his live rendition of the song "Black Sabbath" is better than any other singer that has ever been in the band – ever.   I know some fans consider that heresy, but his laughing and shrieking fits the tone of that song REALLY REALLY WELL.   A live version of this was legally released on Disc 2 of the Deluxe Edition of Born Again in 2011 (more on that later).
There are several audio bootlegs from this tour, but two of the most famous are "Paranoid at Reading", and "Live at Worcester".   Reading was cool, because it was the first bootleg I think most people heard from back then, but Worcester was famous for being the best quality live recording there was.  You see, it was professionally recorded, and then broadcast over a radio network in the United States not long after it happened in November 1983.   The show was actually filmed the night before I saw them (Nov 4), and I remember VERY WELL recording that off the radio myself.  That physical tape is long gone, but it's quite easily accessible online.   The original version had radio introductions, and commercial breaks, and all that.  That part of it has been mostly excised from the available bootlegs – I wish it was still available, as it would remind me of listening to it off the radio.
Paranoid at Reading was widely available as a bootleg, but now comprises the bulk of Disc 2 of the Deluxe Edition of Born Again.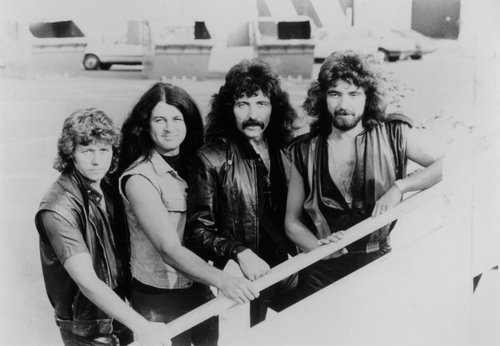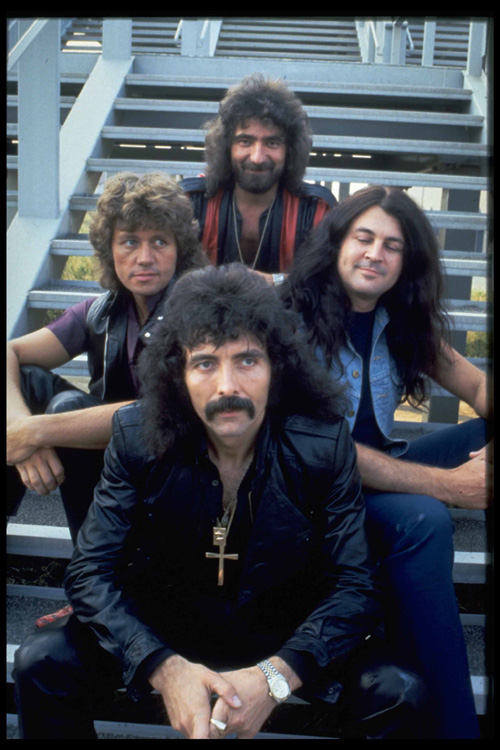 AFTERWARDS
The tour went on, and from what Ian has said, he called it a "year long party".    I remember when he was first announced that it wasn't going to fly long term, and it didn't.  The tour ended on March 4, 1984 in Springfield Massachusetts.   The Perfect Strangers album by Deep Purple was released on September 16, 1984, so Ian didn't waste a lot of time after the tour ended in hopping back on board with Deep Purple.  All things considered, it is where he probably really belonged.   I loved the Born Again album.  I was pissed when Ian quit back then to go back to Deep Purple.   I was determined to hate the Perfect Strangers album because of that, but you couldn't, it's just too good.  (Perfect Strangers is right there with Machine Head & Purpendicular for best Purple of all time, but I digress).
So OK, the tour ended.  Black Sabbath attempted to soldier on past the Born Again album, trying to work with vocalists Dave Donato & Ron Keel, and even brought Bill Ward back again for the attempts in 1984.  But it wasn't to be, and that's not the focus of this article anyway, you can read my timeline page for more on that part of the band's history.
But what about the Born Again album after 1984?   What kind of lasting impact would it have in the overall scheme of things?   Sadly, not a huge one.  It's a shame, as there's some really great tracks here, but unless I'm mistaken, these are the only instances where music from Born Again was used outside of the Born Again album & tour.   If I've missed something, PLEASE let me know.
1) SEVENTH STAR TOUR
In terms of live concerts, the next album after Born Again was Seventh Star in 1986.   Now the name issue aside for that album/tour, it was billed live as Black Sabbath, and that tour was the only time they played anything from Born Again live ever again.   About half an hour into the set they played a medley that consisted of the songs Sweet Leaf / Zero the Hero / Sphinx-Seventh Star.
If you go to 34:46 in this video, you will hear it.   I tried to link directly to it, but for some reason, Youtube wants to go to the wrong start spot (36:10) no matter what I do.  I'm leaving my code in there in case it works right for you, but it probably will launch to the wrong spot.  go to 34:46, and you'll hear the Zero the Hero medley.   No vocals, however.
2) BETWEEN HEAVEN & HELL
In October of 1995, Castle Communications issued a compilation in Europe called "Between Heaven & Hell: 1970-1983".   At the time I was overjoyed, because it didn't cover JUST the Ozzy years, like so many compliations did.    On this compilation was "The Dark/Zero the Hero" from Born Again.
No alterations to the tracks that I'm aware of, just used it on here.
3) THE SABBATH STONES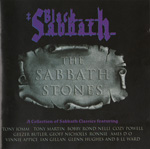 In April of 1996, Black Sabbath released a compilation called "The Sabbath Stones", which pretty much existed just to get Tony out of the I.R.S. contract for Black Sabbath albums at the time, as he had one album still due after the mess that was the Forbidden tour.   It covered pretty much just the Tony Martin era of the band, although it had a few extra tracks thrown in there from other eras.   It remains to this day the only compilation (along with The Dio Years) I know of that includes NOTHING from the Ozzy era of the band.
Anyway, on this compilation was "Disturbing the Priest".   I'm fairly sure (but am not 100% positive of) there weren't any remasterings done, was probably the same source master that was used in the mid 80's European releases of Born Again on CD.
4) 1996 CASTLE REMASTER
In 1996 (some into 97, and the last in early 98, actually), the European record label, Castle/Essential reissued everything by Black Sabbath on the original  Vertigo contracts, which covered the original 1970 album up through 1987's "The Eternal Idol".   Born Again was remastered like everything else in the line, and put out on a new CD print.   It was much improved over the previous Born Again CD I had, which was a 1985 German pressing.   That 85 German one cost me an arm and a leg back in the day, so it was nicer to have the album more readily available.
Odd choice of art design on this one, as it included a picture of the Bev Bevan led live lineup, not the one with Bill Ward.  Even stranger when there were no live tracks on it.
This is probably a good time to talk about Born Again and CDs.  I live in the US, and from its original release in 1983, all the way through to 2013, the Born Again album has never been released DOMESTICALLY in the United States.  Not originally, not any of the remasters, not ever.   What else puzzles me is I can't find out why.  Everyone I've ever asked about that gives me some version of "no idea".  Or they didn't know that.   So if anyone ever actually finds out why – AND HAS PROOF (not just a guess), I'd love to hear about it.
5) GILLAN'S INN
In April of 2006, Ian Gillan released a compilation called "Gillan's Inn".  It was to commemorate his 40th anniversary as a recording artist.  To that, he didn't just put old tracks on here, he re-recorded them.   His time in Black Sabbath was represented by the song "Trashed" .   As was all the other ones, this was a new recording.    The 1983 original was basically Ian Gillan with Black Sabbath.  The 2006 version is basically Tony Iommi with Deep Purple. ;)   This recording was Ian Gillan / Tony Iommi / Roger Glover / Ian Paice.
I've embedded a video of this below, but you should check out the album if you never did.  It's a cool compilation.
BTW, the video below has a picture of the live Born again touring lineup.  Don't understand why – only Iommi & Gillan are on this track.  Shrug.
6) BORN AGAIN DELUXE
Starting in 2009, Universal records started releasing a Deluxe Edition series of the Black Sabbath albums.  Again, given this is based off the same original record label deal that was made in 1970 with Vertigo, it covered from 1970's debut through 1987's "The Eternal Idol".    The albums were brought under a microscope so to speak, and remastered.  Audio tech improved greatly from 1996 to 2009, so there was a marked improvement across the board.   Those who hate the "loudness/compression wars" in remastering will probably like this series of remasters, as to my ears, they're quite well done.  They started with the 1970 debut, and started working their way forward.   The label got to the Dio era (Heaven & Hell / Mob Rules / Live Evil) and then after that out put out Seventh Star & Eternal Idol.  Born Again got skipped over.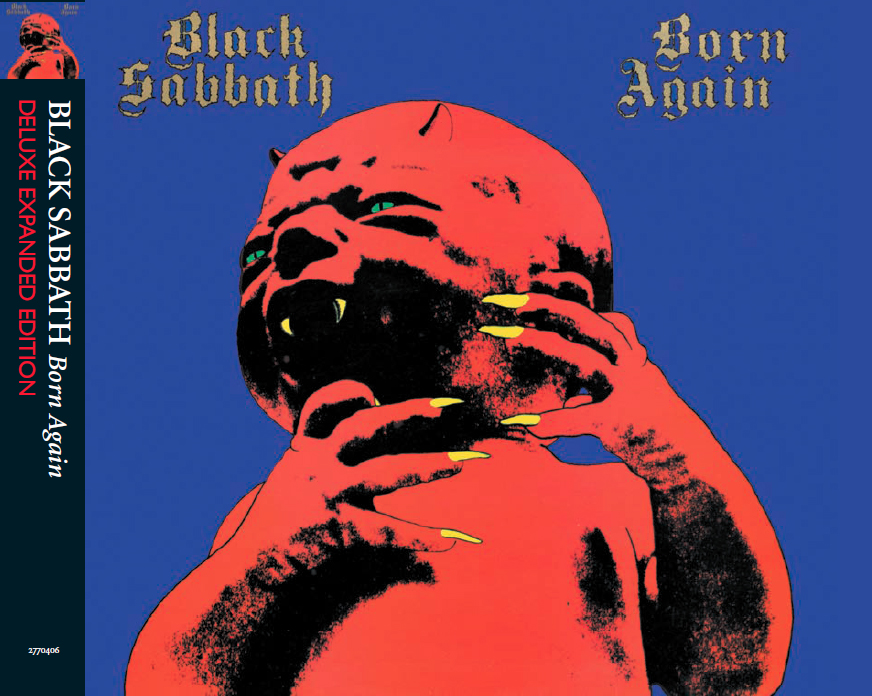 I inquired about that, and what was going on with Born Again, and I was told this.   Tony Iommi wanted to remix the Born Again album for the deluxe edition package.   Given the legendary talk about the "mix" on this album over the years, it seemed like a prime candidate for such a treatment.  No problem, you go back, do the work on remixing the album.  EXCEPT THE ORIGINAL MULTI-TRACK MASTER TAPES HAVE BEEN LOST!   I'm told this was the reason the album didn't come out in the right order, they kept trying to find the tapes to do a remix for.  But they couldn't be located – anywhere.   As time went on (I'm told), Tony kept looking, but the project reached a point where they had to cut their losses, and go with the more traditional "remaster" of the album.
So out it came with a remaster of the Born Again album we have known for all these years.  It sounds marginally better than the 1996 Remaster.  It comes from the same set of tapes.  But at this point, without a proper remix, I can't imagine anything better being done with the Born Again album.  I'm told if the tapes ever turn up, that they'll still reissue a new mix of the thing.   Be nice, but I wouldn't hold my breath.
The "extras" on here include an extended version of Stonehenge, which originally appeared as a B side to the Trashed single.  Also the studio track "The Fallen", which originally showed up on a bootleg copy of some Born Again demos some years previous.   I suspect The Fallen was released solely because it was already out there on the bootleg, but I can't prove that.   The rest of the space was taken up by live recordings (that sound DAMN GOOD) from the Paranoid in Reading bootleg show.   I especially love Ian's rendition of the song "Black Sabbath".  I have said it before, and will say it again.  That version of the song is better to my ears than any other vocalist's version of that song in the entire history of Black Sabbath – and there's been a lot of them.
Overall, I would invest in the Deluxe Edition of Born Again if you don't have it.   Good remaster, lots of power, but without overload on the sonic levels.  Great live stuff with Ian Gillan, and a couple of studio bits you probably never heard of before.   Also, the story I have on this page by Steve Krusher Joule about the cover art was reproduced in the booklet in the Deluxe Edition (I had to give them my permission, as did Joule), so that was cool.
7) WHOCARES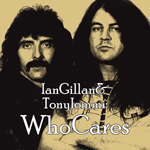 Also in 2011, Tony Iommi & Ian Gillan released a charity CD single, called "Out of My Mind", which was a totally NEW song.  It did pretty well, and the one song was a who's who.   Outside of Iommi & Gillan, the track also had Jason Newsted from Metallica, the late Jon Lord from Deep Purple, & Niko McBrain from Iron Maiden.  Also had Linde Linstrom of "Him".   Anyways, after the single did so well, Tony & Ian decided to expand on the concept, and made a full album from WhoCares.
It was mostly leftover and oddball tracks from various solo projects and whatnot, but their two respective bands were represented.  Which brings us to the point of this being here.     A couple of tracks from the Born Again album made an appearance here.   They are:
Zero the Hero – the version from I believe the 2011 Deluxe Edition Remaster

Trashed – Not the original, but the one from Gillan's Inn in 2006.
Oddly enough, this album also had another Black Sabbath track, but from Tyr with Tony Martin.  They included "Anno Mundi".  It's a great song, but its inclusion on THIS compilation confuses me to this day.   Finally, the cover art from this is a bit disappointing.  It's just a reuse of one of the promotional pictures from the Born Again tour.   Word is they were going to have original/new cover art, but couldn't decided on what they wanted in time, so they went for this picture.
THAT'S IT!!
That's pretty much the life of the Born Again project.   Now according to my editor, I'm at 7,324 words in the final draft of this article, so I've written a lot about all this.  But that's not even close to all the details.   There's a couple of books out that go into very good detail on this section of the band's life (as well as others).  If you want additional reading on the Born Again time in Black Sabbath's history, I urge you to check these out:
This was the first "new" Black Sabbath album that came out after I had been a fan, so it holds a place in my heart.  It's now 30 years old, and that makes me feel old.  But as of this writing the original Black Sabbath album is 43 years old, so WTF.     I hope you enjoyed this rather large look back at this mostly forgotten, but brilliant Black Sabbath album.   Hope it encourages at least SOMEONE to buy it who has never bought it before.   Here's a few ordering links for the album:

2011 Deluxe Edition CD [ Amazon US | Amazon UK ]
MP3 [ Amazon US ] | Deluxe MP3 [ Amazon UK ]
1996 CD [ Amazon US | Amazon UK ] | iTunes (US)
Before I sign off, here's a couple other Born again links for you to check out, as well as a few random bits I couldn't find a good place for above.
And for my final piece, these two rather weird promotional clips that Black Sabbath did when they visited Philadelphia on the Born Again tour.  I remember hearing these played on the radio back then, kind of cool to still have them around.    I'm pretty sure they're both Bev Bevan.  The third clip here is a radio interview with Tony Iommi & Bev Bevan, again from WYSP in Philadelphia from back in the day.
Thanks for listening, and let me know what you think of all of this in the comments below.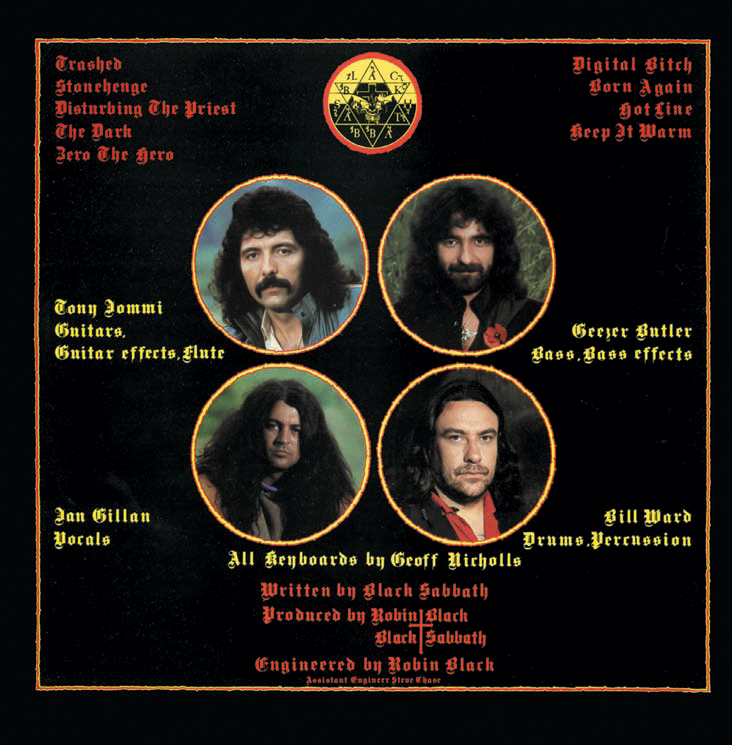 P.S.  After I completed this article, but before I published it, I needed to make a run to the grocery store for my wife.  Happy to do that, and I took the opportunity to do something I haven't done in I don't know how long.   I took the 30 year old Born Again cassette tape from earlier in this article out with me to the store.   Put it in my truck's audio system (which still has a cassette player), and I was surprised – it still worked!    Gotta love that.   Figured I'd throw in the tweet I made about that on here, too.