Today is January 31, 2014.  That means that 20 years ago, it was Jan 31, 1994.    And on that date, came the penultimate studio Black Sabbath album in the Tony Martin era of the band, Cross Purposes!
I'm not doing a full retrospective, because I'm a bit too busy to write about it on its actual birthday, but I couldn't let this album pass unremarked.  This album's production was a bit interesting.  After the fall of the Dehumanizer reunion in late 1992, an awful lot of talk was bandied about with getting back together with Ozzy.  That of course, never happened, and during that time, Sabbath worked on a new studio album with Tony Martin again.   Legend has it this album was due to be released in 1993, but given the delays in "working it out" with Ozzy, this was shelved into early 1994.   One wonders what might have happened to this album HAD they worked it out with Ozzy.  Kiss' "Carnival of Souls" springs to mind here.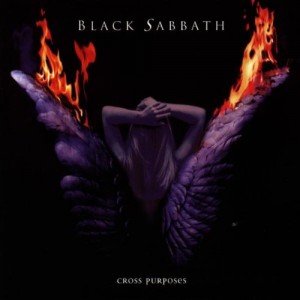 Anyway, it did come out, there was a tour behind it – one that I really liked, to be honest.  The set list for the Cross Purposes tour was great one.  Some tracks were brought back to the set list for the first time in bloody ages.  The Wizard showed up again here, as did Sabbath Bloody Sabbath (the full thing), and Symptom of the Universe – including the "Woman child of love's creation" bit..   They even tried to drop Iron Man from the set list – something I applauded at the time.   Was a great set list.
I loved this album, because to be honest, while I enjoyed Dehumanizer, I really loved what Black Sabbath had been doing with Tony Martin up until that point.  The Headless Cross & Tyr albums were great, and the after the sidetrack of Dehumanizer, we got back to that with Cross Purposes.  Thought it was a great progression on the Tony Martin era.  Plus, it had the added oomph of Geezer Butler on here, which I think made this the most SOLID album with Tony Martin on it.  Geezer's bass anchors this album.  I used to think the Eternal Idol album was the top of the Martin era for a long time, but I've changed my tune on that relatively recently due to the appearance of Geezer Butler on this album.
I remember at the time the lyric "it's time to kiss the rainbow goodbye" as a dig against Ronnie James Dio.   I could never get absolute confirmation that is what the lyric was supposed to be about, but it was a fan story there.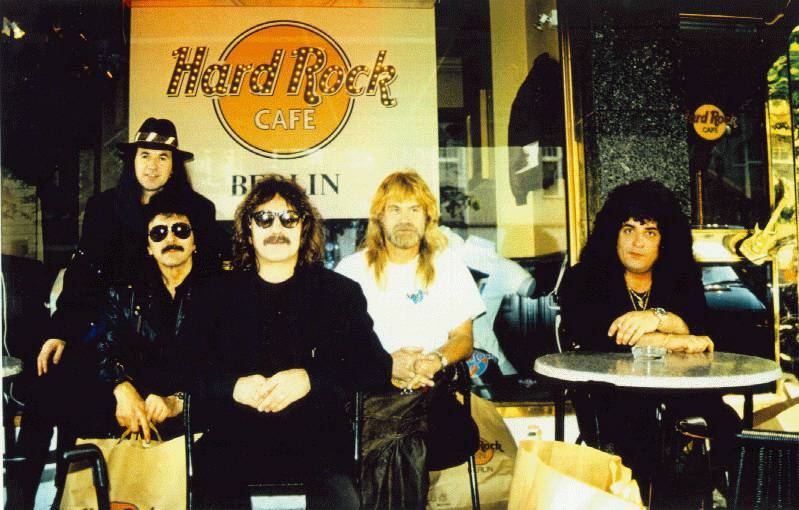 The end of the tour saw the departure of Bobby Rondinelli on drums, and for some South American gigs the return of Bill Ward.   In fact, Bill was to carry on at that point, but I'll get into that whenever I talk about the anniversary of the Forbidden album.  :)
I know the Tony Martin era isn't everyone's cup of tea, but I realy think you should seek this album out and give it a shot.  There's a lot of good stuff on here.   It is UNFORTUNATELY out of bloody print.  I've written elsewhere about the non availability of the Tony Martin era on this site – please read that article too – has lots of background info.   It is still available for purchase, but given it is out of print, you can pay an arm and a leg because of that reason.   Here's a few links if you wish to purchase a copy:
[ Buy CD from Amazon.com | Buy CD from Amazon.co.uk ]
Below I've got a few pictures to check out, plus there is my Cross Purposes discography page which has a lot of other info about the album, too.   If you have this one, get it out, and give it a spin.
I'm including a couple of Youtube links as well.    The first is the official music video for the "The Hand that Rocks the Cradle" song.    The second is a fan made video for the "Dying for Love" song.   Finally is a Youtube link for the song "What's the Use?" which is a track that appeared on the Japanese CD version of this album – AND NOWHERE ELSE.  That's a bloody crime, as IMO, it's a great track – much in the vein of Neon Knights, and other "fast" Black Sabbath songs.   Check 'em out: