I've been doing this site for a long time, and one of the biggest complaints I've seen is "Why isn't the 70's Ozzy era available on iTunes?"  Well, it actually has been in the UK/Europe for awhile, but not in the United States/North America.  I'll have a sidenote on the US vs UK stuff later on, but suffice it to say, as of Jan 14, 2014 – FINALLY – the Ozzy era albums are available in the US iTunes store as of right now.   

Available right now for digital purchase are the following albums:
Black Sabbath (1970)
Paranoid
Master of Reality
Volume 4
Sabbath Bloody Sabbath
Sabotage
Technical Ecstasy
Never Say Die!
Collection: "Complete Studio Albums: 1970-1978"
I see iTunes also lists the 2006 single disc Greatest Hits album, which I am pretty sure wasn't there before today, either.  Although, truth be told, I wouldn't bother with that.  If you're buying these things digitally, get the real albums, and not a compilation like that.  Just a personal opinion.
Now this release brings up a few questions.  I'll try and address the questions I have myself, and the ones I've seen with what I know.
What mastering is this?
The Sabbath catalogue has been remastered several times over the years.   As I've written about before, there are two sets of masters.  One for the US (Warner/Rhino), and one for everywhere else (Vertigo/Castle/Universal).   Anyway, If you go to the info pages for the individual albums, they say something like this (the year obviously being different for the relevant albums..
(c) 1970 Warner Bros.  Marketed by Rhino Entertainment, a Warner Music Group Company.
This tells me that we are NOT using the mastering source that was used in the 2009 Remasters that Universal put out over a year or two where the first three albums were deluxe editions (and all of the albums from 1980 onwards that have been released as well).   This is likely the same mastering source that was used in the 2004 Black Box set.   That set has been out of print now for about two years or so, and it appears this has been released digitally.
Now, they're marked on iTunes under the "Mastered for iTunes", which means that a mastering was done that is supposedly more compatible with the kind of data compression that Apple uses for its iTunes digital download.  Apple has a page on their site with additional information on that program if you care to read more about it.
But the bottom line is I believe this is the same remastering work done in 2002 by Warner/Rhino.   That remastering work produced three pieces of output.  The 2002 2CD compilation, "Symptom of the Universe: The Original Black Sabbath: 1970-1978", the 2004 Box Set, "Black Box: The Complete Black Sabbath 1970-1978", and the 2006 CD compilation "Greatest Hits: 1970-1978".   I suspect some massaging was done to prep them for iTunes, but I do NOT believe a complete full remaster was done here.    If I find out anything different, then I'll update this story.
Sabbath Email & "Worldwide".
Black Sabbath's official mailing list put out a short email with this verbiage.  It says..
"The full catalogue from the original Black Sabbath line up has now been mastered specifically for iTunes, ensuring the delivery of the music to listeners with increased audio fidelity, more closely replicating what the artists, recording engineers, and producers intended.  Available exclusively on the iTunes Store worldwide."
That is slightly deceptive.  It's not a LIE mind you, but…   If you look up the same albums in the European iTunes store, you get a different output.   Here is why.  If you go to the listing for the first Sabbath album, the copyright there is:
(c) 2013 Sanctuary Records Group, Ltd.
That is the copyright used for the Universal/Vertigo/Castle set of remasters that is the "other" source.  Additionally, these albums have been available on the European iTunes store for awhile now, so the release there today is not really new as such.
So it's technically correct for that press release to say it is available on the iTunes store worldwide, it is NOT correct that they're using the same remastering and output.   The European version too is "Mastered for iTunes", but the underlying mastering source likely is NOT the same.  This would be the one done in 2008/2009 by Universal.
Additionally, the "Complete Studio Albums" collection is NOT available outside of the US/North America.  That's a regional restriction.  Again, Warner/Rhino vs Vertigo/Castle/Universal.
Complete Albums?
The formal name of this package is "Complete Studio Albums 1970-1978".   Is it REALLY complete, though?   That depends on how you look at it.   There's a couple of omissions if you compare this to the Black Box set from 2004 that this is seemingly drawn from.   The two things that are missing are:
The track "Evil Woman" from the first album
All of the content from the 9th bonus disc
The 9th disc on the physical media box set was a DVD, and had the old Beat Club video footage on it.  So in that regard, it's not TECHNICALLY an omission from the albums as such, but..   Evil Woman is definitely missing.   Most people won't notice this, but if you look at the cover art, you'll see an obvious attempt to make it look like Black Box: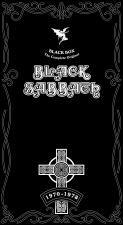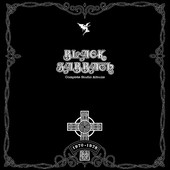 Positive / Good Stuff
I don't want you to read this, and take away from it that I hate it or something.  I don't.  I think it's great this is finally available.  It should have been available ages ago, but it is here now, and if for some reason you are reading this, and DON'T have these albums, you should go buy this.
Specifically, what I would buy would be the "Complete Studio Albums" package.   It's $59.99, and covers the eight 70's era Black Sabbath studio albums.  This is the best the Warner remaster series has ever sounded, and the value is really darned good.    The albums are all sold individually too, for $9.99 each.  There's eight of them, so if you buy the complete package at once, you save $20.   That's a great price for all these songs.  One minor thing there – some tracks cannot be purchased on their own, they have to be bought with the full album – why I don't know.
If you go through the official link they give (http://www.itunes.com/blacksabbath), you it does have links to all the other Black Sabbath material available in your region of the world, which is mostly all the Dio era material and some other bits and bobs.   If you are in Europe also includes the deluxe/2CD remastered versions that I mentioned earlier.   The only things left not available are the Tony Martin/IRS albums, which I've written about elsewhere.
This is a good day!  Ozzy era Black Sabbath's material is FINALLY available on the iTunes store in the US/North America.   Go get it if you don't have it.
If you have any questions that I didn't cover above, please leave them in the comments, I'll get them into this article if I can get an answer.

P.S.: Background Info on Record Label Stuff
(I wrote this next section for an article I wrote on the remastered versions of the Tony Martin era Black Sabbath albums (which are still coming – eventually).   This part of that article is relevant, so I'm reproducing it here.
Before I get to the Tony Martin stuff in detail, there's a few background bits I should probably touch on.   As I pointed out in the intro, the existing Deluxe/remaster series from Universal from 2009-2011 covered from Black Sabbath (album) to Eternal Idol.
Back when Black Sabbath signed a record deal back in 1970, it was with Warner Bros in the United States, and Vertigo in UK/Europe/World.    Warner Bros had its own set of masters for the albums, and Vertigo (later Castle, later Universal) had their own set.  Each of the companies could not sell their products in the territory of the other (unless something was licensed).    This original contract ended after 1987, when Tony signed with IRS for Headless Cross.
This is why 2004's Black Box & 2008's "Rules of Hell" were not sold outside of US/North America.
This is why the 2009-2011 Universal Deluxe CD/Remaster series was not sold in US/North America, at least not domestically.
It is also the reason why we see a lot of greatest hits packages, and fans get all bent out of shape about it.  I frequently hear "How many times can the band release that?"   Well, most of the time, the band doesn't.  It's a record label thing most of the time.  Lets look at the various compilations (the major ones anyway, I know there's more)…
1975's "We Sold Our Soul" – Band sponsored, came out on both Warner & Vertigo
1995's "Between Heaven & Hell" – Castle, Europe
1996's "The Sabbath Stones" – IRS, Europe
2002's "Symptom of the Universe" – Warner, USA
2004's "Black Box" – Warner, USA
2006's "Greatest Hits 1970-1978" – Warner, USA
2007's "The Dio Years" – Warner/Rhino, USA
2008's "The Rules of Hell" – Warner/Rhino, USA
2009's "Greatest Hits" – Universal, Europe
2012's "Iron Man: Best of Black Sabbath" – Universal, Europe
So when you're talking about these kinds of releases, you have to take this into account as to why it's not available in certain places.  At least not domestically.   You can always get things imported, but it's always more expensive that way.
This is all relevant, because it is the reason why Universal stopped at "The Eternal Idol".  They didn't have rights to release the subsequent albums in the catalogue, those being:
1989's Headless Cross
1990's Tyr
1994's Cross Purposes
1995's Cross Purposes Live
1995's Forbidden
1996's The Sabbath Stones
These were all on the IRS contract that Tony Iommi signed for Black Sabbath in 1988, and as far as I know, the rights to these albums reverted to Tony at some point in the years after all these went out of print.    Now technically, 1992's Dehumanizer was an IRS release as well.  However, Dehumanizer has some special situations.   If you were around when that all happened, Dio was signed to Warner Brothers for the "Dio band" contract.  They apparently needed some coaxing to let Ronnie out of his Dio contract to go back to Black Sabbath.  So to appease Warner, they were given distribution rights to Dehumanizer in the US/North America, and IRS retained rights to Dehumanizer everywhere else.   In 1992, it came out on Warner's "Reprise" label.   Now I don't know all the nitty gritty, but it was this "special case" that allowed Dehumanizer to come out in the 2009-2011 Universal remaster series.   I don't know what the specific contract clause was, but that's what happened to allow that specific one to come out.
The other IRS albums do not have this, and as such would require a totally new contract to be signed for them to be remastered and re-released.