A few weeks ago, the original Mk I Black Sabbath output was finally made available on iTunes in the US/North America for the first time.  The cover art with the set looked an awful lot like the Black Box set from 2004.   Then last week, I found out about a "new" box set being released called "The Complete Albums 1970-1978".   So I got to thinking, what's all this about?  I didn't report on it straight away, as I wanted to get some facts from the label.  Well, I have some.  Here's the details and various bits about this package: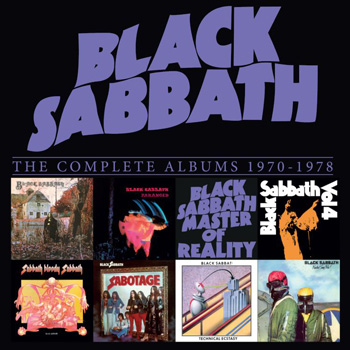 OK, so what is this?   It is a box set of the studio albums released by Black Sabbath covering the years 1970-1978.  Which means it contains these:
Black Sabbath
Paranoid
Master of Reality
Volume 4
Sabbath Bloody Sabbath
Sabotage
Technical Ecstasy
Never Say Die!
This is being released by Rhino, who is owned by Warner Bros.  I bring this up, because it will again raise the subject of territories.  This is a United States/North American product release.  Which means it won't be released domestically in the UK or Europe or elsewhere.  I've written about that subject before and why Warner/Rhino can't release their products in Europe, and why Universal/Vertigo/Castle can't release theirs in the US/North America. If you want to read about this subject, check out the last time I wrote about it.  Don't feel like writing that all over again.  :)

So anyway.  Rhino released the "Black Box" set back in 2004, and sold it for quite awhile.  That set was finally discontinued in 2011, and until recently, the domestic market in US/NA had the 70's Sabbath out of print on CD.  No more.  They're back in print, and that's what this release is about (at least in my opinion).  Getting those albums back out there again.
In short, if you are one of these collectors who has the 2004 Black Box release, and has the 2009ish Universal Deluxe Edition series, the 1996 Castle remaster series, and all the other variants, this box isn't really for you.  (Or maybe it is, if you're a completist).  I say this because this is a barebones release.   After asking the label a few questions, I can relay these facts about this box.
This is effectively the "physical media" counterpart to the US iTunes release from Jan 2014.
This is NOT a new remastering.  This is the same remastering work done around 2001/2002 which was used in 2002's "Symptom of the Universe: The Original Black Sabbath", 2004's "Black Box", & 2006's "Greatest Hits 1970-1978".
This is effectively a reprint of the Black Box set, but without the 9th disc & the booklet.  Which means no lyrics.  Black Box had Geezer authorized lyrics in it, which was a big deal to me.
The eight albums are inside the box with paper sleeves.  No jewel cases, just paper sleeves.  If you look at the really large version of the box artwork, you can see that if you look closely at the individual releases.
There is no additional story or booklet or anything along those lines.  It's the eight CD's and that's it.
There is no coupon for a digital download of the CD's (someone asked me, so I looked into it).

There are no plans to re-release this on vinyl that I was told about.

The catalogue number is R2-542306.  (this is mostly here as a note for myself).
So, OK.  I've just probably spent a lot of time convincing folks not to buy this.  Far from it.  The music on these discs is second to none.   Despite my affinity for all eras of Black Sabbath, there is no denying what the original incarnation did in the 70's.  This music is badass.
The package is selling for around $60 US (as of this writing, Amazon is selling it for $54.98).  If you break it down, it's just about $7 per CD.  That's not a bad deal at all.  In fact, I could quite easily see this box being used a lot as a gift for someone who doesn't have 70's Sabbath on CD, someone who wants a second copy, a gift for a friend, things like that.  For completeness sake, the full retail price is $64.98.
I'm not saying not to buy this – it's a great deal on a badass collection of music.  What I am saying is that most Black Sabbath fans will have all of this material already.  So unless you're a mutant reading this site and never bought the Ozzy era of Black Sabbath, this will not be the first time you've bought this material.  If however, you never did not buy the Black Box set from 10 years ago (man, has it been that long) and are still living on the old Warner Bros CD prints from the 80's of these albums, then perhaps you should consider upgrading.   If you read my original review of Black Box, I talk about audio fidelity and things of that nature there.  I'm not going to get into that into this article.
I've never really sugarcoated my reviews of stuff.  It's not the most unique release out there – but it is a necessary one.  The 70's era of Black Sabbath should NOT be out of print.   Fortunately, it is again (here in the US/North America).
Below is the press release, and the box art to check out.  I will be getting a copy of this in around the release date (Apr 15th, 2014), and I'll probably have something to say about it then.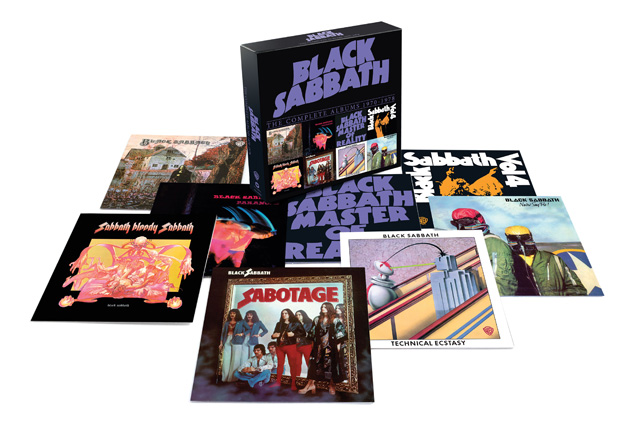 Press Release
Black Sabbath's Groundbreaking Masterpieces Collected In
THE COMPLETE STUDIO ALBUMS 1970-1978
Boxed Set Features The Original Quartet's First Eight Albums
Heralded Reunion Tour Continues with
Upcoming Dates In the U.S., Canada and Europe
LOS ANGELES – After forming Black Sabbath in 1969, Ozzy Osbourne, Tony Iommi, Terry "Geezer" Butler, and Bill Ward went on to record one of the most influential canons of music in the history of rock and roll.
Warner Bros./Rhino brings together the original quartet's groundbreaking eight-album run for BLACK SABBATH: THE COMPLETE STUDIO ALBUMS (1970-1978). The hard-hitting, eight-disc boxed set will be available on April 15 for a suggested list price of $64.98.
Presented in a clamshell box, the set contains all of the studio albums Black Sabbath recorded for Warner Bros. Records during the 1970's, including its iconic, eponymous debut (1970), the multi-platinum landmark Paranoid (1970), the platinum albums Master Of Reality (1971), Vol. 4 (1972), and Sabbath Bloody Sabbath (1973), as well as the gold albums Sabotage (1975), Technical Ecstasy (1976), and Never Say Die! (1978).
The past few months have been busy ones for Black Sabbath. Following hugely successful shows in North and South America, Australia, Asia and Europe, the band won its second Grammy® Award when the song "God Is Dead?" picked up the trophy for Best Metal Performance.
The group will kick off another North American tour on March 31 with a show at Barclays Center in Brooklyn, NY. In the weeks that follow, the trek will hit ten cities in Canada, including stops in Quebec, Montreal, Ottawa, Calgary and Edmonton, before it wraps on April 26 at the Hollywood Bowl in Los Angeles, CA. These dates are part of the band's final shows of its 2013-14 world tour in support of its first studio album in 35 years, 13. A resounding success, the album entered the charts at #1 in 13 countries (including their first #1 in the U.S.). Another run of European festivals and headlining shows will follow this summer.
First formed in Birmingham, England, Black Sabbath's doom-laden sound pioneered a new kind of heavy rock music, a sound that would later influence hundreds of other bands. Many consider Black Sabbath to be the godfathers of heavy metal, but Sabbath was capable of surprising its fans with songs that showed other facets of their skills besides darkness and monstrous decibels. Decades after their initial impact, guitarists are still stunned by Tony Iommi's jaw-dropping riffs, Geezer Butler's swooping bass lines, and Bill Ward's thunderous drums. And, of course, in Ozzy Osbourne the band has one of the most magnetic and unpredictable front men ever in rock, with a maniacal voice like few others before or since.
BLACK SABBATH: THE COMPLETE ALBUMS 1970-1978
Album Listing
Black Sabbath (1970)
Paranoid (1970)
Master Of Reality (1971)
Vol. 4 (1972)
Sabbath Bloody Sabbath (1973)
Sabotage (1975)
Technical Ecstasy (1976)
Never Say Die! (1978)