Earlier this week, Rhino released a box set called "Black Sabbath: The Complete Albums 1970-1978" on CD.   As I said earlier on this site, and on Twitter, this is effectively the audio from 2004's "Black Box" just reprinted.  After having it in my hands for a few days now, this is indeed what it is.  A barebones reprint of the audio CD's from 2004.  However, I have a bit more to say about the package than THAT.  Check it out:

Background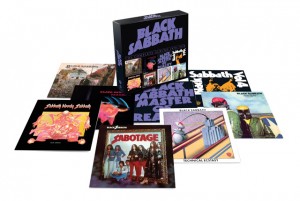 10 years ago (doesn't seem like that long ago), Rhino (a subsidiary of Warner Bros) released a big box set called "Black Box".  It was released surrounding then then Ozzfest 2004 tour (with Judas Priest) in the United States.   It was a box set that culled all the Ozzy era Black Sabbath albums from the 1970's into a nice box, and included a booklet (that despite one major error) was quite nice, both in layout and content.   The biggest draw for that booklet in the Black Box set were that all the albums had lyrics in them – and they were verified by Geezer Butler, who wrote almost all of them anyway.   Plus, all the albums were remastered – which was the first time the US/North America got a domestic remaster of these albums since their original mastering for CD back in the late 80's.
I should probably take a moment here and point out again the difference between various remasterings.  This has to do with label issues.  While I wrote about this in detail in another article, the short version is when Sabbath signed way back when in 1969, there were two record deals made.  One for US/North America (Warner Bros), and one for everywhere else (Vertigo).  Due to that, each deal had their own set of masters, and that is what they used to press albums, tapes, and later on CD's.   Due to territorial rights, neither Warner could sell outside of US/North America, and likewise Vertigo (later Castle/Universal) could not sell what they did in the US/North America.  This is why the Deluxe edition series that Universal did from 2009-2011 was never sold domestically here in the US.  Warner/Rhino has rights to release these albums here.   The Black Box (and 2014's Complete Albums) packages are culled from the remastering work done by Warner Bros, and released on their Rhino subsidiary.    The 1996 Castle remaster series, and the 2009 Universal series come from the original Vertigo deal, and are completely different.
Remastering & Formats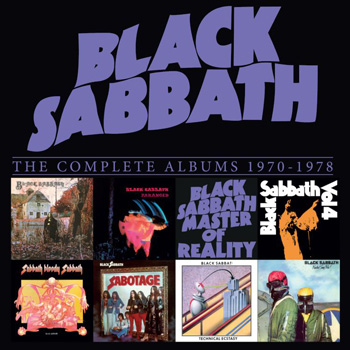 Back when Black Box came out, I called it "the definitive version of these albums", and for quite awhile I was correct.  I've later grown to prefer the 2009 Universal remasters as slightly better.  However, that's not to say the Black Box/Complete Albums remaster is no longer valid.  It is seriously well done work.  I'm making a razor thin comparison here.   You will enjoy the heck out of the Black Box/Complete Albums version if that is what you buy.  I only bring this up at all due to my existing "definitive version" comment.  I might have been a bit overzealous when I wrote that, because the word "Definitive" tends to pigeonhole you into a corner.  The reality is they're both awesome, and both will kick your ass when you listen to them.  ;)
Now to the 2014 package.  LET ME BE CLEAR:  The remastering work done here in this box is exactly the same as it was in Black Box 10 years ago, and is TOTALLY DIFFERENT from the various deluxe editions released over the last 5 years or so from Universal.  When looking at these things, it is VERY IMPORTANT to pay attention to what label is releasing this.
Black Box was discontinued in 2011, and because of that, the Ozzy era albums were also formally not available in the US/NA on compact disc until now because of that.   This package was intended to rectify that situation.   I don't think they wanted to bring Black Box back into print, because it had a higher price point when originally released (I believe it was $99, but I'm not 100% sure of that).    They wanted to go for a more accessible type of release, and that is what this is.
This was also a staggered released too, as you recall, earlier in the year, the Ozzy era albums were released on the US iTunes store (and also Amazon's MP3 store amongst others) – which was a first.  The Ozzy era studio albums had never been there before.  Not domestically in the US in digital format.
I have since confirmed with my contact at Rhino that the US iTunes release of these albums (under the title Complete Studio Albums 1970-1978) is indeed the same remastering work done 10 years ago or so for Black Box.
I've gotten a few questions about whether they intend on releasing this on vinyl.  I was told no.  If you want vinyl, you'll need to look at the 2012 vinyl box set (not released in US/North America, it's Universal), which is now hideously expensive, as I believe it too is out of print now.
UPDATE 1: Someone on Twitter pointed out the old Castle box with (nearly) the same name. That has nothing to do with this, is a much older and different remastering work.  Don't see that and think "Ah, its close enough".  No it's not.
What is in here?
So, OK, now that I've written almost 1,000 words as an intro, what actually is in here?   Well, first off, make no mistake.  This is an outstanding audio recording of the Ozzy era Black Sabbath albums.   Anything I say about this does not diminish the music contained within.   Given this is effectively a reprint, the only thing to really talk about is the packaging, which is where I'm spending almost all my time here.  The music inside is second to none, and is seriously ass kicking stuff.  But if you are reading this page, you already know that.  I don't need to tell you how awesome these tunes are.
All that is in here is:
The 8 albums in cardboard sleeves that are in a box.
That's it!   There's no extra booklet, no additional disc, no nothing.   What you are buying here is the music on CD and that is what they give you.  There is nothing else – no text, no piece of paper.  In fact, the only reference to this even being a 2014 release is some text on the bottom of the box.  There are no credits for the 2014 compilation.  Even the inside of the box is totally black and has nothing printed on it.   Check out these two pics of the inside and bottom of the box: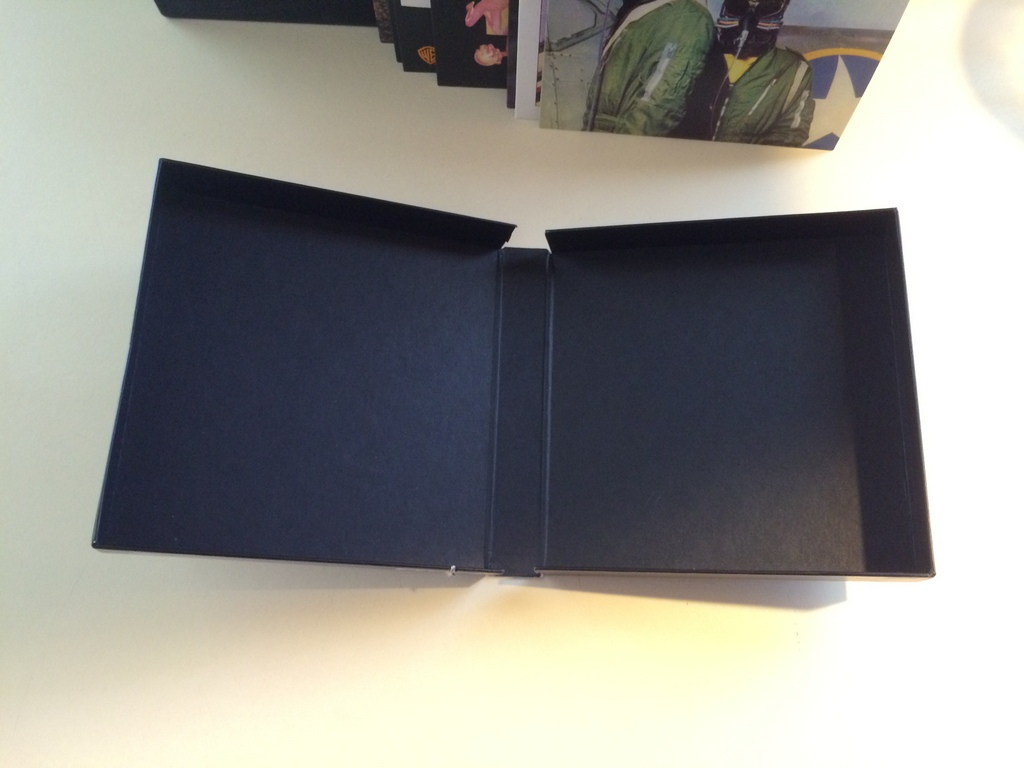 Basically, when you get this and take off the shrink wrap, you open the box, and there are eight cardboard sleeves, each with a disc in them.  There is nothing else in here for you to read except a listing of the tracks which comprises 100% of the back of the box.
I will have more photos showing all this stuff in the gallery below.   However, a few remarks about all this:
The cardboard sleeves both have the front and back cover art for the eight albums.
They are extremely thin, there is no room for anything to be printed on the spines of each of them.
There is nothing on the interior of the cardboard sleeves.  It is all blank in there. Same for the interior of the box.
The CDs themselves have two different art styles.   Why they are not all the same, or each have individual choices, I don't know.
Black Sabbath, Paranoid, Master of Reality, Volume 4, & Sabbath Bloody Sabbath have the same printing style on the CD.   Sabotage, Technical Ecstasy, & Never Say Die! have a different art style on the CD than the first five.
Why the first five have one, and the latter three have a different one I don't know.
Technically the remastering work done in 2002 (2001 maybe, not sure when the work was physically done) for these releases has appeared in a few places now.  2002's "Symptom of the Universe: The Original Black Sabbath 1970-1978", 2004's "Black Box", 2006's "Greatest Hits: 1970-1978", and 2014's digital release, "Complete Studio Albums: 1970-1978".
That's all I can think of regarding the physical presentation of this.
Summary
Understand, I did not write this to slag off the piece.  I wanted to accurately portray what is in this box, and let people know what they're buying.  Having said that if you're looking for a relatively cheap way to buy the 70's era Black Sabbath albums, then you should buy this.  As of the writing of this article on April 19, 2014, the package is selling for $54.87 at Amazon.com.   That works out to be $6.85 for each of these masterpieces.   From just a music standpoint, it's a hell of a deal.
If you need to replace an old, worn out copy of several of these albums, then you should go for this.   If you want to gift someone these masterpieces from the 70's, this is a great choice, too.
Understand though, that this is simply a reprint of the audio CDs that were in Black Box 10 years ago, but at a lesser price point, and reduced packaging.  That's not a bad thing, these albums needed to be in print on CD in the North American market.  That they weren't for so long was an odd choice, really.  If you're the kind of person that looks for extras, and booklets, and additional tracks, then you will likely not be happy with this, as that is not what this package is.  This IS however, a great value for what you get music wise.
If you have any other questions about the box, let me know, and I'll update as need be.
Photo Gallery