So I got a text message from a friend of mine this afternoon saying this..  "Crap!! Not going to Japan! :("  After a few subsequent texts asking what the hell he's talking about, it turns out a story broke this afternoon saying that "Black Sabbath will do a farewell concert on Nov 22nd as part of Ozzfest Japan".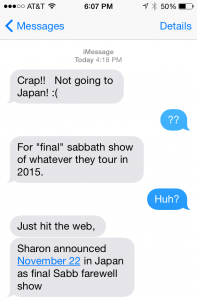 UPDATE:
I told you so.  See the bottom of the page for an update.
ORIGINAL STORY:
If you remember, back in September of 2014, the "news" came out that Black Sabbath would record a new album this year and tour for it.  That's not happened, nor am I aware of any plans to do so in March 2015.   Everyone remember how insane the general public was about that story when it broke last fall?  Back then I said "Wait, hold your horses", and I'm basically doing the same thing now.
What bugs me is that this is going to be picked up by every news site around with some version of the text "Black Sabbath announces farewell concert".  Wrong.  No.  That has NOT happened.
What we have is an Ozzfest video saying it will happen.   This has not been announced by Black Sabbath.  If it was, it would be on their Facebook page, their Twitter feed, and it would be all over their website.   As of now, it's not on any of them.  Similarly, if it was properly announced, it would also be on Tony Iommi & Geezer Butler's website.  It is not.  So until it is on the OFFICIAL BLACK SABBATH website/social media outlets, I won't believe it is happening.  It is no secret that I work for Geezer Butler, and I've not been given any news story to post there about this.  I've tried to get this story confirmed myself by my own sources, and I could not tonight.
Could this still happen?  Of course it could.  I'm not fool enough to think the band can plan things merely because I don't know about them.  But what bugs me is that people will translate the Ozzfest video in my link above into "Black Sabbath have announced…."   Well, no, they haven't.  Not as of now, anyway.
If you remember back in 1992, Ozzy announced he was retiring, and that there was to be no more from him.  Black Sabbath themselves were supposedly done in 1999, with "The Last Supper".  Kiss ran a farewell tour over what, three years and then continued on afterwards?   How many times has David Bowie retired?   I scoff any any notion of "retiring".   I never believe that for any reason.   So even if they do end up playing this gig, I'd never believe it that it would be the "farewell/goodbye/retiring" thing.
Having said ALL OF THIS, if it does turn out that they play this show, I would hope they could work it out with Bill so he could come up there and do something, if not the whole show.   If it TRULY is the last one (which I don't believe anyway), then it needs to go out this way: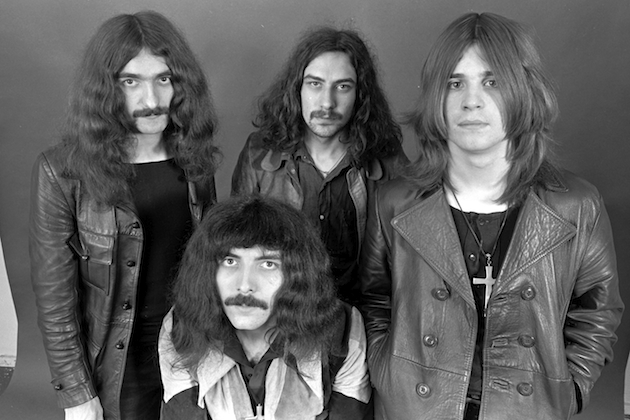 P.S.  Found this fan response somewhat comical.  :)
@sabbathfans Sharon's announcement reminded me when Homer said to Marge: "You know, you say that so much it's lost all meaning".

— João Renato Alves (@jrenato83) March 22, 2015
UPDATE – APR 8:
I hate to say I told you so, but..  I told you so..
Despite prior reports, @BlackSabbath won't appear on this year's @OzzfestJapan, festival namesake @OzzyOsbourne will appear with friends!

— BlackSabbath (@BlackSabbath) April 9, 2015