Tribute albums aren't always the most interesting one to me.  Probably because the bulk of them just make me want to listen to the originals again.  However, this one got my attention, and I wanted to say something about it.   Coming out next month (May 4) is a double CD tribute to Tony Iommi.  Not Black Sabbath, but Tony.

This is cool because it means that we're not stuck hearing the same handful of Black Sabbath songs that we do on a tribute to Sabbath (which also almost always means Ozzy era tracks).   This tribute digs deep for its tracklist.   yes, there's Black Sabbath on here, and yes, there's a handful of Ozzy era tracks, but the bulk of this is not from there.  I'm quite happy to see the really varied track listing.
TRACK LISTING
Anyway, check out the track listing, which includes my own contribution saying what album it came from)
DISC 1
Dario Mollo w/Mark Boals – Never Say Die (Never Say Die Album)
Maniac Rise – Time is Mine (Iommi 2000 solo Album)
Kyle Cousins – Heaven & Hell (Heaven & Hell Album)
Mario Parga – Scarlet Pimpernel (Eternal Idol Album)
Children of the Gravy – Sabbath Bloody Sabbath (Sabbath Bloody Sabbath Album)
Ironlung w/Wizard of Ozz – Electric Funeral (Paranoid Album)
Tanzan Music Academy – Neon Knights (Heaven & Hell Album)
Nick Didkovsky – Orchid (Master of Reality Album)
Darking – The Lawmaker (Tyr album)
Into the Void – Loner (13 Album)
DISC 2
Rekuiem – Paranoid (Paranoid Album)
Place of Skulls w/Victor Griffin – You Won't Change Me (Technical Ecstasy Album)
Sabbath Dio Tribute Cz – I (Dehumanizer Album)
Phil Jakes – Behind the Wall of Sleep (Black Sabbath Album)
Aldo Guintini & Tony Martin – Anno Mundi (Tyr Album)
Tony Reed – Live Forever (13 Album)
Kill Van Kull – No Stranger to Love (Seventh Star Album)
Aplanadora featuring Santiago Cabakian – Hole in the Sky (Sabotage Album)
Blood Sabbath – Snowblind (Volume 4 Album)
Phenomena – The Wizard (Black Sabbath Album)
Quite the well spaced out playlist.  Even the Ozzy era tracks aren't all your usual suspects.   There are audio samples of all the tracks you can check out over on the Tanzan Records website.   You can also check out this Youtube video which has small snippets from the tracks:
ORDERING INFO
I'm told by the project coordinator that this will be a worldwide release, and that in the United States it is supposed to be on Amazon.com, iTunes and the like, but I haven't seen it there yet.  If someone spots it (or anywhere else for that matter), please let me know.
It is available to pre-order on Amazon's UK site.   Once I get more links, I'll make them available.
For the moment, you can pre-order from the record label directly.  If you wish to do that, it's available here.
MORE VIDEO
There's another video which shows a bit of footage from the studio for the recording of the song "Heaven & Hell".   The band on that version of the track is
Kyle Cousins – Vocals
Barry Goudreau – Guitars (formerly of Boston)
Hugh McDonald – Bass
Vinny Appice – Drums
Kyle does incorrectly identify Vinny as the drummer on the original track – that was of course Bill Ward.   But I found out a really cool thing about Kyle.  He has autism, which gives me a lot of hope for my own 5yr old son who has autism.  Rock on, Kyle!
Once the album comes out next month, I'll post a review, and anything new that comes out, I'll pick up on that too.   As I said at the start of this, I've never been a huge fan of tribute CD's, but this one looks rather interesting.  Plus it is a charity piece to benefit cancer research, so that's a good thing.
In the meantime, here's the formal press release for it:
PRESS RELEASE
Tanzan Music and a team of Tony Iommi supporters are set to release
"GREAT LEFTY: LIVE FOREVER! TRIBUTE TO TONY IOMMI GODFATHER OF METAL" on 4th May.
Tanzan Music and "Tony Iommi Fan-Tastic" team of Iommi supporters together with Facebook communities "Tony Iommi The Man The Master The Legend" and "Global Black Sabbath Convention" are proud to announce the release of the compilation tribute in honour of Black Sabbath's true heart and soul, legendary Riffmaster Tony Iommi on May 4th.
The first ever tribute to Iommi is titled "GREAT LEFTY: LIVE FOREVER. TRIBUTE TO TONY IOMMI GODFATHER OF METAL"
When Tony Iommi was diagnosed with Lymphoma cancer in 2011, followed by extensive chemo and radiotherapy, it was a hard shock for his die hard fans. Millions of fans worldwide took to social networking pages to express both dismay and support for him. The horrible illness wasn't able to stop him working on a new album. And still undergoing therapy, Tony managed to play over 84 concerts all around the world with Black Sabbath, showing incredible positivity, enthusiasm and love for music.
The compilation is an act of solidarity towards Tony from Pals & Fans. The tribute includes participations from well-known artists, the best Black Sabbath tribute bands from all around the world, and the bands and solo artists "children of Iommi" as having Iommi's music as their major influence. All the songs were kindly donated for the cause. The profits from compilation sales will be donated to Macmillan Cancer Support.
Some of the artists participating are: Dario Mollo (Tony Martin, Voodoo Hill) featuring Mark Boals (Savoy Brown, Malmsteen, Dio Disciples, Dokken), Mario Parga (Mario Parga Band, Graham Bonnet, Forcefield, Cozy Powell's Hammer), doom legend Victor Griffin (Pentagram, Death Row) with his current band Place Of Skulls, Giuntini featuring Tony Martin, and a young talented artist Kyle Cousins, singer and songwriter, huge Iommi Fan, who also happens to have autism. He began his journey with autism at two years old by losing all his language. Through years of intensive intervention he has made continual progress; so much so that now he loves nothing better than to express himself onstage through his music. Cousins champions the autism awareness movement, being a source of hope and inspiration for the autism community. Kyle Cousins expresses his love and admiration to Black Sabbath's guitar legend, performing a song with Vinnie Appice (former Sabbath and Heaven and Hell drummer), Barry Goudreau (guitarist for Boston), Hugh McDonald (David Bromberg, Alice Cooper, Bon Jovi, Lita Ford).
Tracklist Disc 1
1. Dario Mollo featuring Mark Boals – Never Say Die (3:54);
2. Maniac Rise – Time Is Mine (5:05);
3. Kyle Cousins – Heaven And Hell (6:16);
4. Mario Parga – Scarlet Pimpernel (5:13);
5. Children Of The Gravy – Sabbath Bloody Sabbath (5:40);
6. Ironlung featuring Wizard Of Ozz – Electric Funeral (5:03);
7. Tanzan Music Academy – Neon Knights (4:45);
8. Nick Didkovsky – Orchid (1:38);
9. Darking – Law Maker (3:35);
10. Into The Void – Loner (4:40);
Tracklist Disc 2
1. Rekuiem – Paranoid (3:17);
2. Place Of Skulls featuring Victor Griffin – You Won't Change Me (6:43);
3. Black Sabbath Dio Tribute Cz – I (5:10);
4. Phil Jakes – Behind The Wall Of Sleep (2:47);
5. Giuntini – Anno Mundi, featuring Tony Martin (6:14);
6. Tony Reed – Live Forever (4:44);
7. Kill Van Kull – No Stranger To Love (5:13);
8. Aplanadora featuring Santiago Cabakian – Hole In The Sky (4:20).
9. Blood Sabbath – Snowblind (5:33);
10. Phenomena – The Wizard (4:10);
www.tonyiommifantastic.com
www.tanzanmusic.com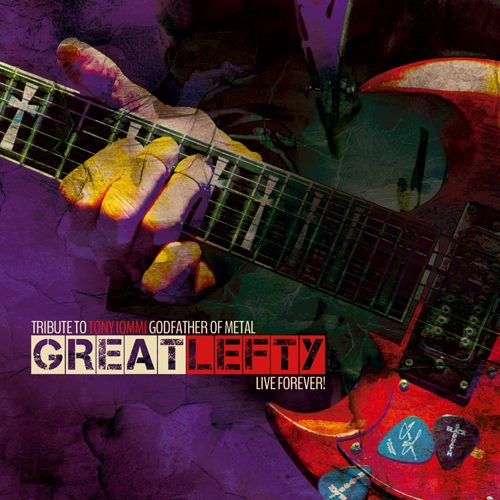 Good Morning! #tonyiommi #greatlefty #tanzanmusic http://label.tanzanmusic.com/catalogue/various-artists/great-lefty-live-forever

Posted by TANZAN MUSIC on Friday, April 17, 2015