Global Black Sabbath Convention returns to NYC for Black Sabbath's "The End" Tour at Slake Concert Hall 2/24/2016 Featuring best selling author Martin Popoff!
With Black Sabbath starting their worldwide "The End" tour Global Black Sabbath Convention returns to New York City at the Slake Concert hall February 24th,the night before Black Sabbath plays at Madison Square Garden.
GBSC is a Facebook fan convention of Sabbath fans spanning across the globe. The convention occurs the night before to allow fans to meet and greet each other and share the music of Black Sabbath through various acts that charge the attendees up getting them ready for the show.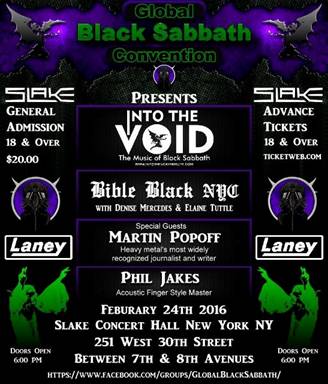 This event will premier the top Sabbath tribute band INTO the Void, Dio years band Bible Black NYC, and Sabbath acoustic act Phil Jakes. A pre-show discussion will also be held featuring "Who Invented Heavy Metal?" Author Martin Popoff.
Started in 2013 by founders Dave Davis and Ben Fahl, GBSC has now grown to over 9,000 members. Their unique approach of celebrating all eras of Black Sabbath has developed a great synergy of fans that daily interact with all things "Sabbath" on their page. For GBSC an online experience is not enough. In 2014 GBSC held their first ever convention in NYC to a sold out venue. National Rock Review was on hand to cover this landmark event and gave a rave review for the event.
GBSC produced a CD with Tanzan Music "Great Lefty: Live Forever", the project was even praised by Sabbath Guitarist Tony Iommi. The CD features various members of the group performing a wide variety of Sabbath music and the proceeds go to Macmillan Cancer Center, where Iommi is being treated.
GBSC's next big event will prove to be another smashing success and a great way to say farewell to one of Heavy Metal's most influential groups Black Sabbath. Make sure to book your tickets in advance for this landmark event.
Slake Concert Hall is located at 251 West 30th St between 7th and 8th Avenues. Doors open at 6:00 PM admission 20$, eighteen and over.