Following up from lat year's Super Deluxe Edition of Paranoid, is a Super Deluxe edition of Volume 4.  I've had the vinyl version of this in my hands for a few weeks now, and I wanted to get some words down about it.  First off, if you're on my site, you know Black Sabbath, and you know the Volume 4 album, so I'm not going to spend time here expounding on the merits of the music on the album. You know that already.  Just one comment on that – I had forgotten exactly how heavy "Under the Sun" really is.  Smoking heavy track. Anyway, about the box….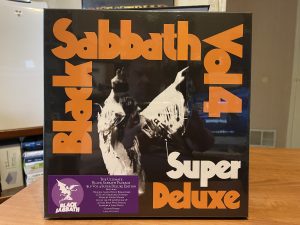 This is a 5LP set, also available on 4 CDs with a new 2021 remastering of the album (by Steven Wilson), a slew of unreleased outtakes including in progress versions of songs, alternates, and studio conversations. There's also a live double album from 1973 in here.  There's a lot of good stuff.  As I said before, I have not received a copy of the CD version as I type this, so I can't comment on that physical package.  But I can comment on the vinyl….
LP 1 – The original album remastered
LP 2 – Outtakes / New Mixes
LP 3 – Alternate Takes / False Starts & Studio Dialogue
LP 4 – Live in the UK 1973
LP 5 – Live in the UK 1973 continued
The CD version has four discs, which from the press release are..
CD 1 – The Original album remastered
CD 2 – Outtakes / New Mixes
CD 3 – Alternate Takes / False Starts & Studio Dialogue
CD 4 – Live in the UK 1973
When I first got the package, I initially thought the CD version didn't have the same content that the LP version did.  Turns out that was wrong – if you go down the track listing in the press release, all the tracks are there.  The press release is all the way at the bottom of this story.
Now, lets get to the contents of the vinyl release…
Original Album
It sounds just as heavy as you remember.  I had a few people on Twitter ask me how it sounds.  I will say this – since I have it on vinyl and not CD, I don't know if I can compare it too much to earlier versions.  The reason is that the only other version I have on vinyl is from the "10 Year War" box set, and that itself is fairly recent (with its own remaster).  Given the two remasters are fairly close in age, I don't hear a ton of difference between them.  I don't have older pressings on vinyl to compare it to. Having said all that, this 2021 remaster that I listened to sounds amazing as hell.  Compared to all the old CD versions I have (of which there's many), it sounds damn good.  But in all fairness, this was the disc that was likely changing the least, it was remastered, yes – but it's not like we're getting a new album here.  :)
I will add this about listening to this album about 4-5 times in writing all this.  I've found a new appreciation for the song "Under the Sun".  It's incredibly heavy.  Not like I didn't know the song, but it hasn't resonated until now for some strange reason.  I repeated Under the Sun quite a few times in my listens for this project. :)
Alternate Takes / New Mixes

Comprising discs 2 &  3, this is a set of alternate takes that are what Sabbath fans have been looking for.  There's no totally new (aka unused) songs here, but there is a lot of goodness to be found.  If you're at all familiar with Black Sabbath's "in progress" work, then you will get an idea of what's going on here.  Ozzy frequently will sing off the cuff lyrics or sometimes any old gibberish in the vocal melody intended for the final track.  That's in full force here.  So much so that one of the alternate takes of Under the Sun just has Ozzy going "La-de-da-de-dah-dah" – but in the proper melody.  It's kind of funny, actually to have lyrics like that with such a super heavy song. There are a total of six different variants of Wheels of Confusion over the two discs, so hopefully you like that song – ha. ;)
There are also some remixes on "side 3" – these are full on remixes (not just a remaster), and obviously being remixes sound different.  I personally don't care for that concept.  That's not just Sabbath, but most everywhere.  Remixing just for remixing's sake isn't something I like.  Now the forthcoming remix of the Forbidden album – that's a totally different beast.  But here I personally didn't care for them – if I want to listen to the studio tracks of Vol 4, gimme the original.  The remixes are probably my least favorite part of this.
Here's a quick sample of one of the alternate Under The Sun versions to show you what I'm talking about. This is the La-De-dah version.
Live in the UK 1973
The live "album" comprises discs 4 & 5 of the vinyl set.  But here's where we come to a question. When I first was sent the press release for this, I thought perhaps that this album was just Live at Last repackaged again.  I took a listen to all three versions of Live at Last I already have (1996 Castle, 2002 Rhino (Disc 1 of Past Lives), and 2010 Universal).  I couldn't determine properly.  So I then inquired with the label as to the source of the live tapes, but never heard back from them.  I then consulted a friend of mine who is far more knowledgeable about bootlegs than I, and this is what is going on with the Live at 73 discs here..
This new release is from the same shows that LIVE AT LAST were compiled from – The Hardrock in Manchester on March 11, 1973 and The Rainbow Theater in London on March 16, 1973. These shows took place near the tail end of their worldwide tour for VOL. 4. They'd decided to try and record these shows with the Rolling Stones mobile for a planned live album. They weren't satisfied enough with the recordings at the time, but instead shelved the tapes.
Most of you already know the story about LIVE AT LAST and that it was their ex-managers who still had rights to the tapes and decided to release them without the band's blessings in 1980. This included half of the show from Manchester (Tomorrow's Dream, Sweet Leaf, Killing Yourself To Live, Cornucopia. Snowblind) and the rest from London (War Pigs, Children of the Grave, Wicked World -> Guitar Solo -> Into The Void [intro riff – short arrangement] -> Sometimes I'm Happy [jam with vocals] Supernaut (excerpt) -> Drum Solo -> Wicked World [reprise], Paranoid).
LIVE AT THE UK 1973 is a completely different mix from the 16-track master tapes by Richard Digby Smith. This version replaces "Tomorrow's Dream", "Sweet Leaf" and "Snowblind" with the performances recorded at the London 3/16/1973 show.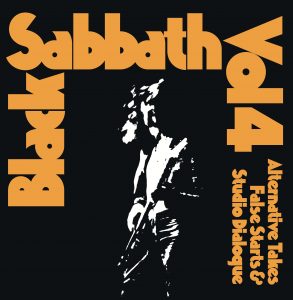 Bottom line: It sounds amazing.  The 2021 remix that Richard did sounds way better than any of the other three versions I've heard before.  I will continue to try and get an official answer out of the label as to the source recordings here, but for now I'm going with "this isn't just Live at Last" again and the story above.  Wicked World takes up the whole of "side 9" here, and Tony is on fire here.  Every time I hear Black Sabbath live from this era, I always envy those who were able to see 'em.  As much as I love the later eras of Black Sabbath, this early 70's live version live must have been something to behold in person. Alas I was only 8 then, and not going to concerts yet.
But the 5 discs of vinyl aren't all that is in the box.  There's a few other items, too.
Poster
There's a "Snowblind" poster.  From the notes here, this was a promo item intended for use when they were going to call the album "Snowblind".  When it got changed to "Volume 4", said artwork was never used.  It is printed in poster size here, which means it's folded in the box set.  If you intend on using it as a legitimate poster to hang on the wall, you're going to have to flatten it out first.
There is a picture of the poster a little further down in the photos section of this article.
Booklet
There's a 40 page book with photos, artwork, and liner notes as well.  It's the size (length & width) of the vinyls themselves.  I have to imagine the CD version will be much the same (in terms of size of book to CD).  It's nice to have the booklet for sure.  But long time Sabbath fans will recognize some of the material in here.  I'm not saying there's nothing new in here (there is), but some of the photos will look familiar to you if this isn't the first time you've ever purchased Volume 4. There's a lot of pictures of single cover art, behind the scenes things, and a nice story to go with it.
I went through and listened to all of this on vinyl this weekend (22 & 23 Jan 2021) – multiple times, and I have to say it was most enjoyable.  I was getting a little tired of hearing the same song several times in a row when I went through the outtakes discs, but that's just me.  Nothing to do with the quality of the recordings, but six Wheels of Confusions in a row is a lot. ha. ;)
Despite my few nits about the release, it's definitely enjoyable as hell.  Whether you want to get vinyl or CD is up to you, but there's a lot to like here.
Set Update: Since I posted originally, I asked BMG if there was going to be a download code/card in the set, as some of these do come with them.  I was told that this set will NOT include a digital download code/card for either the LP or CD versions.

Ordering Links
Here's some links that you can use to order this. If you use my links here to Amazon, then I make a couple of bucks and it helps support the site:

Summary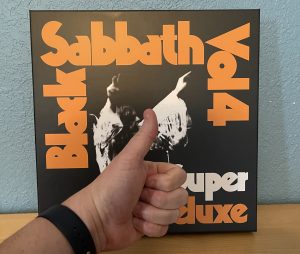 It's been some time since I delved deeply into the Volume 4 album.  I did so here.  Listened to the original album a few times, plus made it through all the alternates and live tracks.  It's a damn awesome package.  I truly had forgotten how heavy this album really is, especially the end of it like St. Vitus & Under The Sun.  Plus my all time favorite Mk I Black Sabbath track is from here – "Wheels of Confusion".  It smokes on the new remix cranked up at maximum volume.
A question I get asked a lot for these things are.. "Is it worth it?"  There's no way I can answer that.  I can only answer if it's worth it for me.  Only you can answer if it's worth it for you, I'm not going to give you an answer to that one.
I've also seen a lot of people saying "WTF, releasing this again?  How many times do I need to buy this?".  Well, guess what Sherlock?  You don't have to.  Nobody's holding a gun to your head to buy it.  If you don't want to buy it, don't.
And finally, I know some core readers of my site want the Tony Martin remasters and the remix of Forbidden.  I'm told that's absolutely still happening.  There were always a few projects that needed to be dealt with before getting to that.  This was one of them.  We're getting there.  ;)
Hope you enjoyed my look at the set.  It comes out Feb 12th, and if you liked this album, I think you'll like this set a lot.
Don't forget to your your copy.  (If you use my links, I make a small cut on the sale).
[ Amazon US LP | Amazon US CD ] 


Photos
Some photos from the set.  Click on any of them for a larger version.

Press Release
BLACK SABBATH VOL 4 REVISITED
Super Deluxe Edition Of The Band's 1972 Classic Includes
Newly Remastered Original Album Plus 20
Previously Unreleased Studio And Live Recordings
4-CD And 5-LP Versions Will Be Available From BMG
On February 12th, 2021
https://blacksabbathband.lnk.to/Vol4PR
Black Sabbath unleashed the group's fourth album in two years in 1972 with Vol 4. Stacked with classic tracks like "Supernaut," "Changes," and "Snowblind," the record harnessed the group's surging popularity to reach the Top 10 on the Albums Chart in the U.K. and the Top 20 on the Billboard 200 in the U.S., on its path to being certified platinum by the RIAA. 
The innovators of heavy metal revisit Vol 4 on a new collection that includes a newly remastered version of the original album along with a trove of 20 unreleased studio and live recordings. VOL 4: SUPER DELUXE EDITION will be available on February 12 as a 4-CD set and a 5-LP set pressed on 180-gram vinyl, Both versions come with extensive booklets featuring liner notes with quotes from the era from all four band members, rare photos, and a poster with previously unpublished early artwork of the album using the working title Snowblind. Both the 4-CD and 5-LP versions are available for pre-order now at the https://wickedworld.net/ store.  
The newly remastered version of the original album will also be available on digital download and streaming services on the same day. Click HERE to listen to the newly remastered version of "Tomorrow's Dream," available today digitally.
Bolstered by a fresh remastering, Vol 4's ambitious arrangements and complex grooves have never sounded more inspired and menacing. Originally released in September 1972, the album marked two major changes for the members of Sabbath: Ozzy Osbourne, Tony Iommi, Geezer Butler, and Bill Ward. While their previous albums – Black Sabbath, Paranoid, and Master of Reality – were produced by Rodger Bain and recorded in England, they instead chose to produce Vol 4 themselves and record it at the Record Plant in Los Angeles.
The generous addition of bonus material on VOL 4: SUPER DELUXE EDITION begins with six previously unreleased studio outtakes from the original sessions for the album. Each one has been newly mixed by Steven Wilson using the analog multi-tracks. Highlights include outtakes for "Supernaut" and "Changes," as well an instrumental version of "Under The Sun." 
The set also features 11 additional studio recordings (also newly mixed by Wilson from the analog multi-tracks) that spotlight alternative takes, false starts and snippets of studio dialogue. These tracks transport listeners into the studio with the band and offer some insight into the making of the album. Along with several alternative takes for "Wheels Of Confusion," these recordings also include outtakes for "The Straightener" and "Snowblind."
The collection concludes with a searing collection of live performances that re-create a typical setlist from Black Sabbath's tour for Vol 4. Recorded in March 1973 at various stops along the band's U.K. tour. The recordings were originally slated for a live album that was ultimately shelved. Although some of these performances have been previously available in various states, the release marks the first time that a full 1973 live Sabbath show has been recreated. The live audio has been newly mixed by Richard Digby Smith using the original 16-track analog tapes to achieve a level of fidelity not heard on any previous incarnations. Included here are thrilling live versions of Vol 4 tracks ("Tomorrow's Dream" and "Cornucopia") and fan favorites ("Paranoid" and "War Pigs.")
CD Track Listing
Disc One: Original Album Remastered
"Wheels Of Confusion / The Straightener"
"Tomorrow's Dream"
"Changes"
"FX"
"Supernaut"
"Snowblind"
"Cornucopia"
"Laguna Sunrise"
"St. Vitus Dance"
"Under The Sun / Every Day Comes And Goes"
Disc Two: Outtakes – New Mixes
"Wheels Of Confusion / The Straightener" *
"Changes" *
"Supernaut" *
"Snowblind" *
"Laguna Sunrise" *
"Under The Sun" (Instrumental) *
Disc Three: Alternative Takes, False Starts & Studio Dialogue
"Wheels Of Confusion" (False Start with Studio Dialogue) *
"Wheels Of Confusion" (Alternative Take 1) *
"Wheels Of Confusion" (Alternative Take 2) *
"Wheels Of Confusion" (Alternative Take 3) *
"Wheels Of Confusion" (Alternative Take 4) *
"The Straightener" (Outtake) *
"Supernaut" (Outtake) *
"Supernaut" (Alternative Takes with False Starts) *
"Snowblind" (Alternative Take 1 – Incomplete) *
"Under The Sun" (False Start with Studio Dialogue) *
"Under The Sun" (Alternative Take with Guide Vocal) *
Disc Four: Live In The UK 1973
"Tomorrow's Dream" *
"Sweet Leaf" *
"War Pigs"

 

"Snowblind" *
"Killing Yourself To Live"

 

"Cornucopia"

 

"Wicked World" (Includes Excerpts of:)

 

Guitar Solo
"Orchid"
"Into The Void"
"Sometimes I'm Happy"

"Supernaut" / Drum Solo

 

"Wicked World" (Reprise)

 

"Embryo"

 

"Children Of The Grave"

 

"Paranoid"

 
LP Track Listing
LP One: Original Album Remastered
Side One
"Wheels Of Confusion / The Straightener"
"Tomorrow's Dream"
"Changes"
"FX"
"Supernaut"
Side Two
"Snowblind"
"Cornucopia"
"Laguna Sunrise"
"St. Vitus Dance"
"Under The Sun / Every Day Comes And Goes"
LP Two: Outtakes – New Mixes
Side Three
"Wheels Of Confusion / The Straightener" *
"Changes" *
"Supernaut" *
"Snowblind" *
Side Four
"Laguna Sunrise" *
"Under The Sun" (Instrumental) *
Alternative Takes, False Starts & Studio Dialogue
"Wheels Of Confusion" (False Start with Studio Dialogue) *
"Wheels Of Confusion" (Alternative Take 1) *
"Wheels Of Confusion" (Alternative Take 2) *
"Wheels Of Confusion" (Alternative Take 3) *
LP Three: Alternative Takes, False Starts & Studio Dialogue
Side Five
"Wheels Of Confusion" (Alternative Take 4) *
"The Straightener" (Outtake) *
"Snowblind" (Alternative Take 1 – Incomplete) *
"Supernaut" (Outtake) *
Side Six
"Supernaut" (Alternative Takes with False Starts) *
"Under The Sun" (False Start with Studio Dialogue) *
"Under The Sun" (Alternative Take with Guide Vocal) *
LP Four: Live in the UK 1973
Side Seven
"Tomorrow's Dream" *
"Sweet Leaf" *
"War Pigs"

 
Side Eight
"Snowblind" *
"Killing Yourself To Live"

 

"Cornucopia"

 
LP Five: Live in the UK 1973
Side Nine
"Wicked World" (Includes Excerpts of:)

 
Guitar Solo
"Orchid"
"Into The Void"
"Sometimes I'm Happy"
Side Ten
"Supernaut" / Drum Solo

 

"Wicked World" (Reprise)

 

"Embryo"

 

"Children Of The Grave"

 

"Paranoid"

 
* previously unreleased
# # #

Personal Story
In doing research for the package, I dug into my archives of  CDs, and pulled out all three versions of Live at Last that I own.  When I did that, I found out my then fiancé had left a post it note on the back jacket of the 1996 Castle version.  When I broke into the booklet, I got a smile, as I'm still married to her in 2021, so it was a nice throwback.  This doesn't have anything to do with this review, but I wanted to stick it on there, because it made me smile while I was writing all this.  "This Rocks!" indeed.  ;)