From The Tapes Archive podcast comes a rarity I'd certainly never heard  before.  It's a restored interview with Ozzy Osbourne from 1974.  You can visit the landing page on their own site here.  About the interview:
This 1974 Ozzy Osbourne interview has never been heard until now. It's the earliest known long-form audio interview with the Prince of Darkness. It's also the only audio interview with Ozzy relating to Black Sabbath's Sabbath Bloody Sabbath album.
The interview is conducted by Steve Rosen, one of the true legends in rock journalism. Rosen has a career spanning 50 years, thousands of articles, and several high-profile books with artists like Black Sabbath, Prince, Randy Rhoads, and others.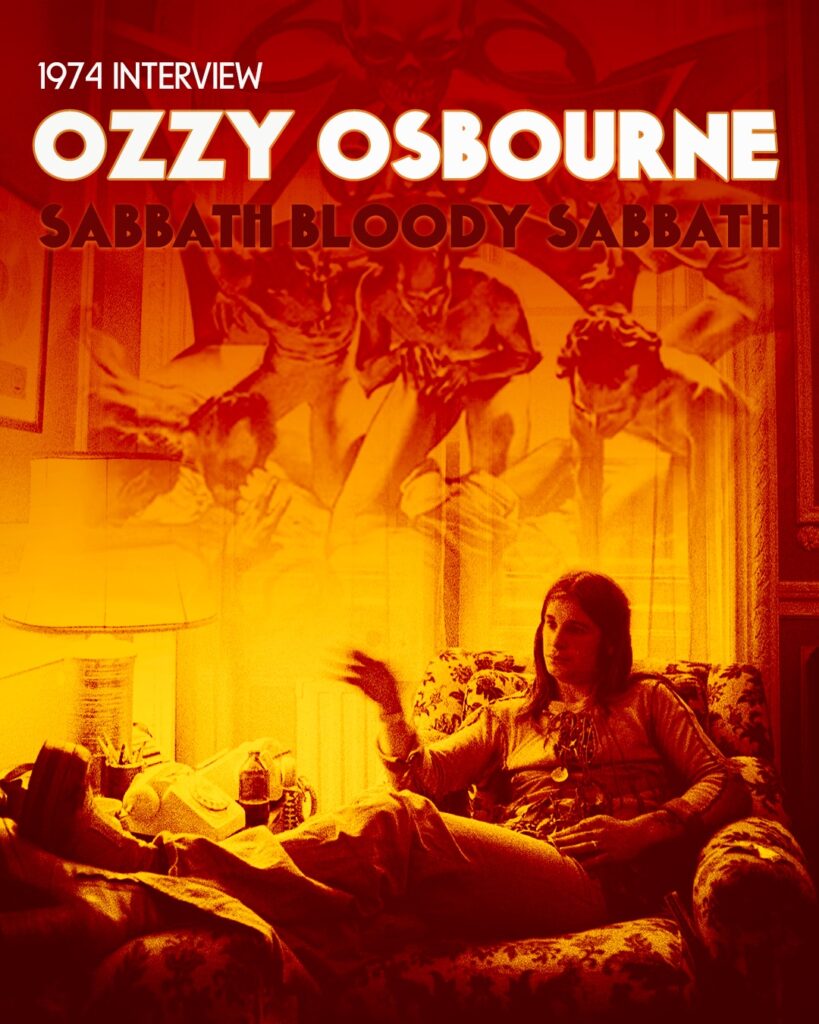 Here is an index of the various segments in the interview..
00:00 – Intro to Ozzy Osbourne interview
02:09 – Start of interview | Early days of Black Sabbath
03:32 – Why Black Sabbath has stayed together, and why other bands break up
04:14 – Playing an honest gig
04:56 – Does he think about the money he's making
06:07 – If he thinks Sabbath Bloody Sabbath is a different direction than previous Sabbath albums
07:13 – Why they didn't record in LA again like they did with Vol.4
07:35 – Whose idea it was to add strings to Sabbath Bloody Sabbath
08:03 – What the Sab 4 got tired of hearing about
09:34 – If he is fulfilled by being in Black Sabbath
09:56 – If he's working on a solo record
10:32 – Why and what it was like producing Sabbath Bloody Sabbath by themselves
11:15 – If there is more of an emphasis on the lyrics on Sabbath Bloody Sabbath
11:40 – If Black Sabbath's songs mirror society
12:20 – If he thinks the press is unfair to Black Sabbath
12:41 – If Sabbath is working on a new album
13:33 – His fondness for synthesizers and spacey music
16:32 – Why he wants to make a solo record
18:41 – How he'd like to learn how to play guitar
19:58 – His love for Rick Wakeman vs Keith Emerson
21:01 – If he would have Wakeman play on his solo album
21:38 – Being on the road and away from home
23:45 – The movie soundtrack he would have wanted to make
24:25 – He sums up his current feelings on Black Sabbath and his belief he has helped people