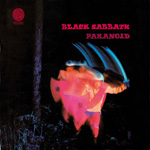 Released September 18, 1970 (UK)
Released January 7, 1971 (US)
Re-Released February 28, 1996
Re-Released April 27, 2004 (Black Box)
Re-Released March 30, 2009 (Deluxe)
[ Lyrics | Tour Dates ]

2009 Deluxe CD [ Amazon UK | Amazon US ]
1996 CD [ Amazon US | Amazon UK ] | 2004 CD [ Amazon US | Amazon UK ]
Original CD [ Amazon US | Amazon UK ] | MP3 Deluxe [ Amazon UK ]
Classic Album DVD [ Amazon US | Amazon UK ] | Blu-Ray [ Amazon US | Amazon UK ]
Listen to Radio advert for Paranoid album:




Track Listing
Luke's Wall / War Pigs
Paranoid
Planet Caravan
Iron Man
Electric Funeral
Hand of Doom
Rat Salad
Fairies Wear Boots / Jack the Stripper
Disc 2 (2009 Deluxe Edition Only):
Entire album in 1974 Quadraphonic Mix
Entire album in 5.1 Audio Mix
Entire album in 2.0 LPCM Stereo Mix
Disc 3 (2009 Deluxe Edition Only):
War Pigs (Instrumental)
Paranoid (Alternative Lyrics Version)
Planet Caravan (Alternative Lyrics Version)
Iron Man (Instrumental)
Electric Funeral (Instrumental)
Hand of Doom (Instrumental)
Rat Salad (Alternative Mix)
Fairies Wear Boots (Instrumental)
Writing Credits
All songs by Iommi / Osbourne / Butler / Ward
Credits
Ozzy Osbourne – Vocals
Tony Iommi – Guitar, Keyboards
Geezer Butler – Bass
Bill Ward – Drums
Produced by Roger Bain (for Tony Hall Enterprises)
Engineered by Tony Allom & Brian Humphries
Recorded at Regent Sound & Island Studios
Original design & photography by "Keef"
1996 Remaster by Ray Staff @ Whitfield St Studios
1996 Design, booklet notes, & sleeves by Hugh Gilmour
2009 Remaster by Andy Pearce @ Masterpiece
2009 Reissue Coordination: Steve Hammonds & Jon Richards
2009 Sleeve Notes by David Wells
2009 Digital Tape transfer by Marc Beard
2012 Digital Remaster by Andy Pearce & Matt Wortham
2012 Vinyl Mastering by Greg Moore @ Masterpiece
Catalogue Numbers
LP Vertigo 6360-011 (UK 1970)
LP Vertigo 6360-011DN (FRA 1970)
LP Vertigo VO6360011 (SAF 1970)
LP Warner Bros BSK-3104 (US 1970)
8T Warner Bros/RCA S104222 (US 1971)
8T Warner Bros M8-1887 (US 1971)
8T Warner Bros M8-3104 (US 1971)
CASS Warner Bros M5-3104 (US 1971)
LP Warner/Columbia House 776401T (CAN 1971?)
LP Fontana 11.105 (VEN 1971)
LP Warner Bros WS-1887 (US 1971)
R2R Warner Bros WST-1887-B (US 1971)
LP WWA WWA-007 (UK 1973)
LP Warner Bros WS4-1887 (US 1974 – Quad)
CASS NEMS NEC-6003 (UK 1976)
LP NEMS NEL-6003 (UK 1976)
LP NEMS 304-1062 (BRA 1976)
LP Warner Bros BSK-3104 (US 1977)
LP Warner Bros/RCA R104222 (US 1979)
LP 7-Records MLF-417 (AUS 1980)
LP NEMS 16L0090 (SPA 1980)
CASS Beograd BDS-2034 (YUG 1981)
LP Beograd LPS-1034 (YUG 1981)
LP Ariston ARM42012 (ITL 1981)
LP Victoria VLP-101 (SPA 1984)
LP Castle NEL-6003-6 (GER 1985)
CD Castle CLACD197 (UK 1986)
CD Castle NELCD6003 (UK 1986)
CD Warner Bros 3104-2 (US 1987)
CD Vertigo 832-701-2 (GER 1989)
LP SNC C90-31087-004 (RUS 1990)
LP Tonpress SX-T-190 (POL 1990)
CD Castle PCD-10027 (AUS 1994)
CD Essential ESMCD302 (UK 1996)
LP Earmark 41005 (ITL 1996)
LP Earmark 41005P (ITL 1996 – Picture Disc)
CASS Metal Mind CAST-0036 (POL 1999)
CD Teichiku TECI-24031 (JPN 2000)
CD Castle CMTCD004 (UK 2000)
CD Creative 6007-2 (US 2001)
LP Sanctuary CMHLP117 (UK 2001)
CD Sanctuary SMRCD032 (UK 2004)
CD Rhino R2-73923-B (US 2004 – Black Box)
LP Earmark 41005 (UK 2005)
LP Earmark 641005 (UK 2005)
LP Earmark DMM41005 (ITL 2005)
CD Strange Days POCE-1098 (JPN 2007)
CD/DVD Universal 1782444 (UK 2009 – Deluxe Edition)
LP Sanctuary 1782453 (UK 2009)
CD Universal UICY-94182 (JPN 2009)
CD Vertigo 5331092 (EUR 2010)
CD Sanctuary 2730327 (EUR 2010)
SACD Universal UIGY-9034 (JPN 2010)
CD Universal UICY-20039 (JPN 2011)
LP Sanctuary 3715287 (UK 2012)
Notes
The original name of this album was to be War Pigs, but it was changed due to perceived hostility the album might have gotten due to the Vietnamese War.
The original name of the song War Pigs was Walpurgis, and had totally different lyrics.
There were music videos for the songs "Iron Man" & "Paranoid" culled from the Beat Club footage.
The song Paranoid appeared in a slightly altered format in the arcade videogame "Rock & Roll Racing" along with the songs Born to Be Wild & Bad to the Bone.
Yes, it's Ozzy singing Planet Caravan.
Geezer Butler had this to say to a fan via email when asked what bass guitars he played on the first two Black Sabbath records:  "Hello Steve, on the first two albums I used a P-bass. On the first album i used a Laney 70 watt guitar amp through a Park 4×12 cabinet [it only had three speakers in it- couldn't afford to buy a 4th speaker]. Strings were probably old Rotosound, as I think that was the only choice in those days. They were roundwound but were so old they probably sounded like flatwounds. I'm not sure what amplification I used on Paranoid, but it was probably Laney, and newer Rotosounds. Thank you for your interest, Geezer."
The song "Paranoid" was the last one written for the album, and was intended as a filler song.  Only took about 25 minutes to write the whole thing.
The album's first recording session was June 1970.
The original working title for the song "Iron Man" was "Iron Bloke".
Links
Images
This is a picture of the very rare "reel to reel" release of Paranoid in the United States from 1971.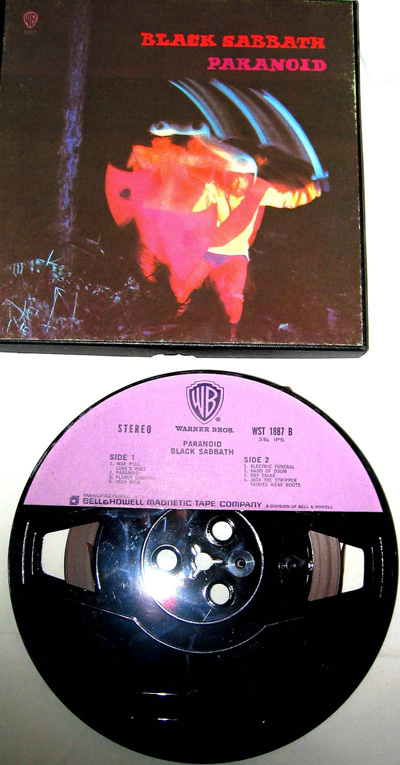 This is the cover used for the 2009 3 disc Deluxe Edition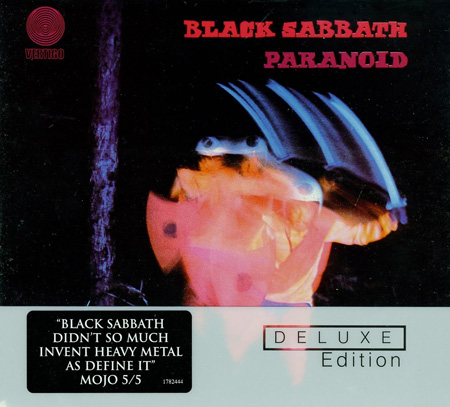 Here is a picture of an 8-track of the album, along with the first Sabbath album.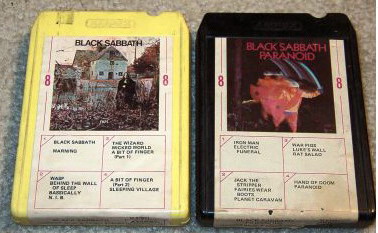 This is a scan of a 7″ single of Paranoid released in 1977.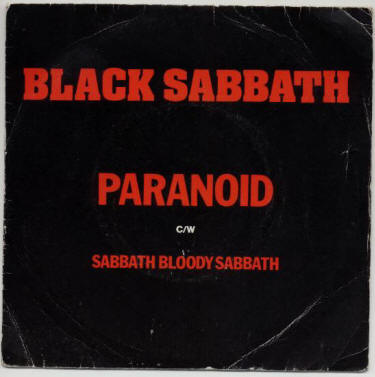 Below is an image of a Russian vinyl version of Paranoid from SNC Records.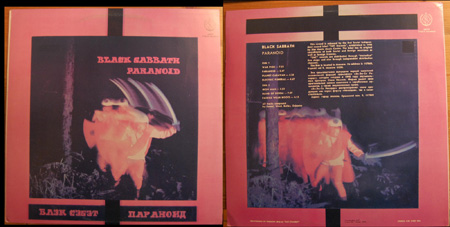 The following is a picture of an original 1971 vinyl release by Warner Bros in the US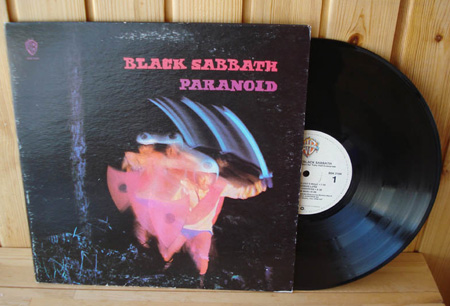 These are the CD backs of the original 1987 US Warner Bros release, the 1996 Essential release, the 2004 Castle re-release, and the 2009 Deluxe Edition.   The 1996 & the 2004 versions are pretty much the same thing, just a re-release with no other changes.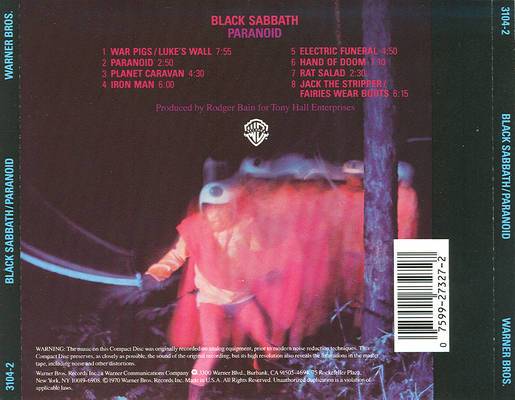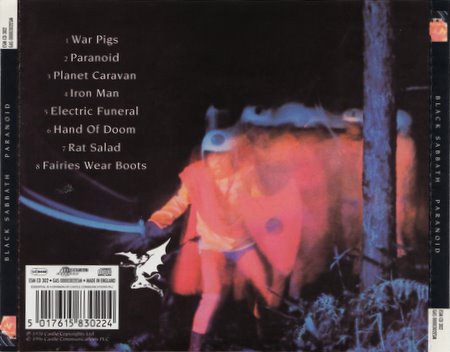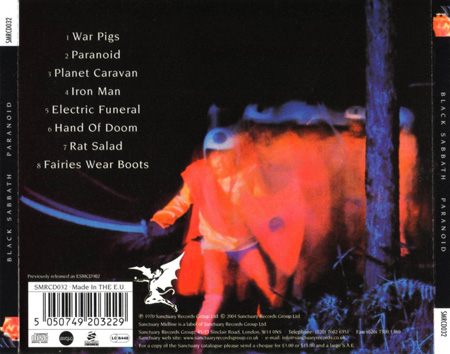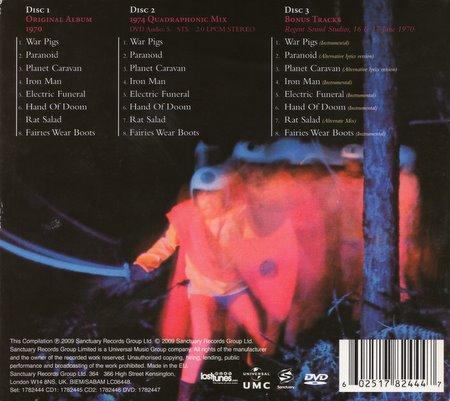 The following is a scan of a Japanese release of the album.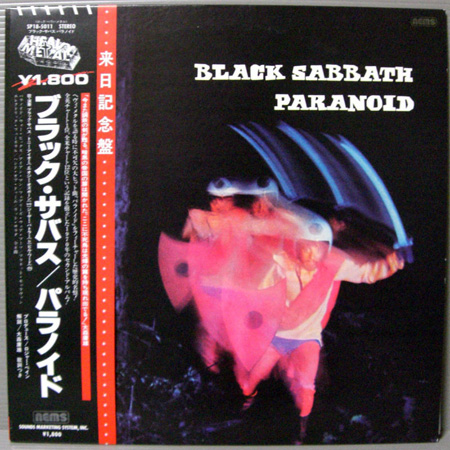 The following images are from the original Warner Bros release of Paranoid in the US.  Note the writing on top of "Jack the Stripper" & "Luke's Wall".  This was done by me VERY early on in my Sabbath fandom before I knew what those titles were all about.  I crossed them out, since they weren't actually real song titles.  I thought it was a printing mistake at the time.  I was wrong.  :)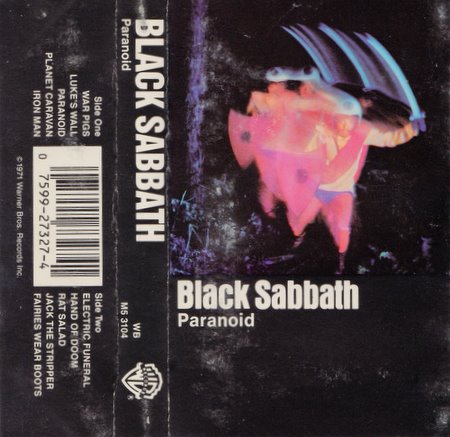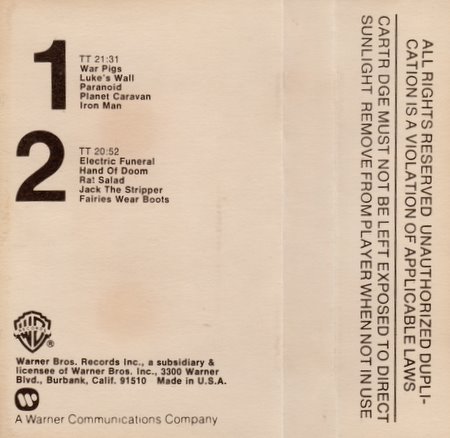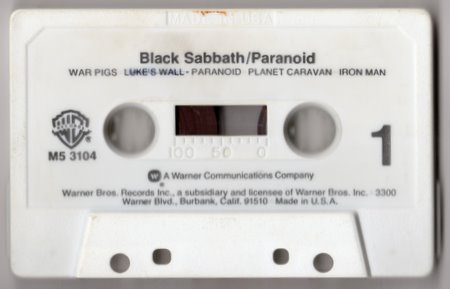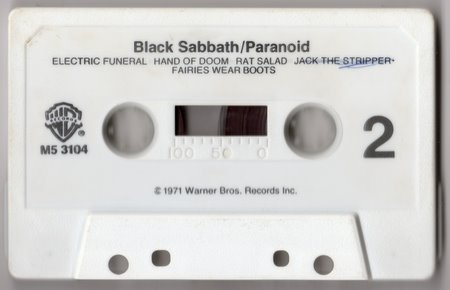 This image is from a cassette tape release by Warner Bros in the early 80's that had both Paranoid and Heaven & Hell on the same cassette tape.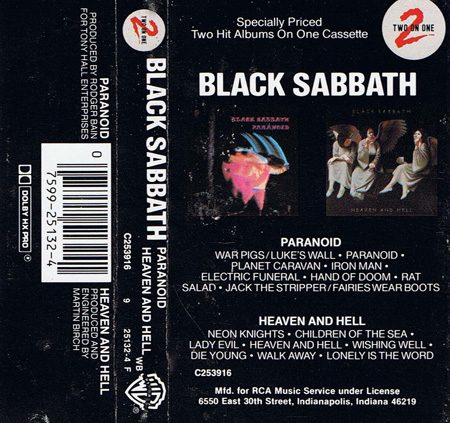 This image is from the music credits for the "Angry Birds Movie" – Paranoid appears in that movie.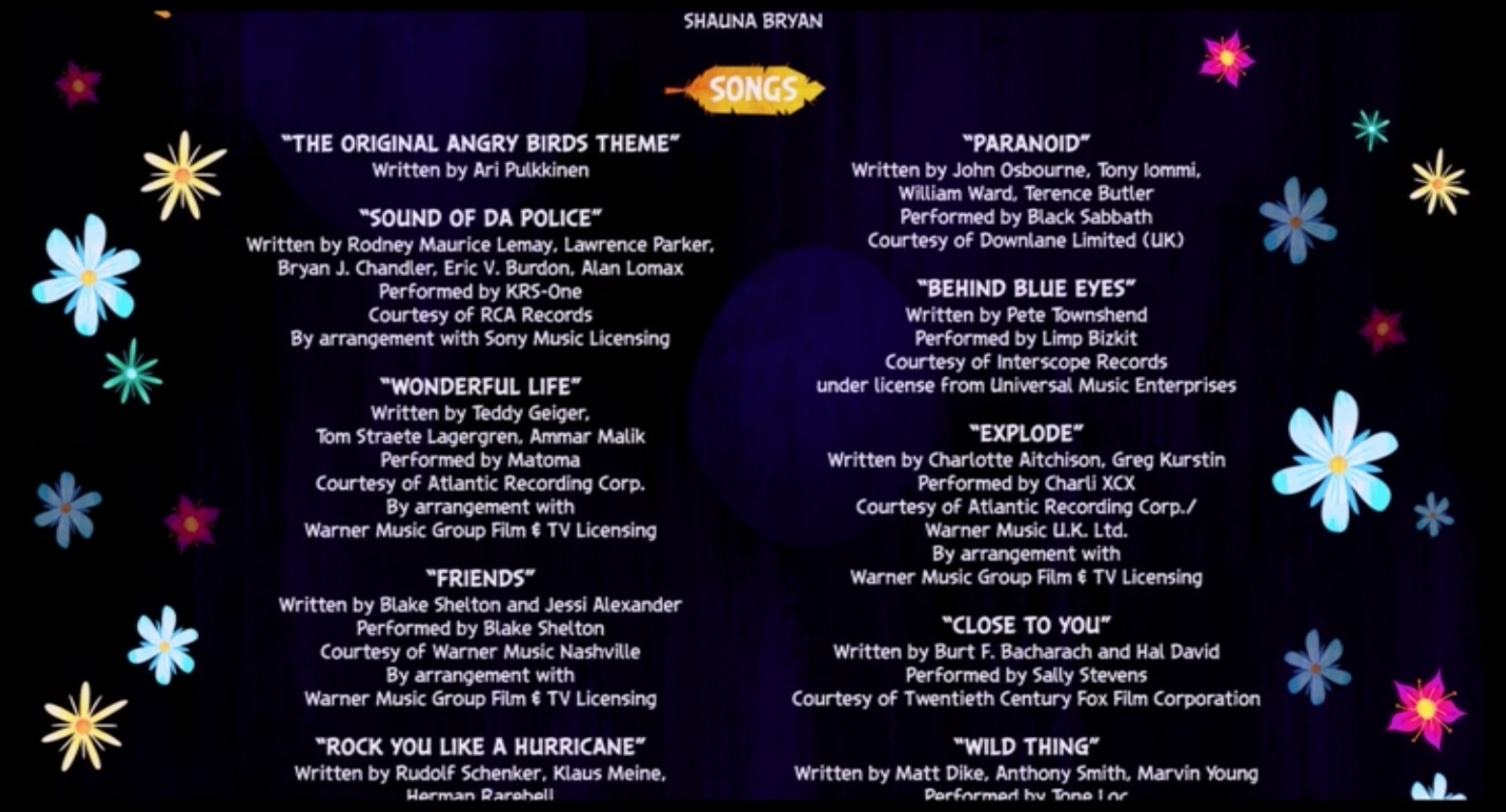 Video


NOTE: These lyrics (with the exception of Walpurgis) are verified against the lyrics that appear in the "Black Box" booklet. Those lyrics were gone over by Geezer Butler (who wrote most of them anyway) for that set, and for that reason should be considered definitive.
War Pigs
Generals gathered in their masses
Just like witches at black masses
Evil minds that plot destruction
Sorcerers of death's construction
In the fields the bodies burning
As the war machine keeps turning
Death and hatred to mankind
poisoning their brainwashed minds
Oh Lord yeah
Politicians hide themselves away
They only started the war
Why should they go out to fight
They leave that all to the poor
Time will tell on their power minds
Making war just for fun
Treating people just like pawns in chess
Wait 'till their judgment day comes
Now in darkness world stops turning
As the war machine keeps burning
No more war pigs have the power
Hand of God has struck the hour
Day of judgment God is calling
On their knees, the war pigs crawling
Begging mercy for their sins
Satan laughing spreads his wings
Oh Lord yeah
Walpurgis
(Walpurgis is the original name of War Pigs – and it had totally different lyrics back then, but the same music.  The only place where this version of the song is (legally) available is on the Ozzy "Ozzman Cometh" Greatest Hits CD.)
Witches gather at black masses
Bodies burning in red ashes
On the hill the church in ruin
Is the scene of evil doings
It's a place for all bad sinners
Watch them eating dead rats' innards
I guess it's the same where ever you may go
Oh Lord yeah
Carry banners which denounce the lord
See me rocking in my grave
See them anoint my head with dead rat's blood
See them stick the stake through me
Oh
Don't hold me back cause I've just gotta go
They've got a hold of my soul now
Lords got my brain instinct with blood obscene (not sure about this line)
Look in my eyes I'm there enough
Yeah
On the scene a priest appears
Sinners falling at his knees
Satan sends out funeral pyre
Casts the priest into the fire
It's the place for all bad sinners
Watch them eating dead rats' innards
I guess it's the same whereever you may go
Oh lord yeah
Paranoid
Finished with my woman
'Cause she couldn't help me with my mind
People think I'm insane
Because I am frowning all the time
All day long I think of things
But nothing seems to satisfy
Think I'll lose my mind
If I don't find something to pacify
Can you help me
Occupy my brain?
Oh yeah
I need someone to show me
The things in life that I can't find
I can't see the things that make true happiness
I must be blind
Make a joke and I will sigh
And you will laugh and I will cry
Happiness I cannot feel
And love to me is so unreal
And so as you hear these words
Telling you now of my state
I tell you to enjoy life
I wish I could but it's too late
Planet Caravan
We sail through endless skies
Stars shine like eyes
The black night sighs
The moon in silver dreams
Falls down in beams
Light of the night
The Earth a purple blaze
Of sapphire haze
In orbit always
While down below the trees
Bathed in cool breeze
Silver starlight breaks
Dawn from night
And so we pass on by
The crimson eye
Of great god Mars
As we travel the universe
Iron Man
Has he lost his mind
Can he see or is he blind
Can he walk at all
Or if he moves will he fall
Is he alive or dead
Has he thoughts within his head
We'll just pass him there
Why should we even care
He was turned to steel
In the great magnetic field
When he traveled time
For the future of mankind
Nobody wants him
He just stares at the world
Planning his vengeance
That he will soon unfurl
Now the time is here
For Iron Man to spread fear
Vengeance from the grave
Kills the people he once saved
Nobody wants him
They just turn their heads
Nobody helps him
Now he has his revenge
Heavy boots of lead
Fills his victims full of dread
Running as fast as they can
Iron Man lives again!
Electric Funeral
Reflex in the sky
Warn you you're gonna die
Storm coming, you'd better hide
From the atomic tide
Flashes in the sky
Turns houses into sties
Turns people into clay
Radiation minds decay
Robot minds of robot slaves
Lead them to atomic graves
Plastic flowers, melting sun
Fading moon falls upon
Dying world of radiation,
Victims of man's frustration
Burning globe of obscene fire
Like electric funeral pyre
Buildings crashing down
To Earth's cracking ground
Rivers turn to mud
Eyes melt into blood
Earth lies in deathbed
Clouds cry for the dead
Tearing falling rain
Ease the burning pain
Electric Funeral
Electric Funeral
Electric Funeral
Electric Funeral
And so in the sky
Shines the electric eye
Supernatural king
Takes earth under his wing
Heaven's golden chorus sings
Hell's angels flap their wings
Evil souls fall to Hell
Ever trapped in burning cell!
Hand of Doom
What you gonna do
Time's caught up with you
Now you wait your turn
You know there's no return
Change your empty rules
You join the other fools
Turn to something new
Now it's killing you
First it was the bomb, Vietnam napalm
Disillusioning, you push the needle in
From life you escape, reality's black drape
Colours in your mind satisfy your time
Oh you, you know you must be blind
To do something like this
To take the sweet that you don't know
You're giving Death a kiss
Poor little fool now
Your mind is full of pleasure
Your body's looking ill
To you it's shallow leisure
So drop the acid pill
Don't stop to think now
You're having a good time baby
But that won't last
Your mind's all full of things
You're living too fast
Go out, enjoy yourself
Don't bottle it in
You need someone to help you
Stick the needle in, yeah
Now you know the scene
Your skin starts turning green
Your eyes no longer seeing life's reality
Push the needle in
Face death's sickly grin
Holes are in your skin
Caused by deadly pin
Head starts spinning 'round
You fall down to the ground
Feel your body heave
Death hand starts to weave
It's too late to turn
You don't want to learn
Price of life is high
Now you're gonna die
Rat Salad
Instrumental – no lyrics available
Fairies Wear Boots
Goin' home late last night
Suddenly I got a fright
Yeah I looked through the window
and surprised what I saw
Fairy boots were dancin' with a dwarf
All right now!
Yea, fairies wear boots and you gotta believe me
Yeah I saw it, I saw it, I tell you no lies
Yeah fairies wear boots and you gotta believe me
I saw it, I saw it with my own two eyes
All right now!
Yea, fairies wear boots and you gotta believe me
Yeah I saw it, I saw it, I tell you no lies
Yeah fairies wear boots and you gotta believe me
I saw it, I saw it with my own two eyes
All right now!
So I went to the doctor see what he could give me
He said Son, Son, you've gone too far
'Cause smokin' and trippin' is all that you do
Yeah!