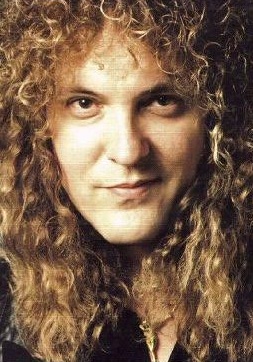 This is a promo picture of Jeff taken from his own website.

Before you read this part, understand that I do not consider Jeff Fenholt to be a member of Black Sabbath. Read all of this, and you'll understand why it's listed here at all.
Jeff's part in the history of Black Sabbath is in dispute. The Black Sabbath camp has said that Fenholt merely "tried out" for the part. Jeff says that he was in the band for about 7 months, worked on the Seventh Star album, and is uncredited for co-writing some of the stuff on the album, including No Stranger to Love. If you'd like to read Jeff's side of things, click here.  (There's some more on Wikipedia here.)  I have requested that the Fenholt camp release a picture of him with the band so that we can have some proof, but as of yet, I have not received a response to this specific request. The general consensus is that Fenholt wasn't really part of the band, but is making this up to "push his cause". If I get an answer or a resolution from either side on this, I will update this section with that info. However, I'm not holding my breath, I don't suggest you do, either. :)
However, other info about this time is more secure. Tony Iommi was briefly engaged to be married to Lita Ford during this time, and because of this (I would assume) when Iommi started working on a solo project (what became The Seventh Star) he used Eric Singer and Gordon Copley from Lita's band. When Lita went to go back out on the road in the fall of 1985, Gordon left the band to go with her, while Eric stayed. Gordon does appear on the final version of Seventh Star on the track No Stranger To Love, though.

There is a bootleg floating around with Seventh Star music on it, but with different lyrics sung by Jeff Fenholt. I've heard it, and it is definitely Seventh Star music in an early form, but with different lyrics. I've never been able to formally get any kind of official confirmation from anyone as to the sources of this recording (I don't think I ever will). However, I believe it's a recording of Fenholt's audition to work with Tony when Tony was working on his solo album back in 1985 (the album eventually became Seventh Star). I've also been told that the Fenholt audition tape shows the reason Jeff wasn't hired, which was his inability to come up with lyrics on the fly. If you'd heard it, you'd know what I mean by that.
This part of the band's history is also kind of weird insofar as Sabbath didn't officially exist as "Black Sabbath". During this time, the album being worked on was officially going to be a Tony Iommi solo album. From this point of view, it could be construed that even if Fenholt had gotten the gig (which he didn't), was not officially part of Black Sabbath, since this time is generally regarded as Iommi solo project time, and that Sabbath proper wasn't reborn until SIGNIFICANTLY later on in the project when record company pressure forced Iommi to call this a Black Sabbath album, and not a Tony Iommi solo album.
Just for a second, assume that Fenholt was working with Iommi (which everyone I have spoken to or emailed about this issue says he wasn't), but assume he was for a second. Black Sabbath didn't exist during this time period, and even if Fenholt was involved (which he wasn't), it wasn't Black Sabbath, so his claim of being a former Black Sabbath vocalist is doubly inaccurate.
Please note that I do not consider Jeff Fenholt a member of Black Sabbath!! I've gotten several messages asking why I even bother to put him here. The main reason is that when I didn't have him here, and I got a lot more messages asking about him. I figure I'll put the sum of my Fenholt knowledge here so people don't have to ask me all the time.

UPDATE JUNE 2009:
In late March, I got an email from Jeff himself. We went back and forth with an email exchange about him and Black Sabbath. I asked him when we were done if I could post said exchange, and it is shown below. Jeff said to my query, "Sure……why not. You seem like a cool guy." So here goes my email exchange with Jeff. All the emails were from March 31, 2009 – I didn't post it until June due to getting backlogged again in updating the site, no other reason:
— [ Jeff Fenholt ] ——-
Sieg,
I appreciate your point of view and I can go along with much of your thoughts. You are quite astute.
FTR : Tony and I got together in Dec '84 and began writing music. It seemed to work. He said I was in.
Tony went back to England for Christmas and then returned to record at Cherokee Studios in Jan '85.
Eric Singer, Geoff Nichols, Copley, Tony and I recorded basic master tracks for 2 or three weeks.
Tony, Nichols and I continued in the studio until the middle of May. It was not an audition after my having gotten the green light back in Dec from Tony and Don Ardon. I think 6 months of auditioning in a master studio would make the Guinness book of world records.
In any event, as you so aptly picked up on, my lyrics were not Sabbath. I just wasn't there as an artist. But vocally it worked. Thus the dilemma.
In May I called Larry Mazer to send my friend and producer Jeff Glixman out to help. Tony had never met him.
Glixman was hired and instead of helping us get a good Sabbath type lyricist Glixman started giving me crap. 'What a back stabber.
I bailed.
I toured S. America starting in June of '85. I mentioned publicly off the cuff that I had quit BS and was now performing contemporary faith based music. It didn't seem like a big thing to me at the time given the fact that I had already been on the cover of "Time Magazine" as the first rocker to storm Broadway. I had plenty of publicity without BS. As a matter of fact, the BS connection hurt me more than helped in the faith based arena.
The press picked up on the "Sabbath" connection. The brou ha ha started some 5 yrs later when Tony and Terry lied and said they didn't know me.
My story has remained the same . Theirs kept changing.
With regard to photos of me with Tony, they all were shot by some friend of Tony's and were filed with Sabbath Management who has not released any to me. At the time, I didn't give a rip. Had I known what was to come, I'm sure I would have gotten a shot of Tony and me…..huggy huggy.
I refuse to retract any of my statements because they are true.
I can understand how you have formed your opinion based upon the fact that I recorded with Tony and then quit, and that was the full extent of things. However, I did sing, write and record with Tony on what was later released as a Sabbath Cd.
Heard that Castle Rock Records released a Cd of me singing with Sabbath and some demos I cut with Terry Butler. I don't have possession of several of those tracks. Who gave them to Castle Rock? Tony?
Bottom line: Why should I not be allowed to speak freely ? I own it.
Thank you for being open minded.
All best,
Jeff Fenholt
— [ Joe Siegler ] —–
I have never heard of the demos you did being legally released. They've been floating around in bootleg collector's circles for ages, but I have never formally seen them released as a CD, especially not a legit label like Castle Rock. You sure you don't mean Eagle Rock? I've heard of Castle, and Eagle Rock, but not Castle Rock – unless they're a bootleg firm I don't know about. On top of that, all I've ever heard are the live "jam" recordings, not actual studio things.
— [ Jeff Fenholt ] —–
I've got several actual studio recordings I sang on that are the same instr cuts that wound up on "7th Star. They're not a "jam". I also have demo studio cuts I did with Geezer…..
To be honest w you I thought they all sucked……my vocals included……
Even Glenn Hughes, a friend of mine , with his enormous talent couldn't resurrect that dog………and sales bare witness.
One thing baffles me…… Dave Dinato, who is a dear guy,.rehearsed with Sabbath for several months and no one including you question including him in the roster. Interesting.
I personally think Tony was looking for PR from me. At the time his gigs were down to nothing and I was doing arenas and stadiums…..as a matter of fact, when Tony denounced me on MTV I was headlining The Olympic Stadium in Moscow and Kiev, and Lennon Stadium in St Petersburg.
JCS was the biggest Cd of all time in The Soviet Union.
That's why I couldn't respond to his asinine comments.
Larry King invited Tony and me to be on the show to clear things up……I accepted. The show's producer called the day before the show to say Tony had canceled.
Stay cool,
Jeff
— [ Joe Siegler ] —–
What I'm referring to may not be the same studio recordings you're talking about. I'm sure you're aware of and have access to a lot more than I do.
As for Tony's motives, I can't answer for him – I'm not him. Jesus tells me to try not to judge people, and I generally do not. But the situation is from a fan standpoint certainly confusing at best. I really don't know what to make of it from either side.