An article from the January 2, 1988 Kerrang! Magazine – By Malcolm Dome
Cancelled shows. Sun City controversy. Management disasters. Flnanclal problem. The past few months seem to have been nothing but a nightmare for Tony Iommi and his shock troops. So Is there a future for one ot Metal's tounding fathers? In an exclusive Interview, lommi looks back at recent events and torward to what will hopefully be a brighter tuture.
OZZY OSBOURNE was once rumoured to have declared in a moment of bitter insight that he wanted to call his autobiography 'How Black Was My Sabbath', a choice that, in many ways, aptly reflects the history of one of Metal's premier cornerstones, yet a band who over the decades have undergone a procession of traumas, conflicts and disasters. The past is well-documented, what needs to be faced right now are the events of the last few months. The highly controversial trip to Sun City in South Africa, playground for the pale-of-sin rich amidst the squalor of the black majority. The last breath cancellation d the sole British date planned by the band last year, on December 28th at the Hammersmith Odeon, amidst stories of their equipment being impounded due to non payment of bills. The debilitating management situation, with (now former) representative Patrick Meehan seemingiy leaving a trail of bad teeling-and seething anger in his wake. WHAT'S GOING ON?
Lead guitarist and sole remaing founder-member Tony lommi was probably loathe to talk about these events. Doubtless, he wants to put this latest twist in the Sabbath nightmare behind him and look forward to a more positive future. He's an honest musician, who perhaps over the years has had to withstand more than his fair share of both covert and overt problems. It must hurt badly that his dirty laundry (especially those tell-tale underpants) are constantly being washed in pubiic and then hung out to dry by the media. But life isn't all limos and castles, sometimes it's limestones and cobbles. Iommi has been around long enough to know that a festering wound will only become gangrenous, unless treated immediately. Now's the time to remove the past in order to provide for the future.
So, first off the bat let's talk about the cancellation of the Hammersmith Odeon, a last-minute affair that seems to have provided a whole host of reasons. Keyboardsman Geoff Nicholls, when contacted by this ofice over the Christmas period, suggested that this decision was forced on the band because Iommi had tennis elbow. A major rehearsal studio in South London confirmed to us that the band's equipment had been impounded because massive bills remained unpaid and yet another story suggested that lommi was suffering from Singapore 'Flu. Which, if any was the true reason? The affable Brummie says it was a combination of all three!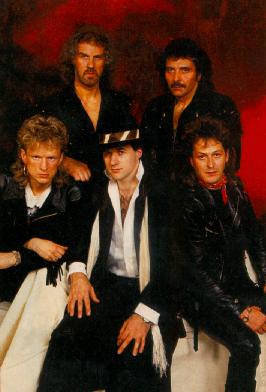 "Yes, our equipment had to be impounded and i was suffering from a bout of what was thought to be tennis elbow, but on top of this I came down with Singapore 'Flu while in Europe and got really ill. l couldn't shake it off and felt horrible. Even now, the after effects haven't completely worn off. it's awful. "The last thing I wanted to do was to cancel the Hammersmith show – I was really looking forward to it. But we had no choice and all I can do is to apologize to the fans. But we do intend to re-schedule this date as soon as possible, plus hopefully slotting in a couple of other British gigs."
At the present time, Black Sabbath are regrouping their forces. Meehan is out of the picture (which seems to have lifted an enormous weight from lommi's shoulders) and new management has been appointed, namely Rockmasters who also look after (for example) Zeno. They face the enormous task of repairing the damage done to the Sabbath name for a period of some considerable time – even prior to Meehan's appointment. And lommi has given them a free hand to clear up the mess.
"The situation with Patrick was unworkable. We couid never find him when bills had to be paid and apart from one girl in the office, there was no-one we could talk to about anything. It was a nightmare and eventually I was left with no option but to walk away and try to pick up the pieces. All I wanna do is be left alone to get on with playing music. I just wish all these probiems would go away. Rockmasters are working extremely hard on our behalf and they've a tremendous mess left to clear up, but they are at least on our side and we should see some results soon."
One decision that Tony in his heart of hearts regrets is the one that took the band to South Africa last Year. It roused the Anti-Apartheid movement into vigorous action and was, at the very least, part of the cause of a number of European shows being pulled by promoters on the last tour.
"Hopefully, it hasn't done us any lasting damage. But in our defence I've gotta say that this was discussed with Patrick Meehan's lawyers who convinced us that Sun City wasn't actually in South Africa…and we were foolish to befeve them!"
Still, perhaps it's time to once more forgive Tony & Co. their transgressions, put them down to honest errors rather than uncaring deliberations and allow them the chance to rebuild and regroup their forces. For, after all, whilst it's naive to suggest that rock music should be any longer be judged solely on its musical merits, nonetheless the quality and merits of the Sabs' last offering 'Eternal Idol' (which just seemed to disappear) does suggest that this band have a bit more to offer. So, what goes on?
Well, the group are currently in rehearsal with Iommi being joined by bassist Jo Burt, drummer Terry Chimes, lead vocalist Tony Martin, and keboardsman Nicholls. The aim is to get a US tour set as soon as possible and then return here for some dates. However, whether the band actually hits the road with this line-up remains to be seen. There are strong rumours on the horizon conceming the imminent recruitment of a major figure (identity unknown), and Iommi (partly to retain interest through enigma and, perhaps, partly because the situation is very delicate at the moment) would only offer a "you'll see" comment on the story. Hmmmm. What does seem certain, though, is that the superb Martin is staying. According to the guitarist: "He was offered a job by John Sykes and was all ready to take it. but he was talked into staying with us and contrary to other reports never officially left Sabbath."
So, that's it. The past has been dealt with and there will be a future to discuss at a later date. And despite the horrendous difficulties and 'Spinal Tap' episodes which seem to have dogged the band in recent times, let's do the decent thing: give one of the all-time great powers of rock music a chance! God knows Tony lommi's done more than enough to deserve such a small favour.