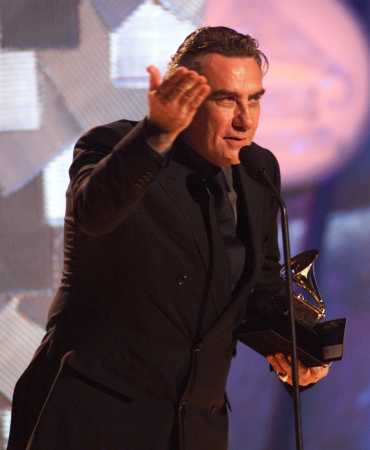 After 30 years of neglect, Black Sabbath was awarded a Grammy Award for their song "Iron Man" from the Reunion album. The ceremonies were held yesterday in Los Angeles, and Bill Ward was on hand, receiving the award on stage. Bill had this to say about Black Sabbath's winning the award for "Best Metal Performance"…
Drummer Bill Ward said it was gratifying to see artists from the Woodstock generation, including the night's top winner, Carlos Santana, doing so well.

"I think it's totally cool," he said. "I didn't think that 31 years ago, I'd be standing up in a suit. I feel more like an accountant than the guy who plays drums in Black Sabbath."
Unfortunately, this award was not shown on the television broadcast, but there was a mention of the award during the show. Furthermore, there was a brief picture of Bill on stage accepting the award on the show during the telecast. Bill was the only one on stage accepting the award, although Ozzy & Geezer were at the ceremonies with their families (there's a pic of Ozzy with two of his kids below).
The official title of the award given Black Sabbath was "Best Metal Performance for solo vocals, or Duos/Groups with vocals. Singles or Tracks only." Those nominated for this award were:
Black Sabbath – Iron Man (Reunion)
Ministry – Bad Blood (Matrix Soundtrack)
Motorhead with Zebrahead – Enter Sandman (ECW Extreme Music)
Nine Inch Nails – Starfuckers, Inc. (The Fragile)
Rob Zombie – Superbeast (Hellbilly Deluxe)
If you are interested in purchasing a copy of the Grammy Award Winning album Reunion, the only official live album by the original Black Sabbath, you can do so by clicking on the spinning Black Sabbath logo below.