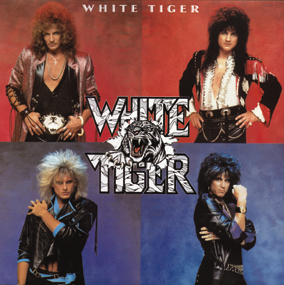 Back in mid 1984, Dave "Donut" Donato was one of the people who was associated with the band for a brief time. He never recorded or toured with Sabbath, but hard cores know his name. (Check out Donato's bio page here for more info).
Anyway, after his association with Black Sabbath, he went and formed a band called White Tiger (with the now late Mark St. John, ex of Kiss). They made an album, but it's been out of print for a long time.
I was looking through some old mail, and found someone had emailed me awhile back telling me it was available. I checked, and it appears you can still get it. Check out http://www.emcrecords.net if you'd like to order it. I still have a cassette of this that I bought back in 1985 – sure it's mid 80's (check out the hair), but his voice is pretty good, I thought.
UPDATE Apr 2007: Mark St. John died on Apr 5th. This could increase demand on the CD, so if you're interested, go check it out. I'm not sure if in April 2007 they still have copies available, but that was the website where you could get it when I first posted this story about 6 years ago.