In addition to the Black Sabbath Oral History book below that's being reissued, I've got some updates on some other reissues.
BLACK & BLUE
First up is the old Black & Blue Black Sabbath/Blue Oyster Cult concert film from 1980. I reported below on it's being re-released, and it's now available for pre-order. You can order it through Amazon.com. It will be released in the US/Canada on October 8th. It will be released in the UK before that, on September 23rd. I don't have a pre-order link yet for the Region 2 (aka UK) DVD, but if you want to pre-order the Region 1 DVD, you can do so here.
THE BLACK SABBATH STORY
Second are the Black Sabbath Story videos from back around 1992. These have been available for quite some time on VHS, but now are finally being released on DVD (as well as being reissued on VHS). They admittedly cover only up to the Dehumanizer era, but they are notable for some great interviews, as well as being the only place where you can hear snippets of the old Sabbath demos "A Song for Jim" & "The Rebel". These are due out August 26th in the UK, and September 10th in the US. Here's some ordering links for the Sabbath Story DVD's.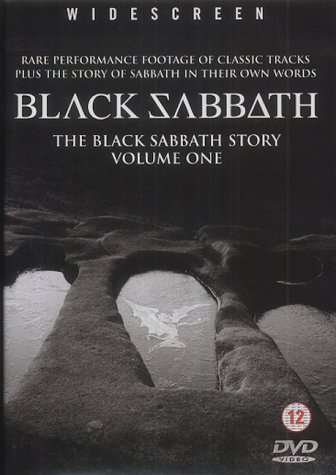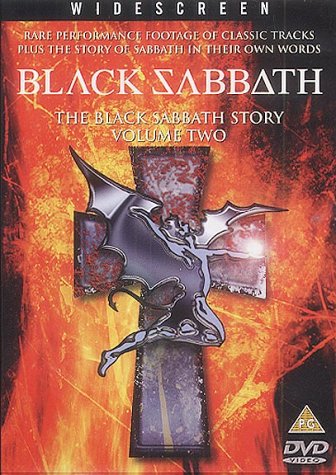 BLACK SABBATH: AN ORAL HISTORY TO BE REISSUED
Last week, I received a press release regarding a book on Black Sabbath that's been out of print for awhile, and is to be reissued. Here's what I received from someone over at HarperCollins Books:
FOR IMMEDIATE RELEASE

ON FEBRUARY 13, 1970 THE FACE OF MUSIC CHANGED FOREVER

BLACK SABBATH: An Oral History
By Mike Stark, edited by Dave Marsh

When Black Sabbath burst on to the scene with the release of its first album, Black Sabbath, Heavy Metal was born. BLACK SABBATH: An Oral History (HaperEntertainment; On-Sale September 3, 2002; $10.95) chronicles the band's rise to fame through firsthand accounts from the members of the band, including front man Ozzy Osbourne. Everything that this sui generis British metal band did and saw over its storied career is detailed here. Go behind the scenes in studio and on tour with the band that has been a primary influence on hundreds of rock groups, from Metallica to Spinal Tap, and find out how they became the fathers of a new brand of rock.

A fascinating story in words and images, BLACK SABBATH includes:

Firsthand accounts from ALL the members of the band both the founders and those that came later. Ozzy himself shares many insights.
Great sidebars with complete lineups of the band at key dates and who appears on every album.
Pictures of the band in concert, on television appearances, in promotional photos and album covers.

In the words of Black Sabbath's four founding members — Bill Ward, Tony Iommi, Geezer Butler, and Ozzy Osbourne — and from other members through the years, including Ronnie James Dio, Rob Halford, Eric Singer, Tony Martin, Cozy Powell, and Neil Murray, BLACK SABBATH: An Oral History tells readers what it's like to turn up the amps, hit the stage, and power-chord an audience into submission — and create a brand — new kind of rock in the process.

About the authors:

Mike Stark is the former host of "Pure Rock Talkback" on the ground breaking metal station KNAC-FM in Long Beach, CA. Stark has produced numerous radio programs and co-produced "Rock & Rap Confidential Report," based on the newsletter Rock & Rap Confidential. As an independent radio journalist, Stark has interviewed hundreds of artists from all forms of music, including George Clinton, Pat Boone, Roger Daltry, Les Paul, John Lee Hooker, Slash and Clint Black.

Dave Marsh was a founding editor of Creem and an editor at Rolling Stone, where he created The Rolling Stone Record Guide. He is now a music critic at Playboy, publishers of Rock & Rap Confidential, and a prolific author of books about music and popular culture, including books about Elvis Presley, Michael Jackson, and the song "Louie Louie." His book Before I Get Old is the definitive biography of the Who, and Glory Days and Born to Run, both about Bruce Springsteen, were best-sellers.

BLACK SABBATH: An Oral History
By Mike Stark edited by Dave Marsh
On Sale Date: September 3, 2003
ISBN: 0060529458
$10.95 U.S./$16.50 CAN
First off, I'm fairly sure the on sale date is not 2003. :) Second, after this was sent to me, I was also contacted by the book's original author, Mike Stark – who told me the reprint was put together without his knowledge or involvement. He sent me this email for the mailing list:
As many of you already know, there were some HUGE errors made by the original publisher — errors that virtually erased Ray Gillen from the history all together. I had always hoped to be able to correct these errors, add some stuff that happened after the publication and generally make it a better book. I was told initially that there was little chance of a reprint, so I posted the "mistakes" at my website and left it at that. Then the "Osbournes" happened. Now the even worse news.

Suddenly, I find that the new owners of Avon books (the original publisher), Harper-Collins is re-releasing the book with a new cover. I have not even seen the cover, but it's of Ozzy and described to me as "an awful retro-looking shot of his face." I would not have even known about this release if I hadn't chanced upon it at Amazon.com.

I just want Sabbath fans to know that I had no input into the new release and will receive no compensation for this new release. Since finding out, I have sent the corrections to the publisher, but do not expect them to make the changes. After all, they need to get this out while the "Osbournes" are still hot!

I have always had the greatest respect for Sabbath fans and will continue to do my best to get the proper message out about the band, when I can. Thanks to all for your understanding and if you have any questions about either edition feel free to e-mail me.
You can purchase either version of the book from the links below. The
original version is out of print, so it's a little harder to find, and the newer version isn't out yet – it'll be out in September.
[ Purchase original version of book | Purchase newer print of book ]