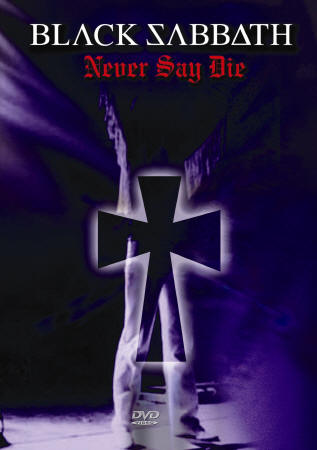 The Never Say Die DVD is set to be released shortly. I just got alerted by my contact at Sanctuary Records that they're sending me a few copies to use as giveaways – the DVD is set to street here in the US on March 4th. Here's some info about the DVD from the Sanctuary Web Site:
Recorded live in 1978, Never Say Die is a defining moment in Black Sabbath's history. This unique concert is one of Sabbath's final performances with the original classic line-up of Ozzy Osbourne, Tony Iommi, Geezer Butler and Bill Ward. After a brief break from the band in 1977, frontman Ozzy returns here in triumphant form performing classic songs including "Never Say Die," "Black Sabbath," and "Paranoid."
I've also asked about "extras", and have been told there really aren't any extras to speak of, but there are Dolby Digital 5.1 & Stereo Surround Sound options on it. And of course, some killer concert footage. I've also been told the cover art is the same for both the Region 1 & Region 2 DVD's.
The track listing is below:
Symptom Of The Universe
War Pigs
Snowblind
Never Say Die
Black Sabbath
Dirty Women
Rock and Roll Doctor
Electric Funeral
Children of the Grave
Paranoid
You can pre-order the DVD through these links (which helps support this site), and Amazon will ship it to you.