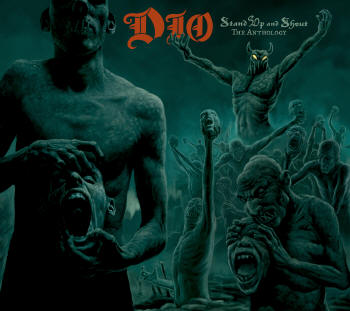 UPDATE: I found out this album is only to be released in the US & Canada – it is not scheduled for release in Europe and elsewhere. I also added some tidbits about the package a little further down (plus added cover art).
Ronnie James Dio's recording career had already been going for about 13 years when Elf was formed in 1970 (you do the math). Since then he's sung for Rainbow, Black Sabbath, and his own outfit, Dio. Over these years, a great number of awesome tracks have been recorded, and this new package "Stand Up & Shout: The Dio Anthology". The package has a total of 29 songs on a 2 CD set, and it will be available on May 27th, 2003. The package doesn't include the three most recent Dio studio albums (Angry Machines, Magica, & Killing the Dragon – most likely because all the rest were on Warner Bros – and this package is coming out on Warner's Rhino label), but gives a good cross section of Dio material. In fact, I can bring you a full track listing here:
Disc 1 [TT = 76:24]
Hoochie Koochie Lady – Elf [5:32]
I'm Coming Back For You – Elf [3:27]
Carolina County Ball – Elf [4:45]
Man On The Silver Mountain – Ritchie Blackmore's Rainbow [4:37]
Starstruck – Rainbow [4:06]
Long Live Rock 'N' Roll – Rainbow [4:20]
Neon Knights – Black Sabbath [3:49]
Children Of The Sea – Black Sabbath [5:30]
Heaven And Hell – Black Sabbath [6:56]
Turn Up The Night – Black Sabbath [3:42]
The Sign Of The Southern Cross – Black Sabbath [7:46]
The Mob Rules – Black Sabbath [3:14]
Computer God – Black Sabbath [6:10]
Voodoo (Live, 1982) – Black Sabbath [6:07]
Sacred Heart (Live, 1985) [6:23]
Disc 2 [TT = 75:13]
Stand Up And Shout [3:15]
Holy Diver [5:54]
Don't Talk To Strangers [4:53]
Straight Through The Heart [4:32]
Rainbow In The Dark [4:15]
We Rock [4:35]
The Last In Line [5:48]
Egypt (The Chains Are On) [7:02]
King Of Rock And Roll [3:49]
Hungry For Heaven [4:10]
Dream Evil [4:26]
All The Fools Sailed Away [7:10]
Lock Up The Wolves [8:30]
Strange Highways [6:54]
Here's some more tidbits about the package from a sell sheet I was sent from Rhino Records.
Over 2.5 hours of remastered music
Track by track commentary from Ronnie James Dio included in liner notes.
Cover art by Wes Benscoter
Of course, with any of these type of compilations, there's always tracks that folks would rather have on there (I'd prefer Wild One instead of the title track from Lock Up the Wolves, and had Invisible from the first Dio disc, etc.), but overall we've got a great cross section of Dio material, and the inclusion of the old Elf material makes this a nice way to listen to the progression of Dio's music. I'm hoping to have a giveaway for this when the package is released. I should know more about that soon. Here's a press release for the package:
LOOK OUT!
WARNER BROS./RHINO TO RELEASE ULTIMATE METAL COLLECTION STAND UP AND SHOUT: THE DIO ANTHOLOGY
29 Tracks on Two-Disc Set in Stores May 27, 2003
LOS ANGELES-It's time to raise those horns in the air and pay tribute to the man-and the band-who made it sound so very, very cool to be very, very evil. STAND UP AND SHOUT: THE DIO ANTHOLOGY is here! Featuring two discs' worth of classic tracks spanning his entire career, STAND UP AND SHOUT is the only anthology to include songs from Ronnie James Dio's eras with Black Sabbath, Rainbow, Elf and, of course, Dio. It just doesn't get any better than this!

Or does it? STAND UP AND SHOUT arrives augmented with dozens of photographs by rock's best photographers, a liner essay by noted rock scribe Lonn Friend, as well as Dio's own detailed track-by-track notes and remembrances. With two and a half of definitive heavy metal, this is one collection that simply, well, rules! STAND UP AND SHOUT will be available at retail outlets and www.rhino.com for a suggested list price of $24.98.

Growing up in Cortland, NY, Ronald Padavona, the man who became one of hard rock's all-time most distinctive voices, began his career with a series of high-school garage and doo-wop groups. By the time Ronnie James Dio formed Elf in 1970, he'd already had 13 years of experience playing rock 'n' roll. Elf was signed to Epic in 1972, and their debut album was produced by Deep Purple's Roger Glover and Ian Paice. As Deep Purple's opening act, Ronnie came to know Ritchie Blackmore, and later formed Rainbow with the guitar master.

For four years Rainbow built a reputation as one of the world's most popular hard rock bands. Dio became known for his soaring vocals and lyrics brimming with fantastic mythical visions. However, musical differences between Blackmore and Dio led to Dio's leaving after only a handful of albums to join the legendary Black Sabbath, then reeling from bitter in-fighting that resulted in the departure of founding singer Ozzy Osbourne. Dio's energy rekindled the Sabbath spirit, resulting in the epochal Heaven And Hell album in 1980. The mighty Mob Rules follows in 1981, but his initial alliance with Black Sabbath was doomed to be short-lived; after the concert recording Live Evil, Dio split to form the first incarnation of a band that will forever bear his name.

DIO! Songs of demonic peril and seduction! DIO! Visions of theatrical concerts with lasers and dragons! (The Sacred Heart tour was voted "Outstanding Stage Set" by Performance Magazine and "Most Creative Stage Set" by Pollstar.) DIO! Tenacious D could only dream of such glory.

Now, 20 years after the release of the first Dio LP, Holy Diver, it's time to take stock of the man's illustrious career. Ronnie James Dio has helped create some of the best-loved tracks still heard today on rock radio: "Man On The Silver Mountain," "Long Live Rock 'N' Roll," "Neon Knights," "Heaven And Hell," "Stand Up And Shout," "Holy Diver," "Rainbow In The Dark," "The Last In Line," and "Dream Evil." All of the hits are here, but the best part about STAND UP AND SHOUT: THE DIO ANTHOLOGY is that it also includes album tracks and live cuts to present the fullest possible picture of Dio and his work.

It's truly the next-best thing to being front-row center at the arena!