There are two new Black Sabbath books that you should be paying attention to.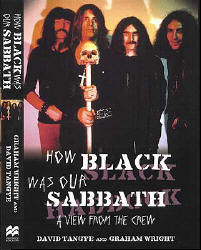 Book #1:
First is "How Black was our Sabbath: A View from the Crew" by David Tangye & Graham Wright. This book is written from a road crew that followed Sabbath around in the 1970's. In it, they tell stories (most of which probably haven't been heard before) about the boys in the band back in the day. I personally have not read it yet (because it's not out yet), but I thought I should alert you to it's existance. "How Black" has a website you can visit, it's http://www.blacksabbath.co.uk – Check it out! You can also pre-order the book from Amazon's UK site (it isn't avaialble here in the States, it appears.
Book #2:
Also coming this fall is a book by Garry Sharpe-Young called "Black Sabbath: Never Say Die 1979-1997". This book is done by the same guy who did the very cool "Unauthorized Ozzy Osbourne story" book from a year ago or so. This new Sabbath book tells the story of Black Sabbath from the time Ozzy "left" in 1979 to the point where he returned in 1997. I have not read it yet, but I intend to when it's released – I've always personally been interested in these times, as I got into Black Sabbath in 1981, and I love talking about portions of something that don't get a lot of discussion normally – this book will be right up my alley.
There is a chapter of the book online already over at the book's publisher's website (Cherry Red Books) where you can read about the book, Geoff Nicholls & Quartz, Ozzy's departure, and other items around that era. Make sure and read this today if you haven't done so already. The author of the book has told me that he'll have a chapter exclusive for this website shortly; when that info is available, you'll have it here. :)
You can pre-order Garry Sharpe-Young's book by clicking on the cover – according to the Amazon UK site, it is slated to be released in September 2003 (which only has a week left, so if that changes, I'll report back).