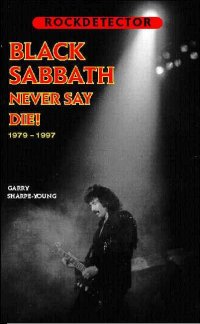 I have received my copy of the Garry Sharpe Young Book on Sabbath's turbulent history between 1979-1997. It's nothing short of phenomenal. I was hoping this period of the band (including the hyper confusing year of 1987) would be covered well, and it is. This book lived up to all my expectations of it. No one is ignored (although Bill Ward for some bizarre reason didn't want to be interviewed), and I guarantee you that unless you're Tony Iommi or Geoff Nicholls, you WILL LEARN SOMETHING about Black Sabbath that you never knew before. I most certainly did!
My thoughts and full review of the book are available over on the books page of my site – make sure to check it out.
This book does not appear to have US distribution at this time, so you will need to order it from Amazon's UK site, which I link to by clicking on the cover art shown here. If there is US distribution set up in the future, I will make note of that on this site.