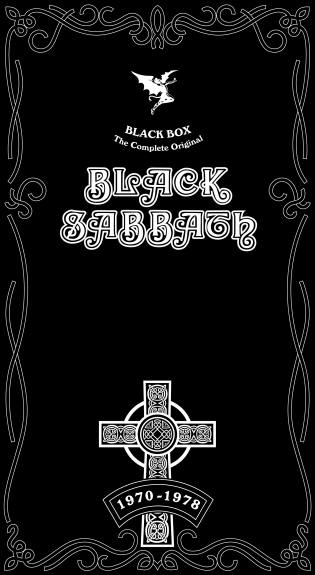 Got a surprise delivery today handed to me at work from Airborne Express. It's my copy of the Black Box set. The final release version. Many moons ago I got copies of the CD's from someone at Rhino so I could check out the new recordings, but now I have the final release set which you'll be able to buy in a store come next week.
This Tuesday brings the release of the Black Sabbath box set "Black Box: The Complete Original Black Sabbath 1970-1978". What is it? It's a 9 disc collection (8 audio CD's, one DVD) comprising all the of the songs the original Black Sabbath released from 1970-1978, which is considered by a lot of music fans to be some of the most dominating and creative albums ever released by anyone ever.
I know a lot of people are going "What? Another Box set?" Well, let's examine that.
A little background. In the United States Black Sabbath's record label was Warner Brothers from 1970-1987. When CD's started showing up in the 80's as a commercial product, Sabbath's Warner Brothers albums were put out on CD (well, most of them – but that's the non Ozzy stuff, a story for another time). As the format was new, it was great! Folks loved them. I loved them. There were also some CD releases by Castle Communications in Europe, with some extra live tracks on them (which were taken from the Live at Last unofficial album). In 1996, Castle Communications released their own remasters. These releases had a few minor problems (a 1 second sound dropout in the song Fairies Wear Boots is the most notable). These remasters were "remastered" from an unknown source, and while they were sonically better than what was out before, I always felt that a definitive version was to come, from the Warner originals. In 2002 we got a glimpse of that with the 2CD set "Symptom of the Universe". That was a remaster from the Warner original source. And it never sounded better. It was tantalizing thinking what a full set of Black Sabbath albums would sound like completely remastered like they deserved to be.
What's this have to do with previously released box sets like "The Ozzy Years" or "The Ten Commandments" or any other number of releases? Well, none of them were "Official Band sponsored items". Black Box is the first box set released under the guidance of the band itself, and wasn't something put together by a record label person. That's one of the beefs I have with all those "other" releases – it confuses the average fan into thinking "Sabbath is just out for the cash, with all these releases", when Sabbath themselves didn't have anything to do with the vast majority of these things.
MAKE NO MISTAKE. Black Box is by far the most definitive version of the original eight albums Black Sabbath has released. PERIOD.
The albums themselves have an unbelievable sound quality never heard in these recordings before. It's not like we have new songs here – these are after all the same songs released before. But they've never been heard like this before. I cannot stress how great these discs sound. I've been listening to Black Sabbath since 1981. I know these songs extremely well – EXTREMELY well. So much so that the slightest change is noticeable. Well, the sound range here is far more powerful than I've ever heard it before. Ever put in an old CD in your player, and it sounds flat, and a newer one you put in has a really rich, vibrant range? That's the kind of thing I'm talking about here. In addition to the songs just sounding more powerful and cleaner, individual instruments are more noticeable here. There's tons of places where I've heard drum fills by Bill Ward that I've never heard before. It's very cool finding new bits in songs you've heard God knows how many times over the years. Most of the more noticeable stuff for me is Bill, although there's new things noticeable on the other instruments, too.
I could go into a specific list of new items here, but there's just too many of them. Just understand that on Black Box, I've heard things in these songs I've never noticed before. Coupled with the fact that it's got a sonic power that I can't recall the songs having before make this by far the version to get – even if you already own these albums.
That brings me to another point. The notion that Black Sabbath is just "out for money" by releasing this set without a ton of extras. In running my Black Sabbath site at www.black-sabbath.com I see a lot of feedback on various things, and ever since Black Box was originally announced ages ago, the #1 thing I think I've heard is something along the lines of "Where are the rarities? Where are The Rebel, and Song for Jim? What kind of cheap ass set is this without the extras?" No, they're not here. In fact, the only "oddity" songs on this set are "Evil Woman" from the first album, and "Blow on a Jug" from Sabotage. In fact Blow on a Jug isn't listed anywhere – it's just tacked on the back end of the Writ. Which it's always been – BOAJ has never been it's own listed track ever (it wasn't on all releases of that album). Anyway, if you're looking to buy this based on the recent trend of other box sets to include rare songs and things like that, you WILL be disappointed. But if you're interested in how the songs SOUND, then my god, this is for you.
And that's just the music. There's other stuff here, too. The ninth disc is a DVD which contains what's known as the "Beat Club footage", which comprises four songs. The four songs are "Iron Man", "Paranoid, "Black Sabbath", and the rather loose cover of "Blue Suede Shoes". This footage (well, not Blue Suede Shows) is also used on MTV as "videos" and the like, most of this stuff won't be new to most people, but it's nice to have it here. It does appear to be a bit cleaner than the VHS release of this stuff that happened some time ago. Blue Suede Shoes in particular looks a lot better, since it's not subject to the "blue screen visual effect blurs" the other three songs have. Might have been nice to have a formal DVD video release of the Paris 1970 bootleg. Now *THAT* would have been badass. ;)
The packaging itself is rather Black. I'm reminded of the bit from Spinal Tap when they were going "How much more black can it be?" :) I say that because the box itself is Black, and the writing on the box is also black, so it's not terribly visible when viewed straight on. When you first take it out of the shrink wrap plastic, there's a piece of paper on there so folks can see what's on it without opening it up. That paper is not connected to anything, and isn't part of the actual box. Inside the box are two smaller boxes, each containing four CD's. Each of those four CD's are the 8 individual Sabbath studio albums with Ozzy. Each is in it's own digipak style packaging – it's not jewel case packaging. On the front and back sides of the individual CD cases are the original front and back cover art that appeared on the albums as they were released ages ago. Inside the digpaks are art that I believe appeared on the original print vinyl sleeves as released originally. So much so that albums that had lyrics on their original vinyl sleeves are reproduced here, too (much to small to read without hurting your eyes). I haven't seen a vinyl print of Sabotage in ages, and it was funny to see the guys backsides again like that. :) The CD's themselves have the same kind of "black on black" print that the exterior of the box has. The logos on the individual CD's match the lettering used on the original artwork for the albums, a nice touch – it's not standard lettering across all of them. Overall, nice packaging of the albums – no complaints here.
Anyway, the biggest "new" item would be the booklet. It's a 77 page hardcover booklet, which is covered in black velvet. Let me say this. When you pick up, don't have your hands dirty. It looks like it'll pick up dirt pretty easily. It's got a very nice feeling in your hands. It's got no writing or lettering on the outside, save for that Sabbath flying angel logo we've seen many times before. There's a few portions to the book. First is a piece called "Lords of this World" by Chris Welch. The second is "A Hard Road" by Brian Ives. Finally there's a "Sabbath Timeline" which has dates for various events, releases, and whatnot in the history of the band. There's also lyrics for all eight albums. Finally, some "official" lyrics. This should put to rest some long standing debates over some Sab lyrics. The booklet has some nice stories that I haven't heard before, as well as some photos I've seen before, and a lot I haven't. There's much goodness in here. Oh, BTW, the bonus DVD is in a sleeve attached to the inside back cover of the booklet. It was hard to get out without putting my fingers on the disc itself, which is something I try never to do. That's my only complaint – the DVD is hard to get out of the sleeve easily.
That's about it for this set. I have to say, even if you own all these albums (and who doesn't), it's worth picking up. As I said before, these albums have never sounded better, both from a sonic clarity standpoint, to hearing things in the songs I've never heard before – you cannot go wrong here. This is a wonderful package, both from the looks to the sounds, to the booklet. Get it. Your ears will thank you.
I just hope we don't have to wait for "Black Box Part 2: The Non Ozzy Years". :)
You can view some pictures of the packaging over at my Black Box page. You can also read Blabbermouth's review of Black Box here.