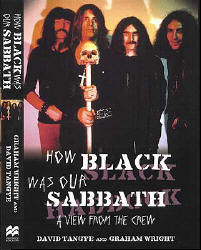 It's also been brought to my attention that I have not posted a review of the book "How Black was our Sabbath: A View from the Crew".
One of the authors (David Tangye) was kind enough to send me a copy of his book awhile back, and I read it. And loved it. It's a really REALLY detailed listing of the early days of Sabbath.
My problem is that I totally neglected to write a review of it. I was totally embarrased by this. This book is totally badass, and you should buy it right now.
I will still do a full review of it in the next week or so, but before I do that, I wanted to drop a quick line and say that this book comes highly recommended. You will enjoy it, I guarantee it. Click on the book cover to order yourself a copy from Amazon.com. I just looked, and Amazon.com currently has the book listed for $35. You can also order it from Amazon's UK site which has it for £11.89. That's about $21 in US money, so it might actually be cheaper to import it yourself from Amazon's UK site to the US.