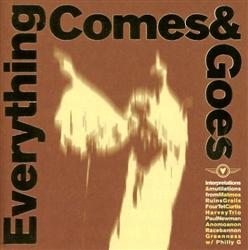 I was sent this story, which recently appeared on MTV.com's news site..
*Black Sabbath* tributes by metal bands are a dime a dozen, so the newest disc of musical homages, /Everything Comes & Goes: A Tribute to Black Sabbath,/ is definitely a change of pace. Due April 5, the nine-track disc will feature reinventions of Sabbath songs by a collection of unusual suspects including electronic laptop artist *Four Tet*, Japanese noise group *Ruins* and beatmaking *Björk* collaborators *Matmos*. …
I hadn't heard of this CD before today, so I wanted to pass it on to others. If you click on the cover art shown here, you'll be taken to the page on Amazon.com for this album, which is due to be released April 5th.
I would like to take this opportunity to point out two other Sabbath tribute CD's that are not the "norm". One is "The String Quartet Tribute to Black Sabbath", and the other being Sabbatum, which is a medievil tribute to Sabbath (think Sabbath songs played in the 14th century). Both of these aren't your standard metal band tribute, and are worth checking out.