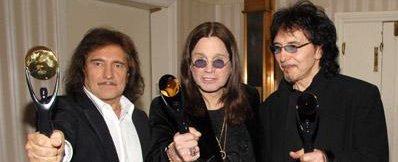 The US HOF ceremony was last night, and Black Sabbath was inducted. Long time visitors to my site know my feelings on the Hall of Fame, but it is still nice to see them get some recognition. Although my gut feeling is that this is the last time we'll see the four of 'em together for a long time – if ever again. My gut tells me it's the swan song for the original Black Sabbath. That's a personal opinion, I have no facts or information to back that up. Additionally, I think some fans would take umbrage with the prcolaiment of Sabbath being "active" in the story below. :)
You can check out some video over at Yahoo's site (from CNN) about the proceedings here. There's a short clip of Ozzy's speech during the induction, as well as Metallica's cover of Hole in the Sky in this clip, too. The ceremony will be on VH1 next Tuesday the 21st. Further details on that are here.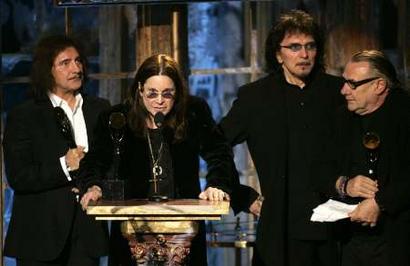 Anyway, here's some pictures and a news story about the ceremony.
NEW YORK – Between an ugly feud among Blondie members spilling over onstage and a rancorous letter from the absent Sex Pistols, the latest Rock and Roll Hall of Fame class did not enter quietly on Monday.
The animosity even made Ozzy Osbourne, inducted with Black Sabbath, seem sedate.
As midnight arrived under the chandeliers of the Waldorf-Astoria's grand ballroom, Lynyrd Skynyrd was performing the song that launched countless cigarette lighters, "Free Bird," to celebrate their own induction. Famed jazz trumpeter Miles Davis completed the honorees.
When Blondie, the most commercially successful band to emerge from a fertile New York rock scene that also produced Talking Heads and the Ramones, reformed after 15 years, they didn't include former members Frank Infante and Nigel Harrison. They sued unsuccessfully to join.
Infante, Harrison and Gary Valentine, another former member left behind in a business dispute, were barely acknowledged by former chums Deborah Harry, Chris Stein and Clem Burke as they received their awards.
Infante begged to perform with the band.
"Debbie, are we allowed?" he pleaded before Blondie performed their hits "Heart of Glass," "Rapture" and "Call Me."
"Can't you see my band is up there?" Harry replied. The three rejected members walked offstage, but not before Infante groaned into the microphone.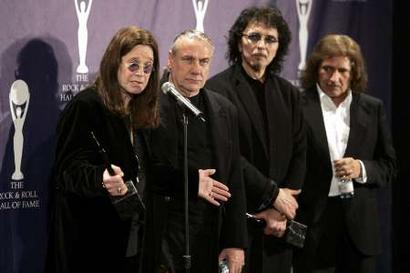 Punk rockers the Sex Pistols had turned down the honor in a profane letter that compared the hall to "urine in wine." Rolling Stone magazine founder Jann Wenner read the letter, and invited the band to pick up their trophies at the rock hall in Cleveland.
"If they want to smash them into bits, they can do that, too," Wenner said.
Behind the unnerving stare of singer Johnny Rotten and the lacerating lyrics of "God Save the Queen" and "Pretty Vacant," the Sex Pistols appeared the most shocking of the first punk-rock generation in the mid-1970s. The Pistols imploded after one album, with Rotten saying, "ever get the feeling you've been cheated?" before walking offstage after their last show for decades.
Osbourne may be better known now as an addled reality TV star, but his musical legacy with Black Sabbath got its due with the band's induction.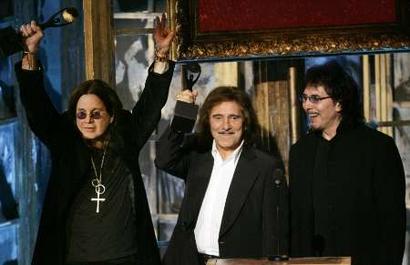 Osbourne has badmouthed the hall of fame for waiting a decade to induct Sabbath, a cause taken up by Metallica member Lars Ulrich in his induction. Metallica guitarist James Hetfield and Ulrich both said their band would not exist without the example of Black Sabbath.
"If there was no Black Sabbath, I could still possibly be a morning newspaper delivery boy," Ulrich said. "No fun."
Osbourne, Geezer Butler, Tony Iommi and Bill Ward did not perform, but Metallica rattled the walls with versions of "Iron Man" and "Hole in the Sky."
"Thank you to all Sabbath fans everywhere," Ward said. "Hopefully our induction tonight will add to the validation … (and) hard rock and heavy metal will have an enduring and everlasting place in rock history."
Osbourne thanked his wife, Sharon, who sat in the ballroom with their daughters Kelly and Aimee.
Davis was inducted by fellow jazz musician Herbie Hancock, who said the trumpeter often played with his back to the audience simply because he was conducting the band.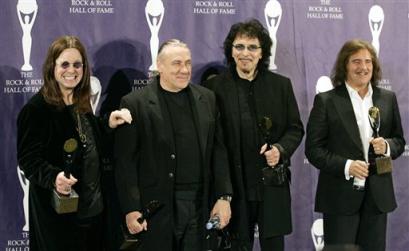 "He was a man of mystery, magic and mystique," Hancock said. "It was often said he was an enigma. I would venture to say that many who said that just didn't get it."
Southern rockers Skynyrd, whose name was a deliberately misspelled "tribute" to a hated high-school teacher, made much of its memorable music before a 1977 plane crash killed singer Ronnie Van Zant and guitarist Steve Gaines.
"No one deserved to be here more than Ronnie Van Zant," said his widow Judy, "and he would truly be honored."
Johnny Van Zant, who replaced his brother as the lead singer, joined Kid Rock in a duet of the band's hit "Sweet Home Alabama," such a well-known prideful statement of Southern heritage that the title was later swiped for a
Reese Witherspoon movie.
Each of the acts is still active. Blondie and the Sex Pistols reformed after long dormant periods, and so did Sabbath, who frequently headlined the popular Ozzfest summer concert tours.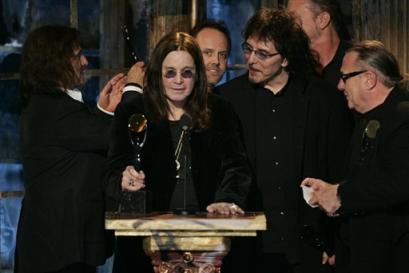 The hall also is giving a lifetime achievement award to Herb Alpert and Jerry Moss, founders of the influential A&M Records label that bore their initials and signed artists like the Police, Supertramp, John Hiatt, Cat Stevens and Alpert's band, the Tijuana Brass.
"I haven't seen this many people since I played bar mitzvahs years ago," said trumpeter Alpert.
Inductees are honored at the Rock and Roll Hall of Fame & Museum in Cleveland. Highlights of the 21st annual ceremony will be shown on VH1 on March 21.