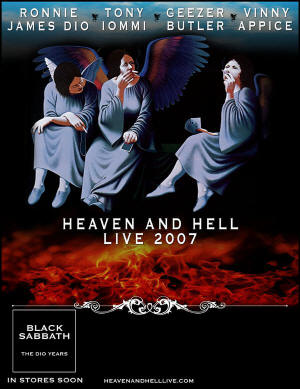 The 2007 tour for Black Sabbath er, Heaven & Hell is getting moving. While no official list of tour dates has come out, there's been several rumoured dates, and a few festival dates around Europe talked about. Once the official list comes out, I will be posting it on my 2007 Tour Dates Page. The tour is talked about getting started in March, although the official first date has yet to be formally confirmed by my info. This means tour rehearsals should get started shortly.
There are two official sources of information for the tour that are "online" now. I say that because one is active, and the other one is not.
The inactive one is the official website, which will be at http://www.heavenandhelllive.com. I'm told by Iommi management that this should be active within the next couple of weeks.
The active one is an official Myspace page for the tour. You can reach that page here: http://www.myspace.com/heavenandhelllive – If you are a Myspace member, you can add the tour as a friend.
I wanted to post this story to confirm that both of these resources are indeed official, as there was some confusion on my forums the last 24 hours over them.
Hopefully we'll have some official tour dates soon. I also have no official word on whether they'll be using a keyboardist on tour. I've been told there are no keyboards on the three new songs due for the CD, but for the tour, I do not know yet.
NOTE: Since there's been some confusion about this post of mine yesterday.. I'm aware of certain festival gigs being announced. When I say "Official", I mean Official dates as released by the band. THAT is the official word I'm looking for. Even though a gig has been announced by a venue, I would prefer to wait to hear it from the band before saying "It's Official".