OK, the subject really should be "Technical Ecstasy Lost Artwork Found!!", but my title is more attention grabbing. :) Seriously, there's a very cool piece of Black Sabbath art currently for sale, and I wanted to make sure I drew your attention to it.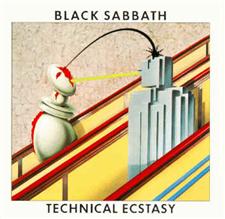 St Paul's Art Gallery in Birmingham is selling prints of the Technical Ecstasy artwork. These prints are signed by Tony Iommi and Storm Thorgerson. Mr Thorgerson is well known as an album cover artist, having done such iconic other cover art as Pink Floyd's Dark Side of the Moon (plus over a dozen other Floyd covers), AC/DC's Dirty Deeds Done Dirt Cheap, a few Led Zeppelin albums, Anthrax's Stomp 442, Bruce Dickinson's Skunkworks, Alan Parsons.. I think you get the idea. The man is iconic in rock cover art. You can visit Storm's website here.
St. Paul's Gallery has issued a press release with some details on the art sale. Check it out:
TECHNICAL ECSTACY LOST ARTWORK FOUND!!!!
Technical Ecstasy has been subject to much discussion musically, but what about that great cover artwork by legendary album cover artist Storm Thorgerson? St. Pauls Gallery in Birmingham approached both Storm and Tony Iommi to see if they could reproduce this great artwork as a limited edition fine art print signed by them both. They both said this would be a great idea but the original artwork had been lost for the last 30 years, (!) and so the hunt was on to find it. After many weeks of phone calls and false leads it was finally found in a basement in Hull (UK), how? when? or why? was not even discussed it was taken directly to the screen printers and before the week was out a fine art edition of only 195 prints was underway.
Both Tony and Storm have hand signed these stunning rare prints in pencil, this edition is a real Sabbath fan investment YOU CAN OWN ONE TODAY.
Each print comes with a certificate of authenticity showing Storm & Tony Signing along with the print edition number. This is a one off edition which will NEVER be repeated, so act straight away if you want one. Here are some particulars about the artwork:
Medium: Silkscreen print using 28 colours and spot glazes on Somerset Tub 400gsm
Artist: Storm Thorgerson
Date: Published 2006 (1976)
Signed By: Storm Thorgerson and Tony Iommi
Edition: 195 World Wide
Atelier: Corriander Studios, London
Dimensions: Paper Size 32 x 27″, Image 19 x 19″
The folks over at St Paul's have been kind enough to send me some pictures to use of Tony Iommi & Storm Thorgeson signing some copies of the Technical Ecstasy prints. Check 'em out – you can click on any of them for a larger image.
This all looks really cool, so if you're into art, and into Black Sabbath, you might want to check into this. It's quite a unique piece of history.
I do have a personal connection to this album, I'd like to share. As you may or may not know, my "day job" is working for a computer games company in Texas. Many years ago (1994), we were working on a game called "Rise of the Triad". I was one of the game's level designers, and one of the characters in the game was a robot. It didn't look like either of the robots on the Technical Ecstasy cover, but I did use a lot of them in this particular level's design. So much so that I named the level "Technical Ecstasy". Due to game limitations at the time, we were unable to make the robots go up an escalator (or even stairs), but it was something I tried to work in anyway. :)