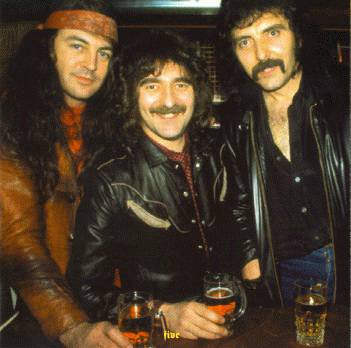 Who would have thunk it? Check this story out I read tonight. Here's the short of it. Ronnie Dio has quit, and Tony wants to fill the gig dates, so Heaven & Hell will be renamed again to "Born Again", and the tour will carry on with Ian Gillan on vocals.
As you probably have already heard, following the gig at the Radio City Music Hall on March 30th, Ronnie James Dio has announced that he is quitting Heaven and Hell tour for undisclosed reasons. Now, they have an extensive tour of US in April/May and Europe in June lined up and apparently Tony Iommi wants to fulfil those commitments no matter what. He has asked Ian Gillan if he could step in for Dio as a new vocalist for the project called Born Again that will take place of Heaven and Hell and play the same dates.
Gillan, when caught backstage after the show in Limoges, said that yes, he spoke to Tony and he has to "think it over", but probably he'll do it if the schedule doesn't clash with Deep Purple and there's no dry smoke on stage.
Let's see what does this boil down to (provided all the lawyers and managers can come to an agreement as well). Deep Purple are on tour in UK from April 21 to May 3, then on to the continent until May 27, practically non-stop. Which rules out the Born Again US tour. But at the moment it looks like he's available for the European dates in June.
Brace yourself, I like the smell of deja vu in the morning. It really was a meeting, the bottle took a beating. Ladies of the manor watched me climb into my car…
Since Heaven & Hell was playing only Dio Era songs, does this mean that they'll play the Born Again album twice? They'll have to, to fill up that length of time during the gigs. We might get to hear "The Fallen" live finally.
Makes me wonder if they're already preparing for Tom Jones' reappearance as vocalist once this tour is over. One never knows.
Gray and plastic retards indeed. :)
UPDATE: This was an April Fool's Joke. I'm quite honestly STUNNED at the number of hate emails I got. You people take things way too seriously. It's just music. Yeesh! Even the band thought it was funny – I got emails from someone in Iommi's office, as well as Gloria Butler saying the whole band thought the joke was funny. If they did, then you should too. If you do not, well, then you're seriously overreacting, and should work on your sense of humour. It was a joke. It was funny. You got sucked in by an April Fool's Joke. End of story.