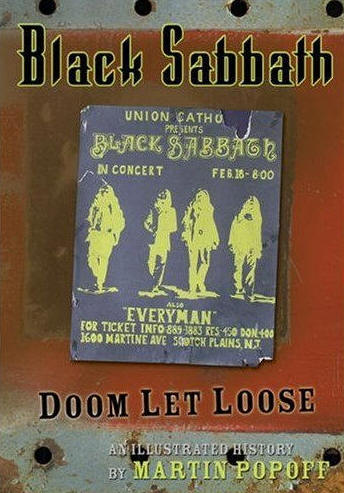 This book came out last August, and I've had it on my to do list to get on the site forever, and in a rather unusual fit of forgetfulness, I've kept forgetting to do it. I want to issue a huge apology to Martin Popoff the author of said book. I told him several times I was going to do this, and I just flat out forgot. More than once. Martin, I'm sorry dude, I promise that won't happen again. :) I'm writing this story to tell you about this book if you don't already have it. I know several people have asked me if I knew about it, but I wanted to mention it just the same…
BOOK DESCRIPTION:
Black Sabbath: Doom Let Loose is the title of a new Black Sabbath biography by BW&BK Editor In Chief Martin Popoff. Published by ECW Press, the book is similar in format to Martin's smash hit Rush biography, Contents Under Pressure, also published by ECW.
The book is 260 pages and full colour throughout, with many of the photographs leaning toward memorabilia shots versus photos of the band. ECW has issued the following description:
"Containing rare and previously unpublished material culled from Popoff's interviews over the last decade with all the principal members of the band, Black Sabbath: Doom Let Loose is an exhaustive song-by-song, album-by-album trek through the Sabs' 37-year history. Numerous one-on-one conversations with Ozzy, Tony, Geezer, and Bill, as well as ten interviews with Ronnie James Dio, and additional interviews with supporting musicians such as Tony Martin, Ian Gillan, Glenn Hughes, Vinny Appice, and Neil Murray, make this full-colour retrospective a must for any fan.
The drugs, drink, depression, and doom surrounding this band have imbued songs like "The Wizard," "Paranoid," "Iron Man," "War Pigs," "Children of the Grave," and "Heaven and Hell" with an almost supernatural importance among lovers of dark music. In the wider realm, full albums such as Master of Reality, Sabbath Bloody Sabbath, Sabotage, and Heaven and Hell show up with regularity on lists of greatest records of all time. Doom Let Loose explains how such classics came to be. It also deals with their tour history, documenting the places rocked, the supporting bands, and most notably, the band's trials and tribulations as they tried to hold it together in the Satan-obsessed, drug-addicted America of the Nixon era. Look for all manner of Sabbath photos and artifacts that make this examination of heavy metal's fearsome foursome a feast for the eyes as well as the enquiring mind."
JOE'S COMMENTS ON BOOK:
I've been a fan of Martin's books for ages. The man has a knack of covering all the obscure bits that I personally am a fan of. So when Martin decided to tackle a book on Black Sabbath, you know I'd be interested in it. In short, this book differs from all the other "history of Black Sabbath" books by taking a different angle. It's not just a straightforward "story", it's a recreation of the feel of the time. As I said before, he goes after all the periods of this band, it's not just "The Ozzy Era". The other eras are treated with equal respect, and that alone should qualify the book as a "must purchase". It's actually hard to put the distinction between Martin's history and the other books on the history into perspective in just words. It's one of those "feel" things. Another bonus is that he gets into the meaning of the songs, and not just "OK, such and such left the band, and they need a replacement". You need to read the book.