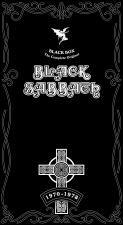 Hard to believe that this April, it will have been four years since the rather awesome Black Box set came out. If you never got that, it's a box set which contains all eight studio albums by the Ozzy Osbourne led incarnation of Black Sabbath, plus a DVD of some of the old Beat Club footage.
I wrote at length about the album when it was released (some of that appears below), but I'm here today to tell you that if you've never picked up Black Box, then you should check it out. I just noticed today that Amazon.com is selling it for 40% off – at a price of $59.97, with free shipping.
Addtl: As of Feb 3, the price has gone to $61.97, up $2, but it's still a great deal!
It's a heck of a deal. That's all eight Ozzy era albums sounding better than they'd ever sounded before. I know a lot of you have this, but if you don't, or know someone who might like to receive it as a gift, this is a great time to check it out. Here's some snippets below from my full review, which you should check out, too.
MAKE NO MISTAKE. Black Box is by far the most definitive version of the original eight albums Black Sabbath has released. PERIOD.
The albums themselves have an unbelievable sound quality never heard in these recordings before. It's not like we have new songs here – these are after all the same songs released before. But they've never been heard like this before. I cannot stress how great these discs sound. I've been listening to Black Sabbath since 1981. I know these songs extremely well – EXTREMELY well. So much so that the slightest change is noticeable. Well, the sound range here is far more powerful than I've ever heard it before. Ever put in an old CD in your player, and it sounds flat, and a newer one you put in has a really rich, vibrant range? That's the kind of thing I'm talking about here. In addition to the songs just sounding more powerful and cleaner, individual instruments are more noticeable here. There's tons of places where I've heard drum fills by Bill Ward that I've never heard before. It's very cool finding new bits in songs you've heard God knows how many times over the years. Most of the more noticeable stuff for me is Bill, although there's new things noticeable on the other instruments, too.
I could go into a specific list of new items here, but there's just too many of them. Just understand that on Black Box, I've heard things in these songs I've never noticed before. Coupled with the fact that it's got a sonic power that I can't recall the songs having before make this by far the version to get – even if you already own these albums.
That brings me to another point. The notion that Black Sabbath is just "out for money" by releasing this set without a ton of extras. In running my Black Sabbath site at www.black-sabbath.com I see a lot of feedback on various things, and ever since Black Box was originally announced ages ago, the #1 thing I think I've heard is something along the lines of "Where are the rarities? Where are The Rebel, and Song for Jim? What kind of cheap ass set is this without the extras?" No, they're not here. In fact, the only "oddity" songs on this set are "Evil Woman" from the first album, and "Blow on a Jug" from Sabotage. In fact Blow on a Jug isn't listed anywhere – it's just tacked on the back end of the Writ. Which it's always been – BOAJ has never been it's own listed track ever (it wasn't on all releases of that album). Anyway, if you're looking to buy this based on the recent trend of other box sets to include rare songs and things like that, you WILL be disappointed. But if you're interested in how the songs SOUND, then my god, this is for you.