This Christmas season brings us a new release entitled "We Wish You a Metal Xmas & a Headbanging New Year". In a similar vein to the Twisted Sister Christmas album from a couple of years ago, this album features a boatload of big names doing fairly traditional Christmas songs. Since you're reading this on a Black Sabbath site, you'll be most interested in Track 3. That's "God Rest Ye Merry Gentlemen". Guitar is Tony Iommi, and vocals are Ronnie James Dio. The rest of the band Rudy Sarzo & Simon Wright. It's basically "Dio", but with Tony instead of Craig. One funny story about this. Given the band that Tony is playing with is effectively the "Dio" band, I thought that perhaps it was recorded during rehersals for the August H&H tour. So I asked Tony's manager about when this was recorded. He told me that Tony recorded his bits at home, and then sent the tapes to the producer – he wasn't even there! hahahaha. :)
Anyway, here's a listing of the tracks, and who plays on them.
Run Rudolph Run (Lemmy / Billy F. Gibbons / Dave Grohl)
Santa Claus is Coming to Town (Alice Cooper / John 5 / Billy Sheehan / Vinny Appice)
God Rest Ye Merry Gentlemen (Ronnie James Dio / Tony Iommi / Rudy Sarzo / Simon Wright)
Little Drummer Boy (Dug Pinnick / George Lynch / Billy Sheehan / Simon Phillips)
Santa Claus Is Back In Town (Tim "Ripper" Owens / Steve Morse / Juan Garcia / Marco Mendoza / Vinny Appice)
Happy Xmas (War Is Over) (Tommy Shaw / Steve Lukather / Marco Mendoza / Kenny Aronoff)
Grandma Got Ran Over By A Reindeer (Ace Frehley / Billy Sheehan / Greg Bissonette)
Rocking Round the Xmas Tree (Joe Lynn Turner / Bruce Kulick / Rudy Sarzo / Simon Wright)
Silent Night (Chuck Billy / Scott Ian / Jon Donais / Chris Wyse / John Tempesta)
Silver Bells (Jeff Scott Soto / Carlos Cavazo / James Lomenzo / Ray Luzier)
Deck the Halls (Oni Logan / Craig Goldy / Tony Franklin / John Tempesta)
We Wish You A Merry Xmas (Geoff Tate / Doug Aldrich / Chris Wyse / Ray Luzier)
In addition to the advertisement I have here from Youtube for the album, there's another link that Sabbath fans will want to check out.
It's this E-Card from Eagle Rock records. It has song samples from three of the tracks. However, the first one is the track with Tony & Ronnie. Going to this page will play the sample. You can choose two other samples on the E-Card page, as well as view the trailer or get further info about the album. You'll want to check that out. Also, you can click on the links here to buy a copy for yourself. :) I personally have not gotten a copy of this yet – when I do I will update with what I think of it.
Finally, I have a copy of the official press release from Eagle that they sent over. Check it out:
ARMOURY RECORDS WISHES YOU A METAL XMAS
~And A Headbanging New Year~
New York, NY—On October 14, Armoury Records, distributed by Eagle Rock Entertainment, will release one mighty molten metal blast of good CD cheer: We Wish You A Metal Xmas And A Headbanging New Year [pre-book date September 24, Retail Sales Price $15.98].
It's an all-star assemblage as members of such great hard rock bands as Foo Fighters, Queensryche, Dio, Alice Cooper, ZZ Top, Dokken, KISS, L.A. Guns, Marilyn Manson, Motorhead, Black Sabbath, King's X, Judas Priest, Anthrax, Ratt, Styx, Toto, Shadows Fall and more all jam out together on some of the most beloved holiday songs of all time (including "Grandma Got Ran Over By A Reindeer")..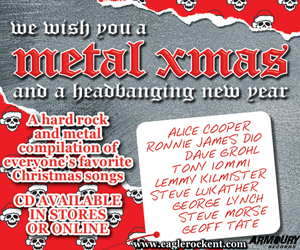 The kick is in the chemistry between the musicians as members of different bands perform together on the material to create a one-of-a-kind listening experience! Motorhead's Lemmy, ZZ Top's Billy Gibbons and Foo Fighter Dave Grohl, for instance, team up on "Run Rudolph Run," a song popularized by Chuck Berry. This is just one of 12 such irresistible pairings.
"This is a metal CD you will want to listen to all year round," says Wendy Dio, who put the project together with Bob Kulick and Brett Chassen. "It has been a very exciting and exhausting project, but we have managed to get an allstar cast together."
Ironically, the hardest person to get was Dio himself as he doesn't sing Christmas songs. Wendy hounded him for days, finally getting him to listen to Kulick's arrangement of "God Rest Ye Merry Gentlemen." Dio liked it, added a few bits, recorded it at Kulick's studio, and got Tony Iommi to add his signature guitar sound. The result is a very Sabbath Christmas song. Rounding out the circle of familiar characters on this track are Dio bassist Rudy Sarzo and drummer Simon Wright.
"The Metal Xmas album was a great opportunity to pay homage to my least favorite holiday," says Dio, "and what a lineup of musicians to do it with! The arrangements of the classic noel songs are fresh and heavy with rock'n'roll, and the performances are equally classic. It's a magical way to change your holiday listening."