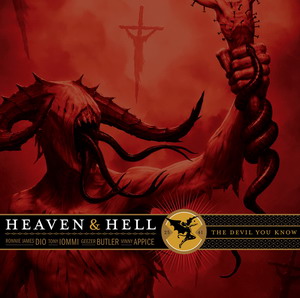 Well, the official cover art for the new studio album has been released. Turns out it's mostly the same as the leaked one from a week ago. At that time, I was told it was not exactly the same, and that appears to be the case here. It pretty much mostly looks the same as the leaked one, except there's some minor tweaking of stuff in the banner.
Speaking of the artwork, I've gotten quite the reaction from fans in emails so far. Most think it fits the theme of "Black Sabbath" well, but it definitely is up there in terms of negative reaction from what I've been seeing in emails. I can see why. As a Christian myself, the cover art is a bit strong in content, but to be honest, is a depiction of what likely the Devil thought at Christ's crucifixion anyway. OK, enough of that. The cover art does continue in a tradition of the band using existing artwork for cover art. The Heaven & Hell album used Lynn Curlee's "Smoking Angels" painting, and Mob Rules used Greg Hildebrandt's "Mob Dream" artwork. Dehumanizer was commissioned artwork I believe, but Devil You Know uses pre-existing artwork again. The base art for the cover comes from a painting called "Satan" which appears to be by an artist named "Per Øyvind Haagensen" from Norway. The version used on Sabbath's cover is tweaked slightly. If you want to see the original, you can click here.
I also have a press release for the album, which I will show below. I have queried my contacts at Rhino and got some answers to some questions about the album. Here goes with my mini FAQ about the album.
What versions will be out there?: I was told that there is no 2 disc version with a DVD, no additional "special edition", there is just one version of the album, a single CD release. That's actually quite refreshing in this era of double and triple dips.
That horizontal band – is that always there?: There was some theories posted in the week since the art leaked that the horizontal bar with the band name on it was part of the shrink wrap. I was told that is not the case. It is part of the cover art itself, and "not removable". :)
Will this be on iTunes, Amazon MP3, etc? Yes, it is being released to all DSP's per my contact at Rhino.
What about an iTunes exclusive track? These are pretty common, but I was told there might be one, but no decision has been made yet.
What about a Japanese exclusive track? I was told this.. "I don't think Japan will have exclusive tracks – but it isn't a Rhino release there so I don't know for sure."
What is the catalogue number? R2 518862
What is the first single? It is Bible Black. I'm told that it will be available on iTunes on March 31st.
Will there be a music video for Bible Black? Yes, there will be one. It will not be out at the same time as the iTunes release, but it is hoped it will be out before the album is.
Will it be released on vinyl? Rhino told me they plan on a vinyl release, but it likely will not happen on the same date as the CD release.
Interesting thought about the iTunes exclusive track. If they haven't made up their minds, and there is still a possibility of that happening, it raises this issue. They've recorded more than the 10 tracks on the album. So what's lying around in the can, guys? :)
Now, about the 25 / 41 on the cover art. That's one of the things that's different from the leaked version from a week ago.
My immediate thought was "What the hell does that mean?" My first thought on the 41 was "that's the number of years since Black Sabbath was formed" (1968-2009). Then, given the cover art, I thought if you added 25 & 41 together, you got 66, which would have something to do with 666. I queried my contact at Rhino, as well as Gloria Butler directly. I was told by both of them I was wrong on both accounts. Gloria Butler more colorfully, as she told me "That's the best you can come up with?" Hahahaha… Truth be told, I hadn't put much thought into it, that was the knee jerk immediate reaction.
So I started chatting with Damian, my lead forum admin asst about it. He came up with a few interesting theories. Here's what he came up with… The first one I really liked, to be honest. It really fits.
41 is the number of studio tracks released by the current incarnation of the band (Bill Ward notwithstanding).
They are Black Sabbath, but they aren't calling themselves Black Sabbath. So under the Heaven and Hell banner they can't really say there are 41 songs. So its placed there to state it, but not directly. What do the numbers flank? The Sabbath, but not officially Sabbath, winged demon logo. The 25 represents something else that they did as Sabbath at one time but can't come out and claim now.
These are both cool, but I was told "not even close". So that leaves the mystery of the 25 / 41. What does it mean? You got any ideas? I have another idea that I want to keep to myself, since a little birdie has told me it's probably right, but I need to get confirmation of that….
This also now brings to a close my cover art contest. I will be sorting through the submitted images over the next week or so, and will get to picking a winner shortly. More on that as I get to it. :)
Here is the official press release for the album from Rhino:
HEAVEN & HELL INTRODUCES THE DEVIL YOU KNOW
Highly Anticipated New Album from Dio, Iommi, Butler, and Appice,
Their First in 17 Years, Features Epic First Single "Bible Black"
Available from Rhino April 28
LOS ANGELES — After finishing several heralded world tours as Heaven & Hell last summer, Ronnie James Dio, Tony Iommi, Geezer Butler, and Vinny Appice were tighter than ever before, both musically and personally. Agreeing that it would be a shame to stop making music together at tour's end, the quartet began writing, first in England at Iommi's home studio and later in Los Angeles at Dio's studio. "The band had gotten too good to just walk away," Dio says. "We wanted to show people that we were still capable of giving them new music that measured up to what we'd done in the past."
With that goal in mind, the band once again converged on Rockfield Studios in Wales last winter, the same place they used 17 years earlier to record their last album, Dehumanizer. The result is the long awaited new album THE DEVIL YOU KNOW, featuring 10 soon-to-be-classic tracks from the Dio-fronted version of Black Sabbath. The highly anticipated set arrives on April 28 from Rhino for a suggested list price of $18.98 (physical) and $9.99 (digital).
It took less than three weeks to finish the album, with most of the songs only needing a couple of takes. "It was good to play them live in the studio. It keeps you on edge," Iommi says. "I mean, somewhere along the line we were gonna have to play them live; might as well start in the studio." Butler adds: "We've learned from the past that you can kill a song doing it over and over. The first Sabbath albums were done in two or three days. Technically they weren't great, but vibe-wise they were great. If you capture that feeling, that's all you need."
"Bible Black," the epic first single, begins with Iommi on acoustic guitar behind Dio's plaintive wail before the rhythm shifts to a menacing stomp for the rest of this dark tale about a book of sinister scriptures. One of the first songs written for the album, Dio says it established a tone for the rest of the album. "When you start off with a blockbuster like that, it makes the rest of the album so much easier because it gives you a benchmark to measure the other songs against."
Iommi proves he hasn't lost the ability to inspire six-string envy, unleashing riffs like a pack of rabid hellhounds on "Atom And Evil," "Fear," "Neverwhere," and "Eating The Cannibals," a tune about doing more than biting the hand that feeds. Butler and Appice slow the pace while ramping up the intensity on "Follow The Tears" and "Double The Pain" and "Breaking Into Heaven," the latter diverging from its glacial procession for Dio's majestic chorus about fallen angels planning an attack on paradise.
THE DEVIL YOU KNOW
Track Listing
1. "Atom And Evil"
2. "Fear"
3. "Bible Black"
4. "Double The Pain"
5. "Rock And Roll Angel"
6. "The Turn Of The Screw"
7. "Eating The Cannibals"
8. "Follow The Tears"
9. "Neverwhere"
10. "Breaking Into Heaven"