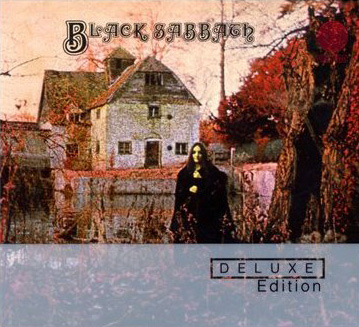 It's been pointed out to me several times in email that I have never said anything about the new "Deluxe Edition" versions of the first three albums. That's right, but if you've been following my site, I've had some heavy "real life" situations get in the way. Today I'm changing that. I've posted not just a review, but a big VIDEO review of the first of them, the original self titled album, "Black Sabbath". Check out the video below where I talk about the release. I show you a complete unboxing, showing everything that is inside there, speak to the sound quality, the extras on the second CD, etc, etc…
But before we get to the video, here's some ordering links for you. If you want to buy it, please use the links here on my site – I could use the coin right now (again, real life). Thanks, and enjoy!
ORDERING LINKS:
ORDERING NOTE: Actually, given the current rate of exchange as of Aug 18th, it would cost $22.20 to buy it from Amazon's UK store and have them ship it to the United States. Given the value of this package, I say it's worth every penny.
Oh, you can discuss the review on this thread on my forums.

REVIEW UPDATE: Minor updates to my review. The book I mention towards the end is not Mark Weiss, he was the photographer, I believe. And the poem from the original release *IS* here, but not the upside down cross. That was my error.