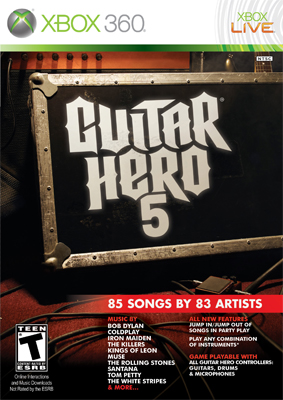 Caught today on one of my game news sites that the game Guitar Hero 5 will get some Black Sabbath songs as downloadable content. This is a first for Black Sabbath in that these will be original master recordings. Black Sabbath did have some songs in the past in the original Rock Band, but they were covers (N.I.B., Sweet Leaf, & War Pigs).
The new tracks will be the original band recordings. The songs that will be available are "After Forever", "Sweet Leaf", & "Into the Void". These tracks will be available for purchase on February 18th for the Xbox 360, Playstation 3, and Nintendo Wii platforms. I do not believe the Playstation 2 platform has downloadable content, but if you're still buying new games in 2010 for the PS2… Get with it, it's time to upgrade that thing!
Here is some info from the press release regarding price:
The 30 Seconds To Mars, Breaking Benjamin, Black Sabbath and Third Eye Blind track packs will be available on Xbox LIVE® Marketplace for Xbox 360® video game and entertainment system from Microsoft for 440 Microsoft Points, on the PlayStation®Store for the PlayStation®3 computer entertainment system for $5.49 and for Wii™ for 550 Wii Points™. In addition, all songs in each track pack will be released as downloadable singles for Xbox 360 for 160 Microsoft Points, PlayStation 3 system for $1.99 and Wii for 200 Wii Points each. In addition to the in-game music store and the Xbox LIVE Marketplace for Xbox 360, Xbox 360 owners can expand their Guitar Hero music library using the all-new Guitar Hero VIP Pass Music Store, available exclusively on Xbox LIVE® online entertainment network.
On Xbox LIVE, the pack translates to $5.50 for the three songs, or $2 each. I'm a little unclear on the Wii Points translation, but given the prices on the 360 & PS3 are essentially the same, I assume the Wii points will be the same pricing.
Guitar Hero 5 is available for several gaming platforms, I have links to the game below if you don't have it, and would like to look into getting it. The full press release is also available to read here.