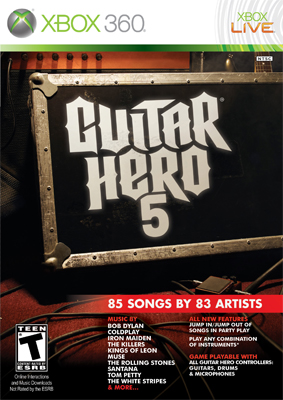 Back in January, I announced that three master tracks of Black Sabbath's (After Forever, Sweet Leaf, & Into the Void) were going to be released for the Guitar Hero 5 game back in February. That didn't happen (for reasons I never found out), but I'm writing to say that the tracks will now be released two weeks from today, on April 29th, 2010.
Today I'm also here to tell you that thanks to Activision, I'm going to be giving away five copies of the track pack. The prize will be in the form of a downloadable code you will be emailed if you win the contest. The prizes are for the Xbox 360 or the Playstation 3 – no other platforms. Anyway, I'm going to be running one of my traditional trivia giveaways for this. Please make sure to pay attention to the submission rules. If you don't, your entry will not be counted.
CONTEST RULES:
Send in your answers to the trivia questions only to the email address guitarhero5@black-sabbath.com – Emails sent to any other address will be ignored.
The contest runs through Thursday April 29th, 2010 at 11:59PM Central Time.
You must send in your name and address with your entry or it will be ignored.
You must send in your console preference (360 or PS3) with your entry. You cannot get both. Only one.
According to my contact who gave me the codes to give away, this contest is only open to those in US/Canada. Sorry about that, guys, but there's nothing I can do.
CONTEST QUESTIONS:
What was the first Guitar themed game to have a Black Sabbath song released for it?
What album are the Guitar Hero 5 tracks from?
What was the first name of the new Ozzy Osbourne solo album due this June?
What is the only Ozzy era Black Sabbath track to have a drum machine on the released version of the song?
Here is the formal press release for the track pack:
GUITAR HERO® 5 AND BAND HERO™ ROLL INTO APRIL WITH HOT NEW ROCK ADDITIONS TO THE GUITAR HERO MUSIC LIBRARY
Gamers to Get Black Sabbath Master Tracks for the First Time Ever, as Well as Music from Lynyrd Skynyrd, Fall Out Boy, Blur, The All-American Rejects, Saving Abel and Phoenix
SANTA MONICA, CA – March 31, 2010 – Activision Publishing, Inc.'s (Nasdaq: ATVI) April lineup of downloadable songs is sure to satisfy with huge rock bands and popular tracks for Guitar Hero® 5 and Band Hero™ players this month. With the addition of tracks from Lynyrd Skynyrd, Fall Out Boy, Blur, The All-American Rejects, Saving Abel, Phoenix and Black Sabbath, the Guitar Hero music library continues to evolve and expand, providing hours of entertainment for fans of all music genres.
Southern rock band Lynyrd Skynyrd kicks off the month of downloadable music on April 1, with a three song track pack featuring the rock anthem that first brought the band national attention, "Free bird." In addition, gamers will also get the popular singles "Simple Man" and "Gimme Three Steps" off Lynyrd Skynyrd's 1973 debut album.
On April 8, gamers can let the good times roll with the Fall Out Boy Track Pack, which contains three hits from their certified-platinum album Infinity on High. "Thnks fr th Mmrs," "This Ain't a Scene, It's an Arms Race" and "The Take Over, The Breaks Over" will have players rocking out to the creative lyrics and catchy tunes that helped garner the band mainstream success.
Gamers looking for more great songs to expand their music libraries are in for a treat as Guitar Hero throws three hot singles into the mix. "Gives You Hell," the 2008 hit single by The All-American Rejects, "There's No Other Way" by alternative rock band Blur and "Addicted" off Saving Abel's debut self-titled album will be available as downloadable singles starting April 15.
On April 22, the stage is set for Grammy Award winning French alternative rock band, Phoenix, to make their Guitar Hero debut. "Everything Is Everything" from Phoenix's 2005 album, Alphabetical, will join "Lisztomania" and "1901," from their award winning 2009 album, Wolfgang Amadeus Phoenix, to give fans of the band a new way to experience the music they know and love.
Driving home the broad selection of rockin' Guitar Hero 5 and Band Hero downloadable music is heavy metal pioneer and Rock and Roll Hall of Fame inductee, Black Sabbath, on April 29. The unforgettable and intense experience that is Black Sabbath comes to music gaming fans, as master tracks, for the first time, featuring "After Forever," "Into The Void" and "Sweet leaf," three tracks off their double-platinum album Master of Reality
The Lynyrd Skynyrd, Fall Out Boy, Phoenix and Black Sabbath track packs will be available on Xbox LIVE® Marketplace for the Xbox 360® video game and entertainment system from Microsoft for 440 Microsoft Points, on the PlayStation®Store for the PlayStation®3 computer entertainment system for $5.49 and for Wii™ for 550 Wii Points™. All songs in each track pack, as well as The All-American Rejects, Blur and Saving Abel tracks, will also be released as downloadable singles for the Xbox 360® video game and entertainment system from Microsoft for 160 Microsoft Points, PlayStation 3 system for $1.99 and Wii for 200 Wii Points each. In addition to the in-game music store and the Xbox LIVE Marketplace for Xbox 360, Xbox 360 owners can expand their Guitar Hero music library using the Guitar Hero VIP Pass Music Store, available exclusively on Xbox LIVE® online entertainment network.
For more information about Guitar Hero 5, Band Hero and their entire line-up of downloadable songs, please visit www.guitarhero.com.
---
If you do not own Guitar Hero 5, here are some ordering links for the software: