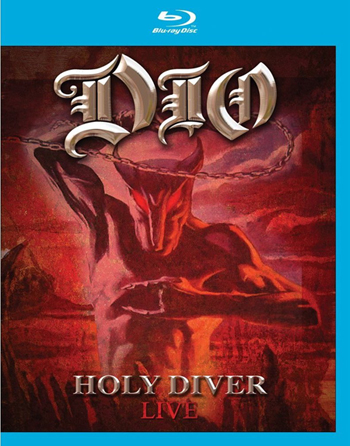 The late Ronnie James Dio was one of the greatest rock singers of all time, most notably with Rainbow, Black Sabbath and his own band Dio. It was at London's Astoria Theatre on October 22nd 2005 that Dio took to the stage to deliver one of the most memorable performances of their career. Not only does Holy Diver Live feature the classic Holy Diver album in its entirety, recorded live for the very first time, it also features among others Heaven & Hell and Sign Of The Southern Cross from his Black Sabbath days, Tarot Woman, Man On The Silver Mountain and Long Live Rock `N' Roll from Rainbow days and We Rock from his solo career. Always a great live performer, Ronnie James Dio could rarely have been better than on this autumn night in London. This Blu-ray makes this classic performance available to be seen and heard in high definition for the first time.
That was the Eagle Rock promo text for "Dio: Holy Diver Live (Blu-Ray)". We have yet another announcement to make about a Black Sabbath related release. It's a re-release of sorts of the 2006 Dio DVD, "Holy Diver Live". Back then Dio toured Europe, and played the whole of the Holy Diver DVD in its entirety on that tour. It was recorded, and released in 2006 on DVD (and CD) as "Holy Diver Live".
This new release is on Blu-Ray, so if you have a HiDef system, this will be up your alley. It's in 1080p in a 1.78:1 aspect ratio.
My contact at Eagle Rock tells me that the content is a 100% duplicate of what was on the 2006 DVD, except that it's in High Definition on the Blu-Ray. It's up to you to decide whether you want to upgrade, as Blu-Ray/Hi-Def is the only change since the 2006 release. Still, it's a great concert, and if you did not buy the 2006 version, you should check it out.
Track listing:
Tarot Woman
The Sign of the Southern Cross
One Night in the City
Stand Up & Shout
Holy Diver
Gypsy
Caught in the Middle
Don't Talk to Strangers
Straight Through the Heart
Invisible
Rainbow in the Dark
Shame on the Night
Gates of Babylon
Heaven and Hell
Man on the Silver Mountain
Long Live Rock & Roll
We Rock
You can order it via the links below.