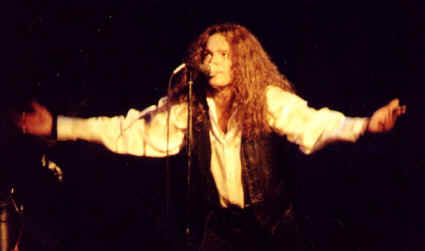 I've been running this site now for a little over 15 years. In all that time, I get a LOT of requests for bootlegs and whatnot. I generally don't participate in that stuff, since I do not have time for it. However, it doesn't stop people from asking. And in all that time, by far the thing I've been asked by people if I can send them is the version of the 1987 album "The Eternal Idol", but with Ray Gillen on vocals.
A short story: After just a handful of dates on the 86 Seventh Star Tour, Glenn Hughes was let go, and Ray Gillen was brought on board. He finished the tour, and work began on the next album, and it was mostly completed. But Ray Gillen left to found the very under appreciated band Badlands (with Eric Singer also from Sabbath), and this left Black Sabbath with a mostly completed album, and no singer. Tony Martin was brought in, and re-recorded all the vocals in two weeks. The album came out with Tony Martin, and the only remaining bit of the Ray Gillen original vocals was some laughter in the track "Nightmare".
The original Ray Gillen version has been traded in bootleg circles for ages now, but no more! I almost fell over when I was told this news..
TONY IOMMI HAS GIVEN PERMISSION FOR THE RAY GILLEN ETERNAL IDOL ALBUM TO BE RELEASED – FOR REAL!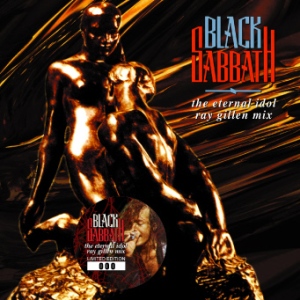 I actually said the the record label guy who told me about this, "Holy shit – are you kidding me?" It's for real folks. This is the latest entries in the multi CD expanded series of Sabbath remasters that have been released over the last year or two. The most recent ones were the early 80's Dio albums. That left Born Again, Seventh Star, & The Eternal Idol to go. (Headless Cross through Forbidden were on IRS, and are a separate record deal – which I'm told will eventually happen too). Anyway, the next two albums to be released are going to be Seventh Star & Eternal Idol. Born Again I'm told is not until 2011 sometime, but it will be happening (I'm told with a proper mix, too – but it's still being worked on).
Anyways, about Eternal Idol. The first disc is the album we've known for awhile, with the additional tracks "Some Kind of Woman" & "Black Moon (demo)" included. That's Disc 1. Disc 2 will comprise the Ray Gillen Eternal Idol album. I mean, WOW. That's like stupid exciting news!
I'm told the two CD releases of Seventh Star & Eternal Idol will be released on October 25th. As these are Universal releases, that means they won't be released domestically in the US. But this shouldn't matter. You should run screaming for this Eternal Idol release when it comes out. It's a seriously underrated Sabbath album anyway, and to get the Ray Gillen version as well?? Oh yeah, it should be an autopurchase. Even if I wouldn't get one for free from the label for running this site, I'd be there on day one to buy it for myself.
NOTE: The cover art shown here is NOT the cover art that will be on the final release – that's the bootleg cover art.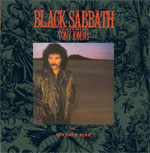 Seventh Star News: This isn't all about Eternal Idol, there's a refresh on Seventh Star as well. The first disc of Seventh Star will include the album we know, as well as the remixed version of "No Stranger to Love", which appears in the music video of the same. Amazon UK's site lists a second version of that, but I'm not aware of there being more than one remix on there.
Disc 2 however, is a live concert. It was recorded on June 2, 1986 and has Ray Gillen on vocals. After all this time, some heavy duty love for the Ray Gillen incarnation of Black Sabbath. You should buy both of these the second you can.
This is some seriously exciting news. Sadly, they aren't being released in the US, but the price in the UK isn't prohibitive, you should have it shipped here to the US. There are supposed to be official press releases out on these shortly, I'll make sure and pass them along when I get them.
The Eternal Idol is available for pre-order at Amazon.co.uk right now. Click here to be taken to that page where you can pre-order it. Likewise, the two CD of Seventh Star is available for pre-order as well.