I got in the mail yesterday my copies of The Eternal Idol and Seventh Star "Deluxe Editions" from Universal Records. I was very much anticipating the releases of these two. Primarily because of what is on Disc 2 of "The Eternal Idol". Black Sabbath fans (well, ones of this era of the band's history) have known about the fact that Ray Gillen recorded the Eternal Idol album, and left before it was released. Tony Martin came in at the end, and re-recorded the vocals with just two weeks to go, using all of Ray's vocal lines and all that. It relegated the Ray Gillen version to the archives, and became something of a collector's item in bootleg trading circles.
The last time one of Tony's recordings was a well traded bootleg, it ended up being released (this being the Eighth Star bootleg, which was later released as 'The 96 Dep Sessions'). So today I bring a review of the about to be released 2 disc "Deluxe Editions" of the 1986 & 1987 Black Sabbath albums, "Seventh Star" & "The Eternal Idol".
This period of the band's history is tumultuous to say the least. Both of the album's gestational periods had turmoil involved in some way, with Eternal Idol's being for more of a circus at times. A lot of people don't consider this period of the band's history "Black Sabbath", that Tony should have gone out under his own name, or a new project, or something like that. But the fact remains, these ARE Black Sabbath albums, and in the case of Eternal Idol, I consider it an under appreciated classic – it's probably my favorite of the Tony Martin era (which is weird, as it's really Ray Gillen's album).
So anyway, the packaging is mostly similar to the previous multi-disc Black Sabbath Deluxe Editions that have come out so far. Gatefold packaging with two discs inside, and the traditional CD jewel case booklet inside one of the sleeves. A new bit about the actual "Deluxe Edition" thing. In the past it was a plastic sleeve that goes around the entire case, and comes off. However, now – the "Deluxe Edition" thing is a sticker that goes around the whole case. I questioned my contact at the label about that, and I was told that "this was the way these things are done now". He also added it was done to save money, and it wasn't his call. If you look at the picture above showing the two cases, you can see a bit of the ripped sticker on the bottom part of the Eternal Idol package. The way it is, it rips pretty easily opening, and then you either have to take the whole thing off, or tape it down to the inside of the package. I does seem "cheaper" than the old clear plastic sleeve. Oh well. It's not really about a sticker anyway.
Let's get into a few remarks about the individual releases. You can click on any of the pictures below to see a larger version of them.
SEVENTH STAR: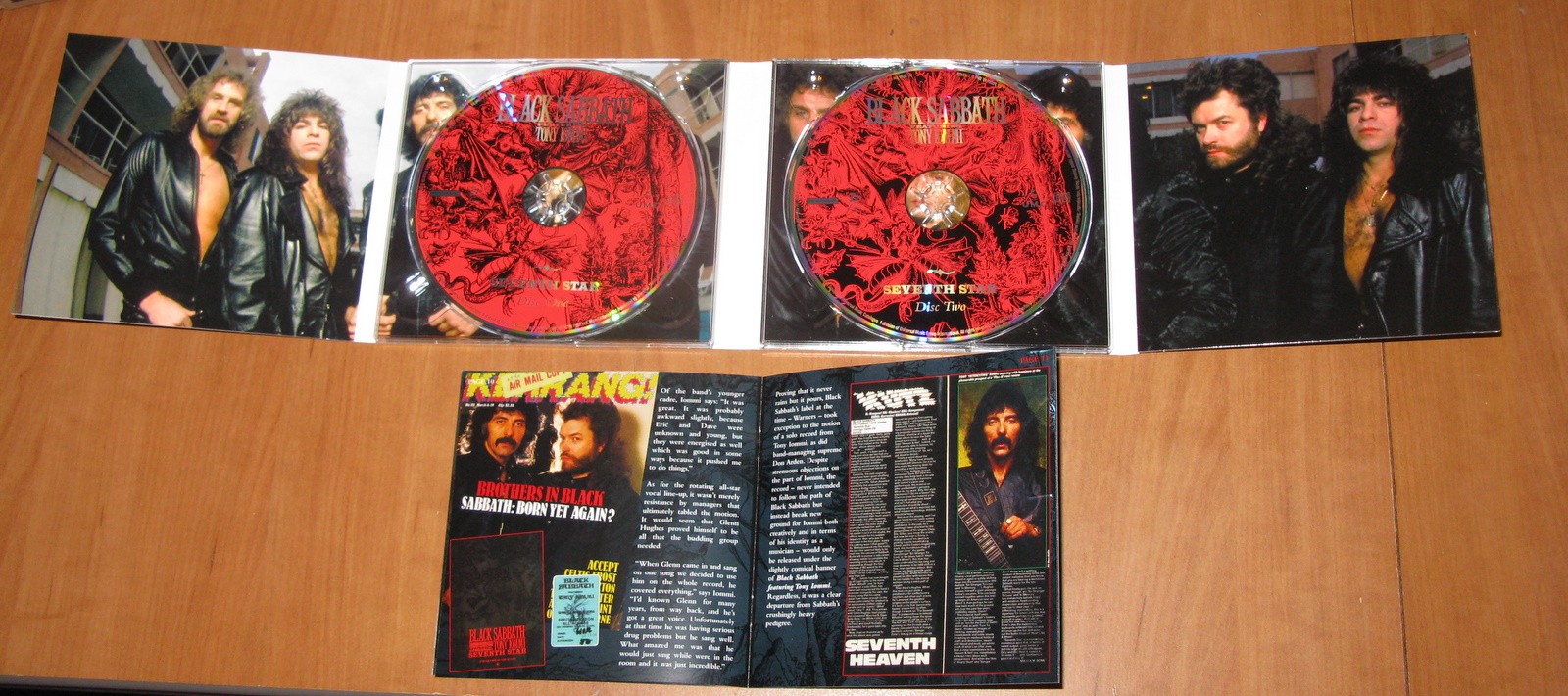 When you first open up the package, you get the two pictures of Tony Iommi shown above. Open it a second time, and you get the larger gatefold, which contains a few promo pictures of the Glenn Hughes fronted incarnation of Black Sabbath. These are promo pictures those who were following Sabbath at the time will remember. Another angle from these press shots (taken with the camera at a looking up angle at the guys) was used in the last remaster of this album, the 1996 castle version. So the pictures shouldn't be "new" to a lot of people, although these particular angles are.
The booklet itself is a mix of the old CD booklet artwork, as well as various photos. Some are old advertising for the album, magazine articles, and a lot are lifts from the music video for "No Stranger to Love". There is a quite good story on this incarnation of the band, talking about some of the troubles the album had being birthed. They also briefly talk about Hughes' departure and replacement by Ray Gillen. It covers the main bullet points behind this time in the band's history, but doesn't delve in extreme detail over them. It's enough to get the story across, and is a good read.
As for the music itself, it doesn't feel a whole lot different than the 1996 Castle Remaster, which was the last time this album was released by my recollection. The amusing thing about this album is that it still to this date has been released in the US on CD. Anyway, the 2010 remaster has some oomph that the 1996 didn't, but other than some extra "power", it doesn't feel a ton different. The early Sabbath albums in this remaster series sounded quite different from the original CD incarnations. This sounds marginally better, but I'd be hard pressed to tell the truth and say "OH MY GOD – THIS SOUNDS SO MUCH BETTER", because it really doesn't.
Still, it does sound good, I drove around with it in my truck today, and got some good response where the 1996 Castle version and the 1986 Phonogram version I got 24 years ago most certainly did not. So I'd give it a thumbs up for remastering work, but not a huge thumbs up.
The extras here.. There aren't any b-sides or alternate tracks to go with Seventh Star, the only extra "song" here is the remixed version of "No Stranger To Love" that went with the music video. This individual track sounds seriously better than what most people have of this, which is probably the bootlegged version from the aforementioned "Eighth Star" bootleg. This is very much cleaned up and brought up to speed sound wise. By far the best version of this particular remix I've ever heard. Disc 2 is a live recording from June 2, 1986, which was the second of two nights Black Sabbath played in London at the famed Hammersmith Odeon. There were only two more dates on the tour after this one before the end of the Seventh Star tour. This isn't the full set, it's just nine songs, but covers a bunch of stuff. The track listing for the live album is:
Mob Rules
Danger Zone
War Pigs
Seventh Star
Die Young
Black Sabbath
N.I.B.
Neon Knights
Paranoid
It was professionally recorded for an FM radio broadcast back in the day. It was widely traded in bootleg circles, so depending on the quality of your old bootleg, this may or may not be an improvement. I'm sure the Universal audio people did some cleanup on this live recording, as it was pro recorded, this wasn't an audience bootleg they're using. It really is great to have Ray Gillen on record here after all this time. Yeah, the big chestnut is the second disc on Eternal Idol, but to release this album is nice.
While Seventh Star usually is not voted high up on the list of "most popular Black Sabbath" albums, it was one that when new I truly enjoyed. I wore out the audio tape I bought for my Walkman back then, and have now three copies of it on CD (86 Phonogram, 96 Castle, & 2010 Universal). It has some good tracks, if you can get past the stigma that a lot of fans put on this era of "It's just Tony, that's not Black Sabbath".
THE ETERNAL IDOL: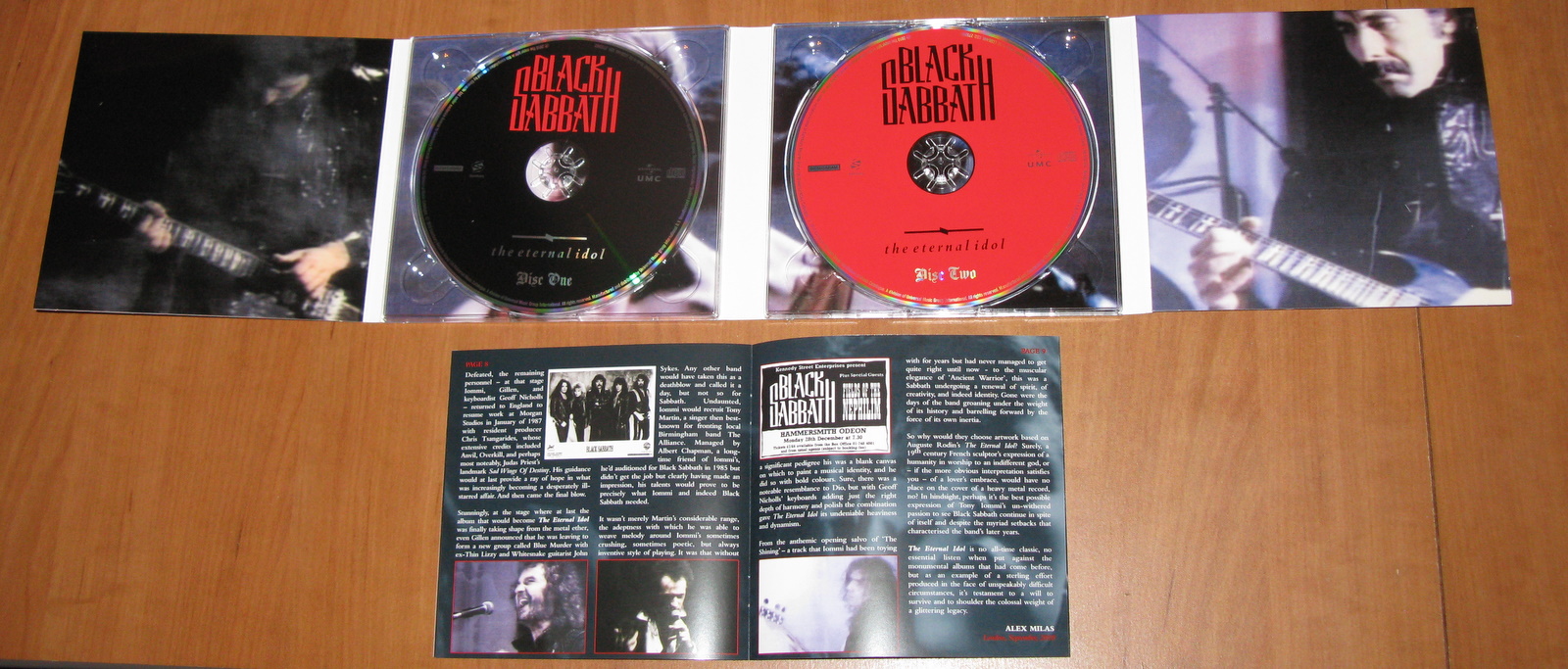 This was a release that when I found out what it would contain became the immediate "buy me" version of any of the Black Sabbath "Deluxe Edition" releases that Universal has done since they started in 2009 with these. Most fans (again who know this era) know of the Ray Gillen version of this album. It was recorded with him, and he left, the final version had Tony Martin on vocals, and has been a great album all this time with Tony on vocals. There's no doubting him. However, the fact that another version out there with a different singer made that version a huge target for bootleggers. The Eternal Idol with Ray Gillen on vocals is an album that I've had as a bootleg for quite a long time. It's been released under many different bootleg names over the years, and fans have always speculated as to whether or not it might get any sort of official release. A few months ago I was put in touch with the folks at Universal who were putting these together, and I was asked what I thought would make good extras for these things. My #1 item was the Ray Gillen Eternal Idol. Given Tony's reputation for not caring to release things like this, I wasn't expecting much, to be honest. So it was quite a shock back in September when I was told the RG version was cleared by Tony I to be on this package. I was bloody floored. While I've had this as a bootleg for ages, it was getting a proper release! More on the audio stuff later, but man was I excited by this.
When you first open up the package, you get a few pictures of Tony Martin. One's a video lift, the other is a live concert shot. Opening again reveals four more pictures, all of which are lifted from the video for "The Shining". That was mildly disappointing that almost all the pictures there were just lifts from the video. Surely there were more promotional pictures lying around that could have been used?
The booklet talks about the absolute HELL that this album went through being produced, starting the story back on the Seventh Star tour when Gillen came in to replace the fired Glenn Hughes. It doesn't go into a ton of detail about individual events, but does cover all the bases in terms of comings and goings. The Sun City concerts weren't mentioned at all, nor was the extremely brief dalliance with Geezer Butler again in 1987. But given how much back story there is to "The Eternal Idol", you'd need a booklet about three times the size (if not more). The touring version of Eternal Idol is not mentioned either, which is ironic, as there is a picture of them in the band (Jo Burt & Terry Chimes' only appearance on a Black Sabbath record ever would be in this picture).
But I don't think any package picture are why people would buy this. It's for the music. The Eternal Idol, despite it's fiasco of recording is a very solid album front to back. From what I've read, it's the lowest selling album in band history, which if true is a shame. There's some great riffs on this album. The 2010 remaster for Eternal Idol is like the remaster for Seventh Star. It sounds marginally better than the last remaster, the 1996 one from Castle. It sounds miles better than the 1987 Warner Bros original I have (which was the first CD I bought after I got my first CD player that Christmas). Disc 1 has two extras, the B-Side songs, "Black Moon" & "Some Kind of Woman". These tracks were also on the aforementioned Ray Gillen bootlegs, but I've never had a good quality version until now. The drums on Some Kind of Woman kick in a way I've never heard them kick before on any other bootlegged copy. "Black Moon" still has that gritty sound that it did, which isn't a surprise, as it was an early version of the same song that turned up on the next album (1989's Headless Cross). Speaking of Headless Cross, that album is in need of a true sonic upgrade via a proper remaster, but I digress…
So we've established the regular album audio is marginally improved, the two bonus tracks are seriously improved over the generally available bootlegs before, but the real chestnut here is the Ray Gillen version of the album that appears on Disc 2.
The running order of the album is slightly different on that version. First off, there's no "Scarlet Pimpernel", that track (#7 on original album) wasn't recorded until late in the sessions. The running order here is:
Glory Ride (#4 on original album)
Born to Lose (#5 on original album)
Lost Forever (#8 on original album)
Eternal Idol (#9, last on original album)
The Shining (#1 on original album)
Hard Life to Love (#3 on original album)
Nightmare (#6 on original album)
Ancient Warrior (#2 on original album)
Over the years I've collected what I believe to be three different sources of the Ray Gillen version. One is from an early version of the albums' sessions – that version doesn't have any of Tony Iommi's guitar solos on it, and is a far more raw version. The second one is the one that's most popularly traded (which included Black Moon & Some Kind of Woman). Then there was a third one which I was privy to and never distributed – it was taken from the recording studio's monitors. I called it the "monitor version". The version that is on the album here sounds most like that third version. Obviously proper cleanup work has been done on the album. None of the bootlegged versions of the Ray Gillen album I've ever run into have sounded this good before – not even my private "monitor version". But make no mistake. THIS IS NOT A PROPERLY FINISHED COMPLETELY MIXED, FINAL ALBUM READY FOR RELEASE. That is what the Tony Martin version is on Disc 1. Disc 2 is an early version of the album with not all the nice overdubs, nice final production work done on it. I had seen some messages where people thought what was on here was going to be the same album with Tony Martin, just with Ray Gillen on vocals. That is NOT what this is. It is a fantastically awesome look into the band's past, yes. But is an early version of the album. Not a finished version of the album.
Tony Iommi is in my opinion someone who should be thanked profusely by fans for putting this version out. For many years it was said he'd never do this, and he finally has. I'm glad that it has seen the light of day properly. Support Iommi's decision by buying this album. If you've NEVER experienced Eternal Idol, trust me – buy it. It's great. Thank him by buying a copy. Hell, buy two copies, and give one to that Black Sabbath fan you know who doesn't like anything but Ozzy.
SUMMARY
I ended up writing more about these than I thought I would, but I can still crank out an article when I find the time to write about it. :) Anyway, I cannot recommend these albums highly enough. Eternal Idol a bit more due to the inclusion of the long unreleased Ray Gillen album. But both are worthy purchases. Even if you've bought the original releases, the Castle releases, and any other versions.. Go grab these. They come out next Monday in the UK. If you're in the states, we're out of luck as they're only being released over there. You'll have to import them, but the cost to buy them from the Amazon UK store is probably cheaper than it would be to pay the proper import prices in a US domestic store – I do that all the time with other releases from Europe. Anyway, support Tony Iommi and validate his decision to release these rare Ray Gillen recordings, and buy these. You can do so by clicking on the cover art above. Also, Amazon UK's site has samples from all the tracks available for you to check out, too.
Oh also, if you're interested I have a few write-ups about the albums in more detail. I did 20th anniversary "look backs" for both Seventh Star & Eternal Idol back in Feb 2006 & Jan 2008 respectively.
P.S. Now will Tony release the version of Dehumanizer with Tony Martin on vocals as an extra when it comes time for Dehumanizer's turn in this release schedule? I certainly hope so, but with the relatively recent death of Ronnie Dio, I would tend to think not.