"This is metal boys and girls, no goth, no makeup, no frills, no bullshit, just straight up in your face, knock you on your ass metal.
Long live this music, long live Sabbath, and death to your modern day bullshit!" – whammydoom, Youtube comment on TV Crimes video.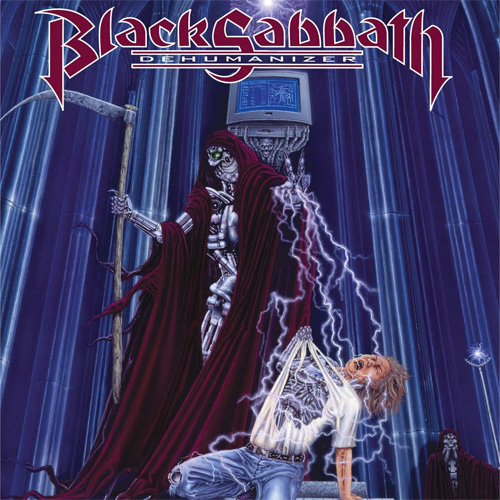 Coming in February is the next in the "Deluxe Edition" remaster series by Universal/Sanctuary. This one is Dehumanizer. Below is a press release I was just sent today about the release. I haven't yet received the cover art, but if it goes by the rest of the series, it will be the cover art we know with the "Deluxe Edition" white band on it. :)
It will be released on Feb 7, 2011, and is the last in the series for the moment (yeah, I know Born Again, more on that in a minute). It will be two discs, the first disc is the standard album we've known, and disc 2 is a mix of live tracks and a couple of B-Sides.
It's not available for pre-order yet that I've noticed, but I definitely wanted to bring you the press release as soon as I got it. More info as I get it. Thanks to HuffStuff from my forums, it is available for pre-order on Amazon UK's site. That wasn't there when I posted the story an hour or so ago, though. Click on the cover art above to hit the pre-order link. It is also available for pre-order through Amazon's US store. (Linkage) If you're in the US and inclined to order it, I suggest there, as the price is comparable to what you'll pay ordering it from the UK, importing it and paying for shipping (the US link has free shipping).
As for Born Again, I'm told that will too get released, but it's requiring more work than the others. Something to do with a "proper mix". ;) In regards to the other albums (the Tony Martin output), I've been told those "will come out in due course". It has to do with negotiating a new record deal, since those were not part of the original record contract from 1970-1987 (Dehumanizer was an exception, and it's why its' coming out now (out of order)).
BLACK SABBATH
2CD 'DEHUMANIZER' SPECIAL EDITION
– WITH FIVE RARE LIVE TRACKS –
RELEASE DATE: 7TH FEBRUARY 2011
Originally released in 1992, 'Dehumanizer' was the first Black Sabbath album to feature the vocals of the late, great Ronnie James Dio since 1981's 'Mob Rules'. With a line-up completed by founder members Tony Iommi and Geezer Butler, and drumming duties carried out by Vinny Appice, 'Dehumanizer' is arguably one of Sabbath's heaviest albums.
This edition is expanded with the single edit of 'Master Of Insanity', an alternate version of 'Letters From Earth' that originally appeared as the b-side to the 'TV Crimes' single, and a version of 'Time Machine' originally recorded for the soundtrack to the movie Wayne's World. In addition, the set also includes five rare live tracks from Florida's Sundome recorded at the beginning of the Dehumanizer tour in July 1992, including a previously unreleased live version of 'Master Of Insanity'.
The set includes liner notes from Metal Hammer's Dom Lawson, based on new interviews with Tony Iommi.
Tracklistings:
Disc One (Original Album 1992)
1. Computer God
2. After All (The Dead)
3. TV Crimes
4. Letters From Earth
5. Master of Insanity
6. Time Machine
7. Sins of the Father
8. Too Late
9. I
10. Buried Alive
Disc Two (Bonus Tracks)
1. Master Of Insanity (Single Edit)
2. Letters From Earth (B-Side Version)
3. Time Machine (Wayne's World Version)
Live at The Sundome,Tampa, Florida 25th July 1992:
4. Children Of The Sea
5. Die Young
6. TV Crimes
7. Master Of Insanity
8. Neon Knights