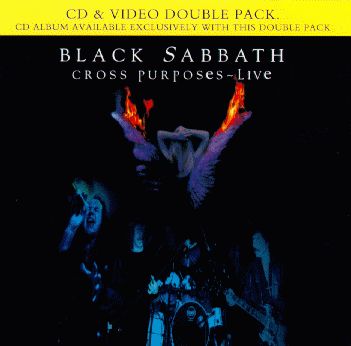 I've been getting some emails recently from people saying a new "Cross Purposes Live" DVD was coming out in their region. I've been getting a lot of notes about it from Japan (well, before the Earthquake fiasco there last week), and also also from the UK.
Given I had enough of them, I decided to look into it. You see, the only time Iommi/Black Sabbath have officially released this themselves was the original CD/VHS combo pack back in 1995. It came out on a DVD in 2003, but it was as best I can tell a bootleg of sorts. It also was incomplete. This new one apparently is supposed to have the full set list that the 2003 DVD release did not.
Anyways, I checked with Tony's manager, and was told that the release was "definitely not authorized or sponsored by Tony Iommi / Black Sabbath".
This isn't the first time I've seen something like this pop up in the past. I'd be curious to see if any of you who emailed me about actually GET the DVD shipped to you. If you have, please email me, and let me know about it. Thanks.
NOTE: I would suspect this will get a proper release later on when Black Sabbath gets into the IRS/Tony Martin era for the re-releases. I've been told that stuff will happen "in due course", but no dates have been set for that quite yet. THAT will be the release to get. A properly authorized by the source version.