One of the things I get asked from time to time (usually after people read my timeline page) is why I don't write a book. The reason I usually give them is "What's the point? – There's a ton of books out there, and I'm not sure what unique perspective I could bring". So it was with that frame of mind that I first approached the news that a new Black Sabbath book was coming out from Martin Popoff. Martin's an old friend of mine, and I've got a couple of his older books as a customer. So I was thinking "Hey dude, you've already written a Sabbath book, what's with a second one?" Then I got a look at it. Martin figured out a proper angle for a repeat book on the same subject, not to present the band's history in a linear fashion like most every biography does. Here's the official blurb about the book:
Unlike any Sabbath book thus far, Black Sabbath FAQ digs deep into quirks, obscure anecdotes, and burning questions surrounding the Sabs. In a fast-moving, topical format, this book covers a tremendous amount of information, delectable to any Sabbath fan, but hard to find in a traditional biography. This rich history lives and breathes and shouts right here. And the voice behind it could not be stronger: Martin Popoff is a heavy metal expert who has authored over 30 books on the subject, including Doom Let Loose, which is widely considered the definitive biography of the band. In Black Sabbath FAQ, Popoff is like a rabid detective unearthing (and sometimes debunking) ancient lore, valiantly covering new ground, applying academic rigor, but then wildly sounding off with lurid opinion. The pendulum swings, and, though disoriented, the serious Sabbath studier is better for it come the book's doomy conclusion. Dozens of images of rare memorabilia make this book a must-have for fans.
So when I received an advance copy of Martin's book, I was interested in it due to the promised non linear band progression you get in books like this a lot. I wasn't disappointed. Some of the chapter topics are about Sabbath songs that were never played live, all the band's vocalists, the top radio friendly Black Sabbath songs, important dates in the band's history, key accomplishments by band members solo efforts. And the chapters don't appear to be in any particular order, which is a good thing, depending on how you look at it. So I was definitely intrigued.
I think my thoughts about this book can be summed up thusly.. "I bore easily with just "another" book on Black Sabbath. This is not that, there's some very good disjointed (yet well organized) structure to this book. I enjoyed it!"
The folks at the book's publisher were kind enough to send me over some excerpts from the book that I'm allowed to publish on this site. I am going to publish the first of them now, and the other one in a week or two. But before I get to the chapter, I want to publish the table of contents. This will give you a great idea on the angle of the book's structure (or some might say the lack of it). Check it out, there's some great topics here:
Table of Contents
Foreword
Acknowledgments
Introduction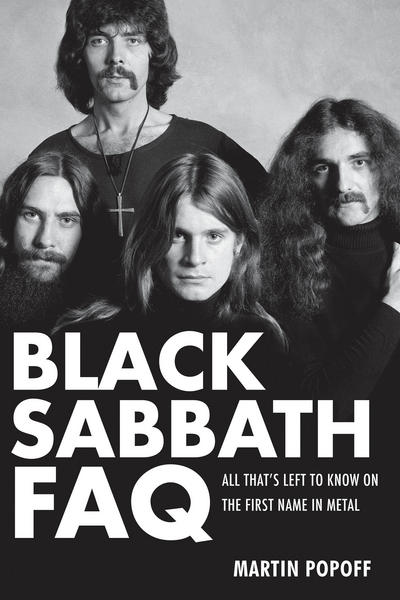 "Well, We Can't Tell You That." Black Sabbath Sign with Vertigo Records
"Oh My God–What Is That Sound?!": Sabbath's Early InfluencesWhat Is This That Stands Before Me? Important Dates in Sabbath History: The '70s
Majors & Minors: Those Who Sang for Black Sabbath
"Bonham and Ozzy Used to Be the Loudest Two": A Chat with Norman Hood
"I'm the Witchfinder General!" Black Sabbath Inspire a Genre Called Doom Metal
"I Don't Hear a Single." The Top 40 Obscure Sabbath Tracks
Creepy Competition: Black Sabbath, Black Widow . . . What's the Difference?
Wicked World: Geezer the Peacenik: Geezer Butler on War
"The Opening Act on That Show Was Bruce Springsteen": Bands Who Shared Bills with Sabbath Early On
Thrilling Billing: Black Sabbath's Tour Mates Through History
"Our New Single . . . This Is Called 'Supertzar.' Everybody Sing Along!" Songs Black Sabbath Have Never Played Live
"Oh No, You're NOT Buying That!" The Story Behind the Sabbath Bloody Sabbath Cover Art
Runnin' with the Devil: Black Sabbath's Controversial 1978 Tour with Van Halen
Black Sabbath's Knob Jobs: The Sabbath Albums Ranked by Sound Quality
The Infamous Black and Blue Tour: Black Sabbath Versus Blue Öyster CultTurn Up the Night: Important Dates in Sabbath History: The '80s
Roomful of Blues: The Studios in Which Sabbath Recorded
"Puccini in Chains": Onetime Black Sabbath Manager Sandy Pearlman Genuflects on His Subjects
"The Boys Are in the Kitchen Having a Little Chat." Craig Gruber on the Birth of Heaven and Hell
That's a Wrap! Black Sabbath's Album Covers Ranked
Doom Gone Solo: Key Sabbath Members and Their Solo Accomplishments–A Critique
"Next on American Bandstand, a Kooky Bunch All the Way from England . . .": The 20 Most Shockingly Radio-Friendly Black Sabbath Songs
Math Pt. 1: Plaque Sabbath: Some Sabbath Sales Figures
Math Pt. 2: With a Bullet: Black Sabbath's Chart Positions
What I Think Pt. 1: Sabbath's Studio Albums Reviewed and Rated
What I Think Pt. 2: Sabbath's Live Albums Reviewed and Rated"We've All Grown Up." Important Dates in Sabbath History: The '90s
Caught in a Heavy Metal Time Machine: Two Soundtrack Stories from the Ronnie Era
Slack Babbath: Bands Named After Black Sabbath Songs
"They Wrote Every Single Good Riff . . . Ever." Praise for the Sabs from the Nativity in Blackers
Fancy a Blow?: Guest Cameos on Black Sabbath Records
"Have You Heard About Vinny?" Producer Thom Panunzio Talks Reunion
At Cross Purposes: Black Sabbath Songs That Sound Like Other Black Sabbath Songs
"No Matter What Name You Get Behind It, the Fans Are Going to Know." The Birth of a Band Called Heaven & HellI Must Have the Bible Black: Important Dates in Sabbath History: The '00s and '10s
"It Hasn't Been a Very Happy World for a While." Heaven & Hell Unleash The Devil You Know
"That Was The Whole Journey, Right There." Neon Nights: A Goodbye Gift to Ronnie
"Always." Despite Heaven & Hell, Ronnie Never Gives Up on Dio

Appendix 1. "'The Rebel,' Take Million Twelve": Black Sabbath's Early Demos
Appendix 2. The Mob Drools: A Sampling of Black Sabbath's Collectible Records
Appendix 3. I've Got My Own Album to Do: Key Sabbath Members and Their Solo Accomplishments–A Timeline

A thanks to Martin and Jaime Nelson for allowing me to publish these chapters online. I always appreciate that guys, and I hope that the rest of you enjoy the "sneek peek" at a chapter of the book that you can only read here.

At Cross Purposes

Black Sabbath Songs That Sound Like

Other Black Sabbath Songs

Really, after so many years, albums and incarnations, when you've come to be a writer who starts with a riff first and then works his way up to song, as Tony has become and as many metal bands are (notably Metallica), you're bound to write something with strong whiffs of reminiscence of earlier glories. Here are a few of those pairings of new with old, although to Iommi's credit, he manages to not repeat himself very often. I suppose if I started comparing all the slow doomy things to one another and, God forbid, leaping over to the man's solo material, I would find more, but my eyes glaze over at such a task. By the way, one would think The Devil You Know would be rife and riddled with revisitations but that's inspiringly not the case.

The earliest that I'm really feeling this idea is actually commendably well into the catalogue, namely the Born Again album, with the song "Trashed." Popped in pole position, fast, rollicking, and hummable, this one bears many similarities to "Neon Knights" and, to a lesser extent, "The Mob Rules." Both "Trashed" and "Neon Knights" are built on aggressive chugs sweetened or lightened by a melodic lick, a release valve to the heads-down nature of the chug. Same album, "Stonehenge" bears much resemblance to "E5150," the similarity underscored given that the latter came one record before the former. In any event, both make use of modern keyboard gizmo technology, as opposed to other soft instrumental bits from Sabbath, which more often than not play up Tony's less heralded acoustic guitar skills.

Move forward to The Eternal Idol, and the title track's verse meanders and creaks very much like that of the dirgy parts in "Megalomania." With "Glory Ride," the opening riff is a nice reminder of the rootsy rock 'n' roll melody of the "Shock Wave" riff. On Headless Cross, "Black Moon" has got a hooky riff rife with pregnant pauses set over a gallop, the structure reminding one of "Evil Woman" and, even more so, Deep Purple's "Black Night," ironically enough! As well, the moment I heard this album's title track, I was annoyed at how the structure unimaginatively mimicked the structure of "The Shining," first track on the album one record back, namely come verse time, big Geronimo chords giving way to gothic keyboards over a pert drum beat, Tony Martin throwing cliché Ronnie vocal melodies o'er top.

Look deep into the Tyr album and hints of repetition rattle around "Anno Mundi" and "The Law Maker." On the former, the opening mellow electric picking rides the same mournful melody as the intro to "Children of the Sea." Come "The Law Maker," this energetic, quickpaced rock 'n' rollsy number sounds an awful lot like "Turn to Stone" from Seventh Star. As well, one might put forth the argument that "Feels Good to Me" feels like a makeover of "No Stranger to Love."

Up into Ronnie James Dio's return to the band, "Master of Insanity" isn't so much a nick from older Sabbath, evoking more so Led Zeppelin's "The Wanton Song," and, with more of a connection, "Lady of the Lake" from Ronnie's last album with Rainbow.

With Tony Martin's return, Tony Iommi finds himself treading old ground once again. As with "Anno Mundi," Cross Purposes' "Cross of Thorns" starts dark and mellow and then Tony strikes a "progressing" or "advancing" chord structure that sounds quite similar to that of the former. Into the Forbidden album, "Can't Get Close Enough" hangs its hat on a stiff, lethargic version of the triumphant and swinging verse riff of "Megalomania" all those light-years ago, and "Guilty as Hell" recalls "Voodoo." The circular riff of "Get a Grip" seems to be a borrowed bit from the more repetitive and hypnotic "Zero the Hero," which Tracii Guns has also told me was the inspiration for the riff on Guns N' Roses' "Paradise City." Additionally, "Sick and Tired" lives and dies on the same big, bluesy stripper-pole metal beat as "Heart Like a Wheel," both tracks examples of Sabbath doing anything remotely close to anything in the blues or boogie realm. Finally there's "Shaking Off the Chains," this clumsy, geometric rocker echoing the same three-legged feel of "Psychophobia," disconcertingly only one record ago.