When Ronnie James Dio died in 2010, I was reminded a lot of the two times I met him face to face. Both were backstage after Heaven & Hell concerts. The first was 2007, and I've chronicled that story on this site already, you can read that here.   I never wrote about the second time I met him for no particular reason.  But I was telling the story to someone today, and thought I should finally get it down; I mean it's over three years now since it happened.
I met Ronnie again in 2008, although it was for a very brief time. Even before he died, I read a lot about how he has a great memory for people. I hold no illusion, I'm a small time name in the chronicle of people that Ronnie met in his life. In 2008, I was hanging out backstage, and I didn't get a lot of time to hang out with the band, as they were doing one of those Meet & Greet things. That's OK, as I've said, I know they didn't come to down to meet me. So I hung out backstage, and when the four guys walked across the backstage arena to head to meet & greet, they all passed me. I waved hi to Geezer, since I knew him the most. At the same time, Ronnie James Dio waved back and said "Hi Joe". Which blew my mind that he'd remember me like that. Tony Iommi actually stopped, doubled back to me, and apologized that he couldn't stay and talk, but shook my hand. Watched Ronnie walk off to the meet & greet, and that was the last time I saw him in person. I'm still somewhat surprised that he remembered me out of all the people he met in the time between when I met hin 2007 and again in 2008. I know that's not much of a Dio story, but it was very short.
The funnier story is with Geezer Butler. While I was waiting around backstage for something to happen, I ran into Pedro Howse, Geezer's nephew and solo band guitarist, and his traveling assistant whenever there's something going on with Black Sabbath. Pedro told us we could make use of the food facilities, based on the type of pass we had, so we did. Ate with the roadies & the crew. That was kind of cool. We came out of there (I was there with my friend Steve), and hung out some more (something we did a lot that day). Watched people come and go (got to say a couple of words to Glenn Tipton, and we met Lemmy briefly). After a time, Pedro Howse shows up again, with what could be called a "confusing present" from Geezer Butler. It's in the picture shown here: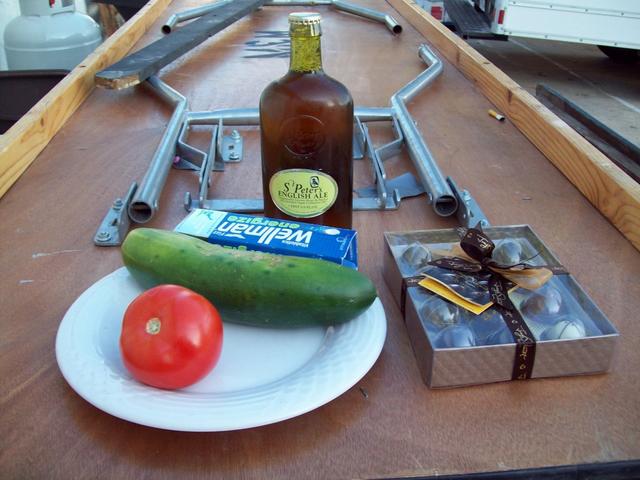 It was a box of chocolates, a bottle of St Peter's English Ale, a cucumber, a tomato, a plate, and a used tube of Wellman Energize pills. He hands it to me and starts walking away. I'm actually standing in the backstage area right in front of where the big equipment rigs park, holding this stuff, looking VERY bemused, going "What the FUCK am I supposed to do with this stuff?" It was a moment after that when I spotted Geezer Butler himself on the far side of the backstage area pointing at me and laughing. Bloody bugger did it just to get that reaction. So I decided to get some revenge on him. Steve & I watched the gig from the side of the stage, in front of Scott Warren, on Geezer's side of the stage. Here's my point of view of the crowd from that spot: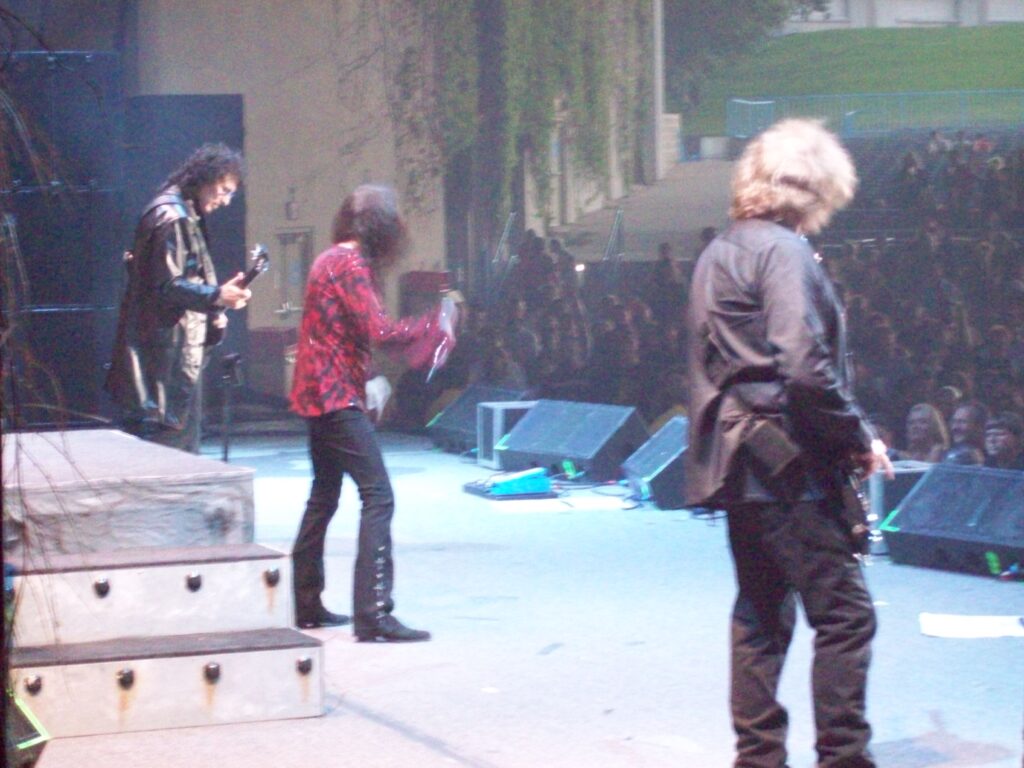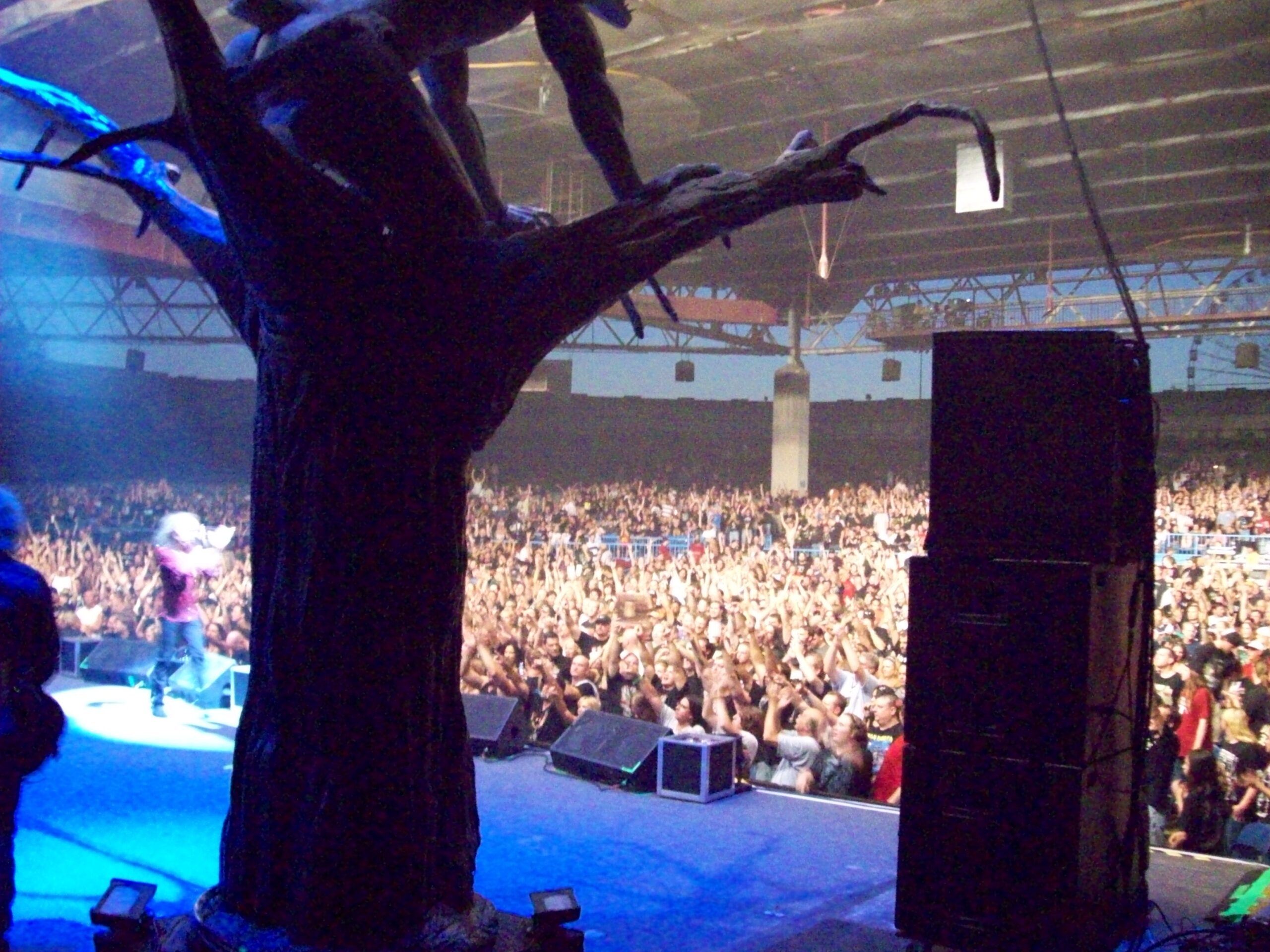 So anyway, at this point I had ditched most of the "gift", including the tomato and the tube. However, I kept the Ale, chocolates, and the cucumber. The cucumber was in my pocket, and I forget what song Geezer was playing, but I had put the other stuff down, took the cucubmer out of my pocket and waited. Eventually, Geezer looked over my way, and I held it up, and he kind of laughed. I made like I was gonna throw it out on stage in front of him, and he laughed even harder at that. I wouldn't REALLY want to do that, as I'm sure someone wouldn't like that, and say something. But I had a laugh. I think I left the cucumber next to the "Plastic Jesus" pick holder that was on the side of the stage.
I intended on taking the chocolates home for my wife, but I ended up leaving them on stage, so someone had them, or tossed 'em. Had to go buy my wife some chocolates to compensate for that gaffe. haha. But his laughing at me from behind the trucking area was a permanent memory.
One other thing. They had a woman who toured with them backstage whose sole function was to give massages to anyone backstage who wanted one. Not anything sexual, but an honest massage. The roadies do a lot of lifting and all that, so they probably legitimately needed it. That woman also asked Steve & I if we wanted them. It was tempting, but we declined on the grounds that both of our wives would probably kill us if they found out – even though nothing was going to "happen" anyway even if we did say yes. I probably should have, as I found out about 3 weeks later that I was suffering from a cyst that had to be removed in an area right below my left kneecap, so standing around that much all day hurt. :)