If you're a Black Sabbath fan, especially a long time one, you've seen Henry a bunch of times.  Thing is, most people didn't know he's called Henry.  He's something akin to Iron Maiden's "Eddie", although Henry has never come out on stage live.  :)   Henry is of course the "flying devil" or "flying angel" or whatever you want to refer to it.  It's a logo that's been in use for a long time, and that was a point of contention with me.  WHEN was the first time we saw Henry?  The earliest I could remember was on the Never Say Die album.  I saw it used in a tour promo logo as well as on the cover of a single from that album.  Check it out: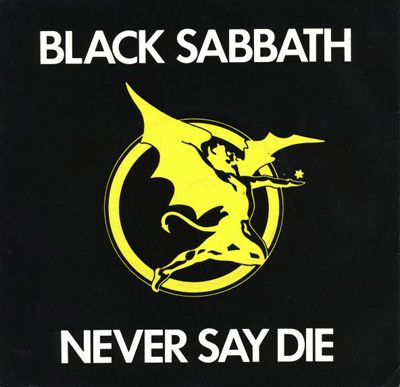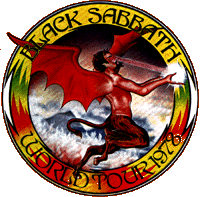 It's been used a boatload of times over the years on numerous things, including several bits of  artwork connected to the band.  The most recent I think would be the really horrendous music video for the track "Bible Black in 2009.  If you haven't seen that carnage, check it out here.  Henry is actually animated there, which was a new wrinkle.  Shame though the video was so bad.  The most visible, I suppose would be Bill Ward's drums on the 1999 Tour.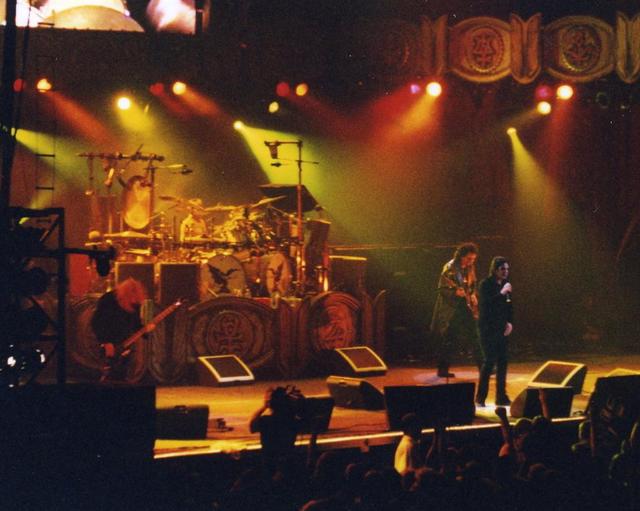 Despite all of it's uses over time, it's only ever appeared on a few album covers.  That being 2009's "The Devil You Know".  Both in the "Matthew 25:41" circle image shown at the top of this page, and as well as the "Wal-Mart exclusive" cover art, which can be seen here.   Was also on the 2007 compilation, "The Dio Years".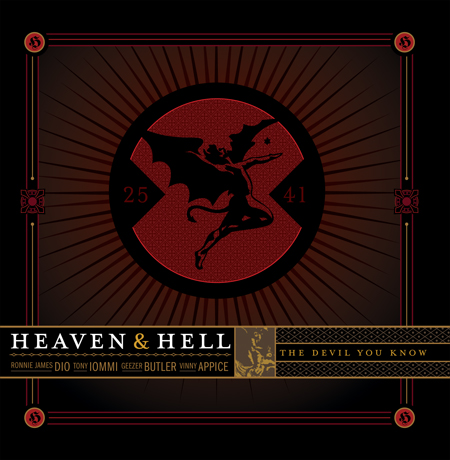 So, as I continued the work for the Jan 2012 re-launch of this site, I was doing some scanning of back cover art, and discovered this on the 1998 remaster of "We Sold our Soul for Rock & Roll"..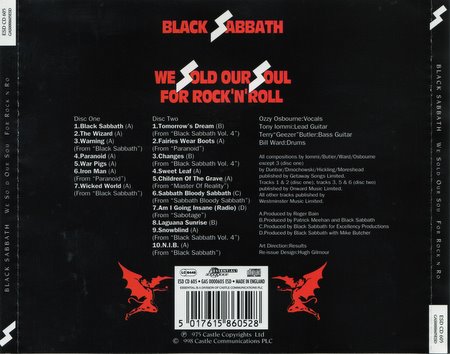 I was a bit perplexed by this, as the original release of this compilation was late in 1975, which if accurate would be the earliest usage.  However, I never remembered it being on the old vinyl and cassette tapes I had back in the day.   As time went on with the site work, I got a hold of Hugh Gilmour, who has done a lot of artwork for Black Sabbath over the years, and he was credited with art design on that remaster series.   His reply is interesting, and seems to pinpoint the earliest true usage.  Here's our email exchange (posted with permission):
Me: I know it wasn't issued in the recent Universal series of remasters, but it was at the tail end of the 1996 Castle series in 1998.  Anyway, you're listed on there.  Question about the art..  The physical discs for that release have the flying demon image that has been seen for bloody ages, that Geezer tells me is called "Henry".  Anyway, was that symbol involved in the original release, or was that something you chose to put there?  I ask, because I'm trying to track down the first usage of that symbol.  The first place I can remember seeing it was on a single from the Never Say Die album.  Geezer can't remember where it was first used.  Other people I've talked to claim that Geezer came up with it, and technically owns the copyright to it.  Don't know if that's bullshit or not.  Anyway, was basically looking to see if Henry's usage on the 96/98 reissue was your idea, or if it was actually around for the original release.  Tkx.
Hugh: I always liked that as a motif, but didn't want to use it without permission. When I came to do the remasters artwork, I was designing the first g//z/r record with Gloria at the same time. I asked Gloria if it was OK to use, and she said Terry had done the original design. All of the LP covers were quite different from each other so I was keen to give them some sort of continuity, so it appeared as a logo on all the reissues. It did appear on Never Say Die singles in UK and in a colour version in Japan and on the 78 tour book. I think it's earliest usage was on 1976/77 tour shirts, but can't be absolutely certain on that.
Hugh then went on to send me a couple of images from the Technical Ecstasy shirts.  It's hard to verify 35 year old tour merchandise as authentic.  I've reached out to a few people about it, if I get a concrete answer, I'll update.  But I think we'll go with "Never Say Die was first proper usage, 76/77 T-Shirts, maybe".  If anyone has any factual, concrete proof one way or the other, then please let me know.
UPDATE: The two images he sent were lost in a server upgrade.  If I run across them again, I'll re-update the post to add them.