..at least I'm pretty sure it's that one.  When Tony got sick, and they had to cancel the European dates, they said they'd still play the Download Festival, and one (then) unannounced US date.  About an hour ago from this post, it was announced that Black Sabbath will play the Lollapolooza (WTF) festival on August 3-5 in Chicago, IL.   A poster was released regarding the gig.  You can view it here: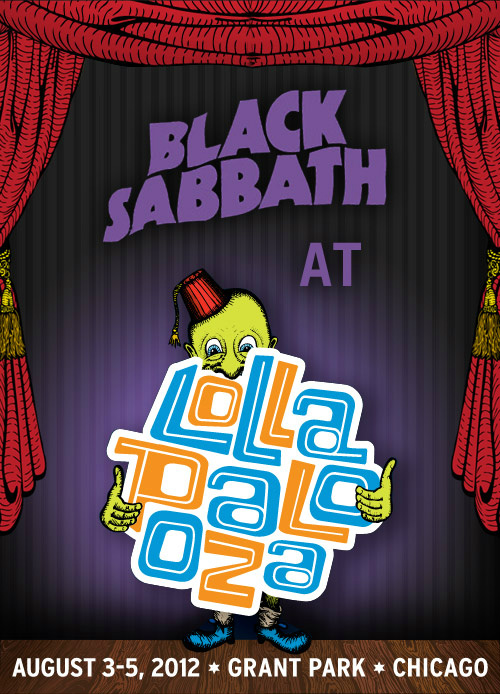 What isn't immediately available is whether or not Bill Ward is playing drums.  I work for Bill, and I've asked, so hopefully I'll have some sort of answer on that in short order.  It's also possible it's still up in the air, and they're not announcing who is playing drums yet.   Will have to wait and see.
There's a complete list of bands and who is playing when and all that over at this story – go check it out.
UPDATE:  Around 3PM on Wednesday, I saw this article on Rolling Stone's website.   It includes a picture from the 11-11-11 press release, including Bill Ward.  At this time, nobody is telling me if Bill Ward is involved.  I would think if Bill WAS involved given the events of the last few months they would have announced that.  I would recommend not taking the inclusion of the picture on the Rolling Stone site as to any indicator of the resolution of the Bill Ward situation AT ALL.  It strikes me as lazy journalism by Rolling Stone to include that picture – knowing there's an issue with Bill Ward and Black Sabbath at the moment.  They should have looked into it and chosen a better picture.