In the early 80's, Ozzy released a live album titled "Speak of the Devil".  This was done in the aftermath of the death of Randy Rhoads.  It was supposed to be a live album with him, but as legend goes, Oz didn't want Randy's name on an album called "Speak of the Devil" (Talk of the Devil outside of the US).  Anyway, it came out on November 27, 1982, and consisted of nothing but live tracks from Black Sabbath.  At the time it was a big salvo in the Ozzy vs Black Sabbath war, with Sabbath coming out with their own Live Evil shortly after that.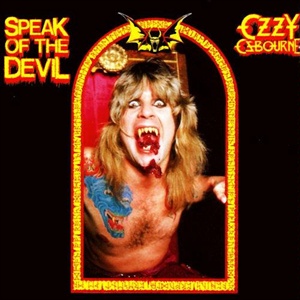 So it's a bit of some interesting news reported today by Blabbermouth that there will be a North American Live DVD released on July 17th.   The strange thing about this story is that the track listing does not match the old album's track listing.  It's a bunch of Ozzy solo tracks, and the reported band is the same as the CD, but not the track listing.
Ozzy Osbourne – Vocals
Brad Gillis – Guitar
Rudy Sarzo – Bass
Tommy Aldridge – Drums
Don Airey – Keyboards
This combination never got the accolades it deserved.  I rather enjoyed Brad Gillis at the time, and while he may not have been the best guitarist Ozzy had, it's not like the dude is awful (although some of his takes on Iommi's riffs are odd).   Anyway, I've contacted my friend at the record label this is coming out on for additional information, and when it's available, I'll make sure and pass it on.
This looks interesting for sure, I'll be wanting to check it out – I don't believe the Gillis fronted band has ever been released on video before, not officially anyway.  I recall seeing something of them back on MTV in the day, but I long ago lost that VHS tape I recorded.   After reading around some more, this release is probably that same MTV show from years gone by.   Still, it's a bit confusing to call it "Speak of the Devil", as that implies the same track listing as the CD to me.  Oh well.  It'll still be cool to see this lineup anyway.