Back in 1971, Black Sabbath released their third album, Master of Reality.  On that album is one of the more unusual songs in the band's entire recorded catalogue, that being "After Forever".  After Forever is interesting, because in all the songs that Sabbath has recorded, it's the only released one that has lyrics that are directly pro-Christian in nature.  That song has always spoke to me for that reason, so I was quite pleased when I read that it was to be covered in 1994 by the New York band "Biohazard".  At the time, I didn't know much about them, but I was intrigued to hear a cover of one of my favorite Black Sabbath tracks.
So the Nativity in Black tribute album comes out in 1994, and After Forever is not just on there, but it's the FIRST track.   That was cool to me, and Biohazard injected a power and a strength into the song with their vibe that I really REALLY enjoyed.  To me, it set the tone for the entire NIB tribute album.   I'm not one to get off on swearing in music (hello P. Anselmo), but in this cover, I think it works.  Added an emphasis and a power that I really got off on.   I've mentioned to a few people that I've felt that Biohazard's cover was better than the original, which has garnered me some hate mail, but hey – what can I say?  I really liked this cover  (not that I disliked the original AT ALL – it's killer, but I really REALLY liked the cover).
Around the time when MTV used to play actual videos, the video for this was in heavy rotation, especially on the old Headbanger's Ball show (Hey, Riki R!).  So when I heard this come on, I also was quite intrigued.  I wanted to see what they had in mind for the video, and almost straight off I was blown away – they had gotten Bill Ward to appear in there.   That was quite cool to me, as Bill Ward was back in my mind, which was a good thing.  At this point, Bill's first solo album (sadly out of print these days) was just four years old, he had come back and played some gigs with Sabbath & Tony Martin in South America, so that was cool.   Then he popped up in this video, so all that stuff got me thinking Bill Ward again.  Here, check out the video:
Fast forward a few years.  Given I do Bill Ward's website, I decided to ask him about this, so I sent in a query, and got back a response that I don't quite recall, but the gist of it was something like "I don't remember how that came about".   No big deal, if Bill didn't remember, I'd have to hope someday to run into the guys from Biohazard and ask them.   That finally happened this morning (Aug 22, 2012).
Biohazard's drummer Danny Schuler started following the twitter feed for this website.  If you have Twitter, you know you get notified when people follow you.  I log all that, in case someone cool (like this) follows me, so I chatted him up, and basically asked him what the deal with the After Forever video was, why the song was chosen, and more importantly (to me), if he recalled why and how Bill Ward made an appearance in the video.   Danny was most gracious and  wrote me back.  Here's what he had to say about all of this.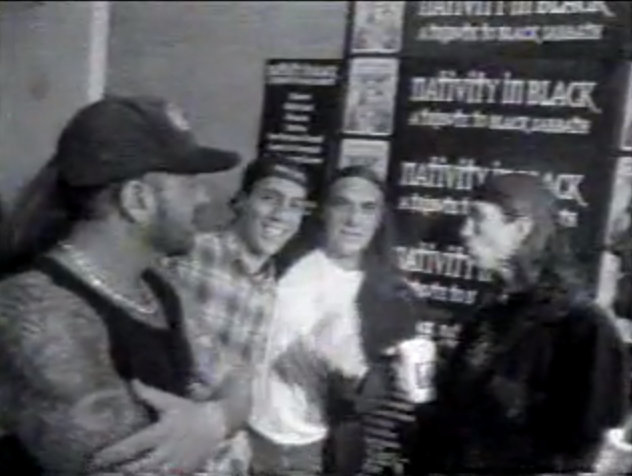 Thanks Joe!! I would agree, that is sacrilege!
So way back in like 1993 or so, concrete marketing in NYC asked us to be part of the sabbath tribute record. We were like the last band asked to participate so by the time we wanted to pick a song, all our choices were already being covered by the other bands. So we contacted Bob Chiappardi (head of concrete) and told him we wanted to do a more obscure sabbath song, and would that be OK?  He said which one, we said "after forever", he said " no way"! Long story short, we stood our ground and just went ahead and recorded it anyway, not really changing much about it at all, to be honest.
Soon after that we were in los angeles at the concrete foundations forum convention, doing a show. When we got there our manager at the time asked us if we would do a video for "after forever",and concrete was gonna pay for it. We said of course! The video directors were our good friends from NYC Parris Mayhew (former cro-mags gtr player) and Drew Stone (singer for nyhc band Antidote). Drew and Parris were crazy motherfuckers who in 1992 shot the video with no permits on the Brooklyn bridge for our song "Punishment", shutting down the bridge and snarling traffic in NYC all day! They had run into Bill Ward at the hotel where the convention was being held and asked him if he would be in a few shots. I remember being in my room and Drew calling us "get the fuck down in the lobby right now!! Bill Ward is here and we're gonna put him in the fucking video!!!" Simple as that, no lawyers, managers, agents or clearances, just a humble legend agreeing to hang with a few huge fans who happen to have a band called BIOHAZARD. So we ran downstairs and shot the scenes with Bill in about an hour! In the video you can see me literally hugging Bill Ward!! He was/is such a great person and huge influence to me, doing that video with him is one of our finest moments for sure! I told Bill, if it wasn't for him, there's no way I would be a drummer, I learned how to play by drumming along to Paranoid and the 1st sabbath record, Bill is the greatest, I owe him a lot!! Black Sabbath for life!!!
Danny Schuler
That's a very cool story by Danny, and I'm quite grateful for shining some light on one of the more obscure bits of Black Sabbath's history.  Hope y'all enjoyed it.
You can also check out the discography page here on my site for the NIB Tribute album, as well as some cover art specifically for the Biohazard version of "After Forever" below.
UPDATE: Since I posted this, one of my site visitors below made me aware of another cover of this track – this time by the Christian Metal Band "Deliverance".  Check it out at this link where you can hear a sound sample.