A few weeks ago I was contacted by Gene Kirkland, a photographer by trade about a new project he was involved in.   It's his new "Rock & Roll By the Pint" series of glasses.  At first, I thought "eh", it's just a glass.  But then when he said he'd send me a couple, I thought I'd take a look.   So I told him to send me something, I'd give it a shot.
Gene sent me a couple of glasses, both Dio glasses.  He sells more than just the Dio glasses, there's also ones for Slash as well.  However, given I run a Sabbath site, the Dio glasses were of more interest to me.  So they arrived, and I waited a few days till I was going to sit down and have a beer anyway.  Was watching a Texas Rangers game a week ago or so, and decided to have a go.  Normally I just drink my beer out of a bottle, but this time I went with Gene's Dio pint glasses.  Got ready and poured myself some Leffe Blonde.   Here's a few pictures of one of the glasses on my counter with the beer in them.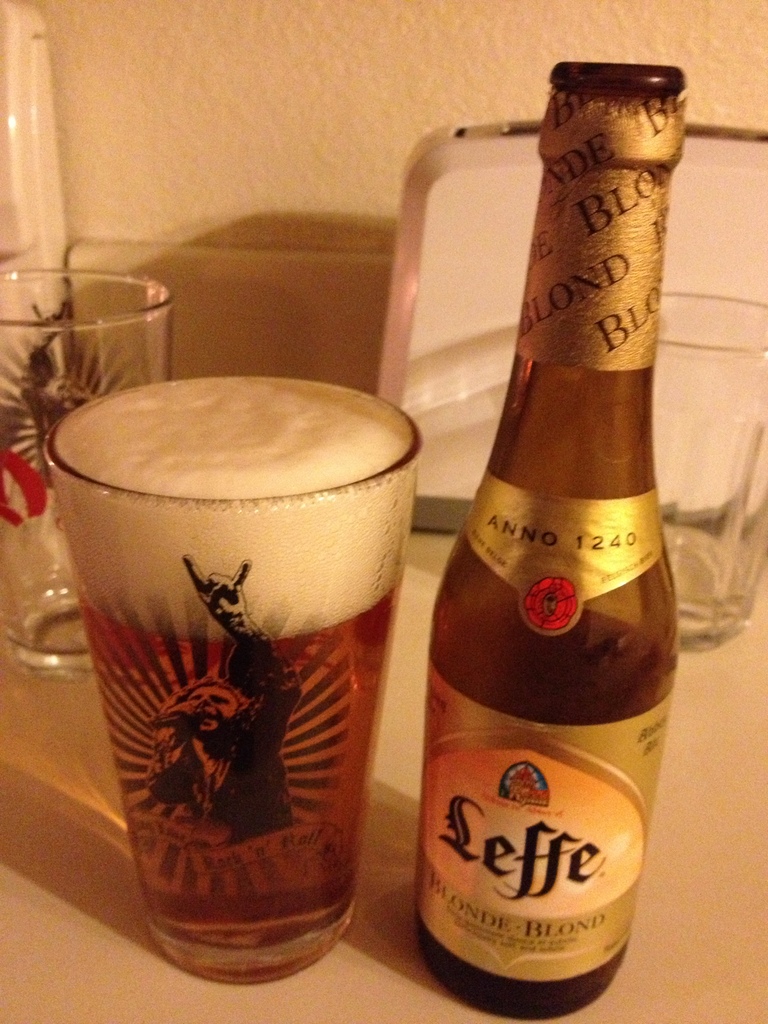 As I said above, normally I drink straight out of the bottle, but this time I used the glasses, and I was glad I did.  Not that the glass changes the taste of the beer at all, but using the glass made it feel different somehow.  It's a weird hard to quantify thing, to be honest.
As for the glasses themselves…
They had a nice, really SOLID feel.  I didn't feel like I was holding a cheapie piece of crap.   I've had licensed merchandise before where – let's be fair, the quality just isn't there (haven't we all?).  That's not the case here.  When I was holding the glass, it felt solid.  It was good weight glass, it wasn't thin and cheaply made, that's for sure.
The artwork was quite nice, too.  The picture of Ronnie was taken by Gene himself.  Gene told me the picture was taken on the Heaven & Hell "The Devil You Know" tour (more specifically the Aug 10, 2009 gig in San Francisco, CA).   It's a pose we all know Ronnie for, so it's pretty iconic, for sure.  It includes the classic phrase "Long Live Rock & Roll".   The other side is the familiar Dio logo.   That the artwork wasn't just slapped on the glass is a plus.  I've seen plenty of official merchandise where it's just "person's face", or a logo on the glass and nothing more.  There's some art design behind this, it's just just "Ronnie's Face on a glass".   I like the circular sunburst kind of design behind Ronnie on here.
I have to say I enjoyed the glasses.  Didn't think I would (mostly because I'm a bottle and not a glass drinker) – but the high quality of the glass and the art made it feel like a quality piece of merchandise.  If you're someone who likes to drink their beer in a pint glass, I suggest taking a look.  Since I originally got the glasses, I've used them a few more times, so perhaps these glasses may have converted me into a glass drinker, and not just a bottle drinker.
I posted a picture of these the night I got them on the Facebook group for this site.  One of Tony Iommi's producer guys, Mike Exeter had this to say about my pictures..   "Geezers brew in a Ronnie glass!!!! Excellent"   Mike's comment made me chuckle a bit there, as I didn't consider that angle when I poured.  :)
But seriously, if you drink beer, and are a Sabbath fan, check 'em out.  If you're gonna use a glass to drink your beer out of anyway, give this a shot.  Good quality glass, nice artwork.  Enjoyed it for sure.   You can check 'em out over at Gene's website for the glasses..